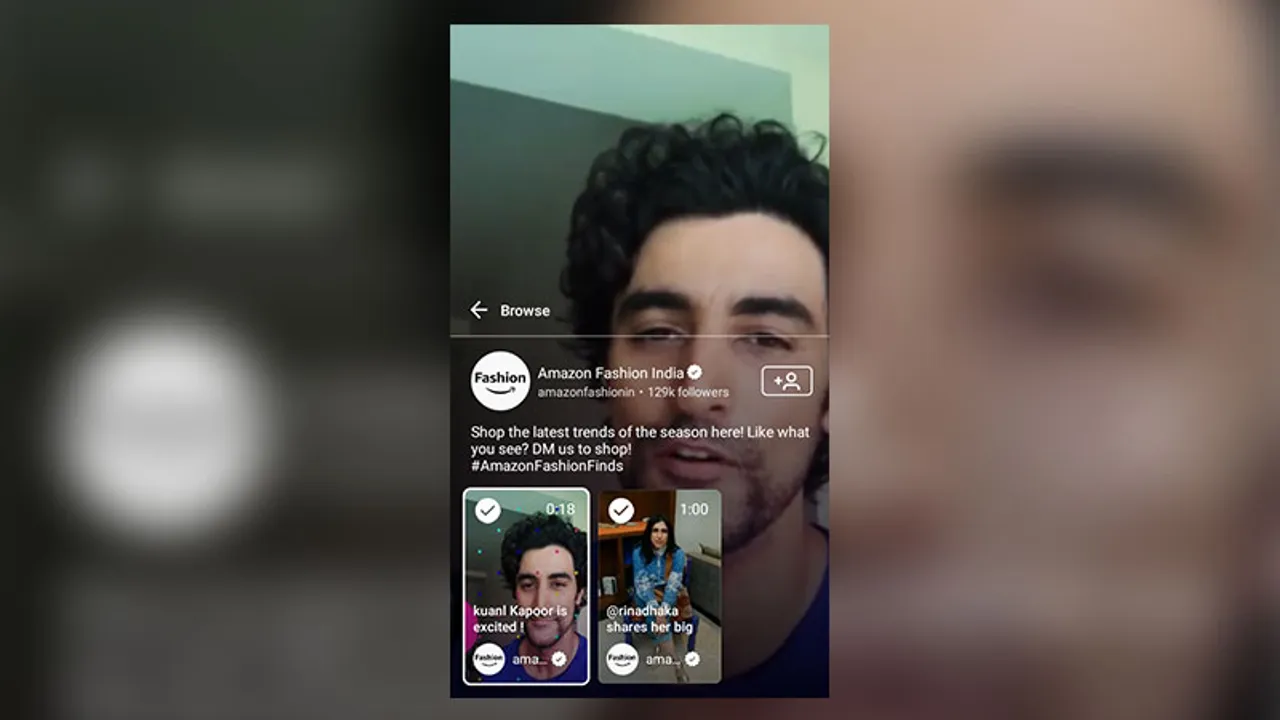 We take a walk through Instagram's new invention IGTV and discover a few Indian brands already up for some cool advertising on the platform.
Term it YouTube's competition or Instagram's new innovation, IGTV has managed to grab everyone's attention! Six days after Instagram launched IGTV - a new app for watching long-form content in vertical video format,all eyes are on brands and their utilization of the platform. Since Instagram Stories are quite popular among marketers, with 80% of them posting product stories on regular basis, it proved to be major source of business for them.
Now with IGTV showcasing videos up to an hour long, a few Indian brands have taken a foot forward and started experimenting with the new feature. We take a look at Indian brands on IGTV brands that have already started leveraging IGTV for a better reach. While some choose to replicate videos they post on other platforms,s others went ahead and created IGTV exclusive content.
Amazon Fashion India uploaded videos featuring actor Kunal Kapoor and ace designer Rina Dhaka to promote #AmazonFashionFinds. While Kunal can be seen talking about choosing some of the best casual wears from #WardrobeRefreshSale, Rina shared her big trends for the season.
Starbucks India on the other hand uploaded a 26 second video on how to use the chemex method for a rich-bodied and flavourful cup of brewed coffee.
Ixigo,chose to channel their inner meme creativity and posted a one minute long clip which showcased a WhatsApp group where people discussed about their usual Goa plans which ultimately witnessed a failure - 'Every Goa Plan Be Like'. Another video brought out the traveller side and portrayed a bucket list to visit the biggest towers of the world.
Smartphone giant Samsung India promoted their newly introduced Galaxy J6 – To infinity & More.
Other than the brands, content creators like The Viral Fever too jumped on the bandwagon as early adopters of IGTV posting videos ranging from a new show announcement to a the launch of a single album by an artist.
Publishers like MissMalini.com utilized the platform similarly to showcase Ranbir Singh's Live interview about his upcoming movie Sanju. Other videos also had MissMalini letting viewers get up, close and personal with her and the MM team while having a walkthrough their Mumbai office.
Meanwhile, Pinkvilla had its hand tried on IGTV with videos featuring casual chats with celebrities like Guru Randhawa, Dilji Dosanjh and more.
PopXoDaily revealed their first ever web series UnMarried teaser on IGTV.
BuzzFeed India, being BuzzfeedIndia had a video featuring faces conveying things they wanted to tell their previous generation. Another video had one of their employees trip on 'Hello Fraands, Chai Pilo' fever adding a humour touch to IGTV.
Terribly Tiny Tales introduced TTT where camera does the talking, featuring a series of stories, memories, moments and everything in between.
While some of the best brands and publishers are leveraging IGTV, it will be interesting to see new content formats, monetization models, and innovations being added to the platform.