LinkedIn introduces new brand safety hub features
LinkedIn introduced a new brand safety hub for the audience network, enabling brands to boost advertising performance while customizing brand safety guardrails.
LinkedIn shared its Feed brand safety score (trending at 99%+, October 2021 to June 2022) and is developing new tools and offerings, designed to support the brand safety efforts on the LinkedIn audience network.
Providing granular control over media investment
LinkedIn brings a new Brand Safety hub where you will have the ability to boost your advertising performance on the LinkedIn Audience Network while customizing your brand safety guardrails. Some of the features included in the Brand Safety hub are:
Download the list of LinkedIn Audience Network publishers
You can review the comprehensive list of publishers that make up Audience Network at any time, complete with site and app URL information. You can easily access this list of publishers via the new Brand Safety hub in the Campaign Manager platform allowing you to quickly download a list of all the publishers that make up the LinkedIn Audience Network.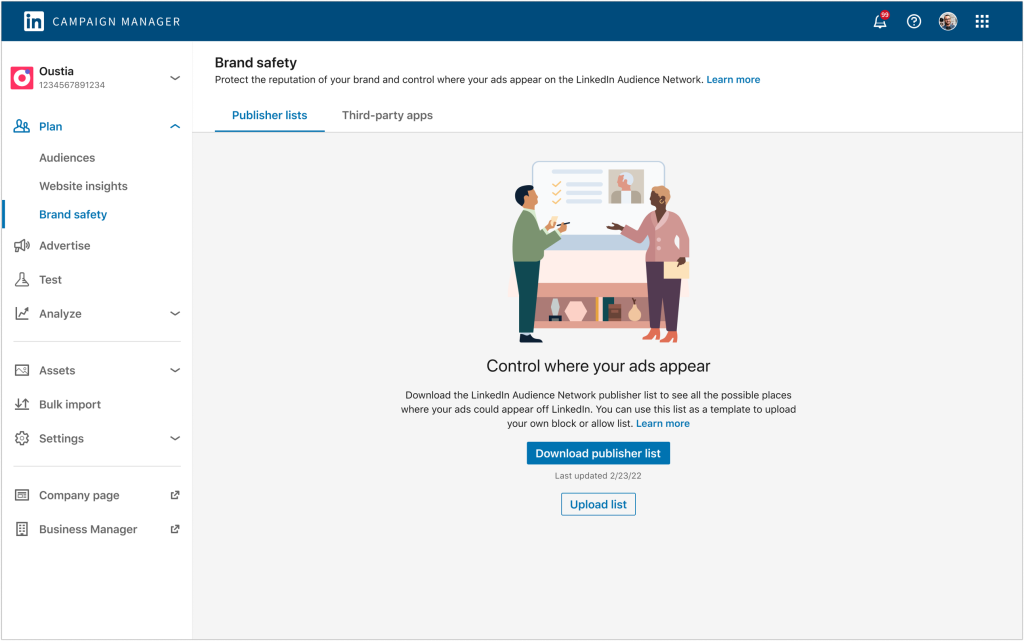 Customize your allow lists and block lists.
You can now create, upload, and apply custom allow lists alongside block lists, thereby prioritizing the publishers that meet your own brand safety guidelines. This is in addition to our machine learning-powered checks in place that help ensure that your brand messages land in brand-safe environments and category blocking, using IAB Tech Lab content taxonomy categories, which are available when you create a campaign.
Leverage third-party brand suitability and contextual alignment via DoubleVerify.
If you currently leverage DoubleVerify to avoid unsuitable content and align with contextually relevant inventory, you can now import and apply DV authentic brand suitability and DV custom contextual solutions with ease across LinkedIn Audience Network-enabled campaigns, to reach desired professional audiences across third-party apps and sites that are aligned with your brand's needs.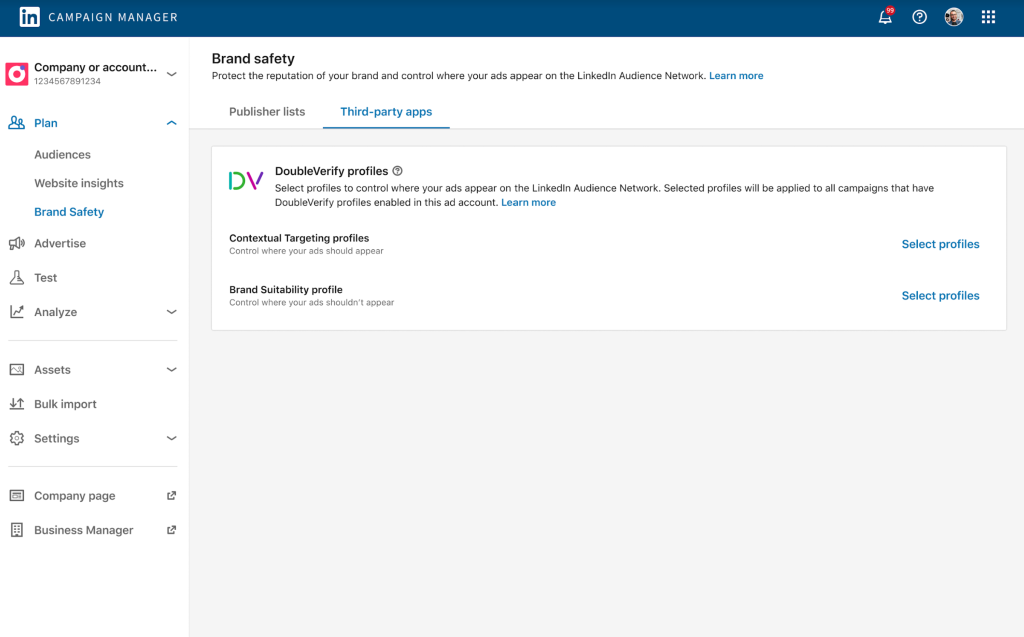 Through its network-wide brand safety and invalid traffic integrations with DoubleVerify, Integral Ad Science, and Pixalate, LinkedIn works to help ensure that ads show up in the right places, across a network of vetted publishers, that will have the greatest impact and be seen by the professionals you intend. These pre-bid integrations help filter out high-risk inventory before the bid is even placed for all of your campaigns.
Comments