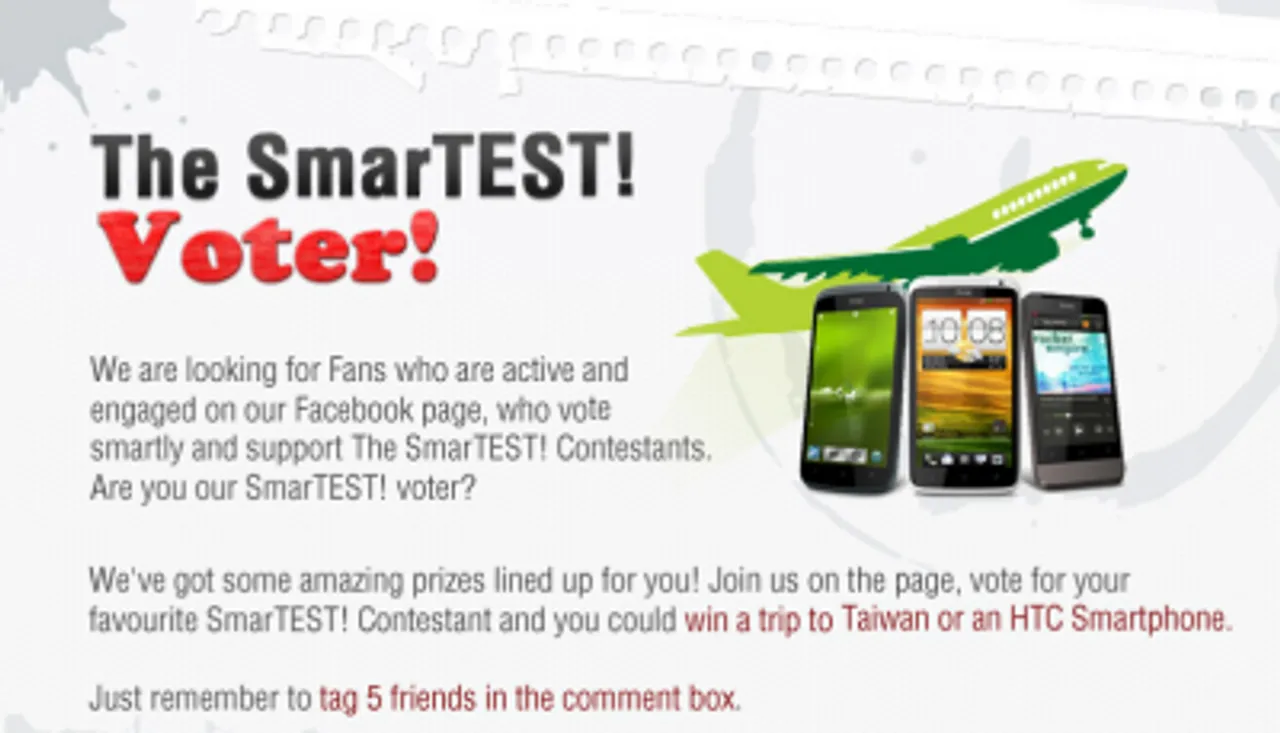 Overview
Taiwan Excellence India's annual SmarTEST contest is undoubtedly one of the biggest digital campaigns in Asia. Organised by Bureau of Foreign Trade (BOFT), Ministry of Economic Affairs (MOEA) of Taiwan and implemented by Taiwan External Trade Development Council (TAITRA), this campaign has the glamorous Malaika Arora Khan as its celebrity endorser. Participants are contending for a grand total prize of US$100,000, including monetary cash prize, premium Taiwan branded products, return trips to Taiwan, and many others. The competition commenced on 14th July, 2012 when 5678 contestants across India.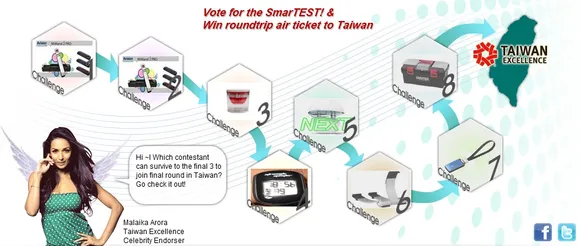 Objective
The objective of this campaign is to identify the smartest people in South Asia and reward them for their intelligence with Taiwan Excellence products. The campaign aims to provide users an incentive to get to know Taiwan better and develop a positive perspective about the country's ingenuity in product and technological innovation. By calling the campaign 'SmarTEST', Taiwan Excellence may also be trying to instil among users the conviction that using Taiwanese products is 'smart'.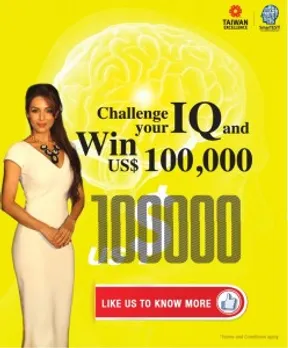 Execution
The competition is divided into several tasks and at each stage, winners are selected through voting. While the campaign has its own website, it is being aggressively promoted through Taiwan Excellence' Facebook page with constant updates and links for voting. Stage one consisted on a 24 hour online quiz with general questions and a few relating to Taiwan. Participants have been shortlisted to the final 10 and voting for Task 4 concluded on 2nd September, 2012. The top 10 contestants were rewarded with Taiwan home and leisure products. They then had to participate in a series of individual and team-based challenges. The contest totally has eight challenges so there are four more to go before the winner is declared.
Along with the SmarTEST, the brand is also running a supplementary contest for the SmarTEST Voter which makes excellent use of fan participation on Facebook. "We are looking for fans who are active and engaged on our Facebook page" says the contest page. Very smartly, contenders are also required to tag five of their friends in their comments. Fans can also participate in a SmarTEST mini-challenge and answer a few questions to win prizes from Taiwan Excellence. The brand is also using the Facebook page to engage fans by posting 'Smart Quote of the Day' everyday.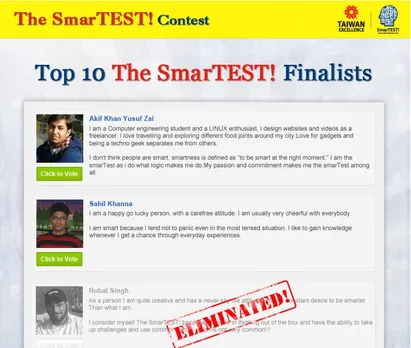 Positives
This campaign is undoubtedly a resounding success with 5678 participating contestants and many more voting for the top 10 through Taiwan Excellence' Facebook page. One fan compared the event to the finals of a Football World Cup! This campaign resembles a reality show on television – the only difference is that it is being conducted using social media platforms.
The marketers have successfully retained public interest through the various legs of the contest and built up the buzz for the finale. What also worked for the contest was that it was multi-faceted. While stage one consisted solely on quizzing, the fourth challenge required participants to create their own jingle or song on any theme they identified with the product at hand.
At each stage, voters also had a chance to win a free round trip ticket to Taiwan and back. In a nutshell, this campaign has offered enough freebies and variety in its challenges to attract the sleepiest of fans!
Scope for Improvement
Frankly, the questions leave me confused. The Taiwan Excellence website says that the questions are related to Taiwan but not all of them are. They cover the broad range of general knowledge topics and it's difficult to gauge what age group or social stratum the brand wants to target.
Also, while the main contest has a time limit, the supplementary contests have none. So what stops people from googling all the answers? There needs to be a time-limit for all the contests, which would also add to the excitement.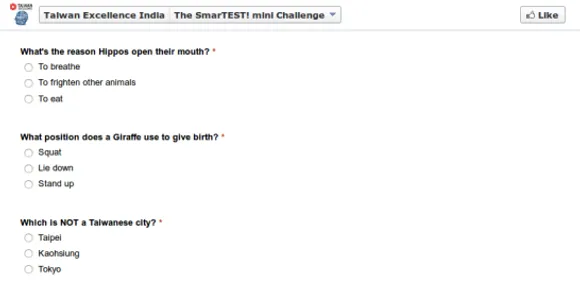 Another thing that leaves me even more confused is their choice of brand ambassador. Malaika Arora Khan for SmarTEST? Really? Vishwananthan Anand comes to mind as an excellent and rational choice.
Conclusion
The organized manner in which the campaign has been conducted deserves praise. However, the campaign doesn't really seem to say much about Taiwan or Taiwan Excellence. From the perspective of the brand, a little more effort is required to turn this contest into a marketing success.