Who are we?
We are Social Wavelength, a Social Media Agency based out of Mumbai. In case you are a regular Social Samosa reader (Samosan? Samosahead?), we could be your next work (fun!) place!
What's in the name?
Social Wavelength – We think it's a great name, really captures what we try to achieve for our clients – get them attuned to Social.
What we do?
Within Social Media, we are a full service. Everything from Planning, Design, Crafting communication to Application Development, outreach and actual execution – we do it all!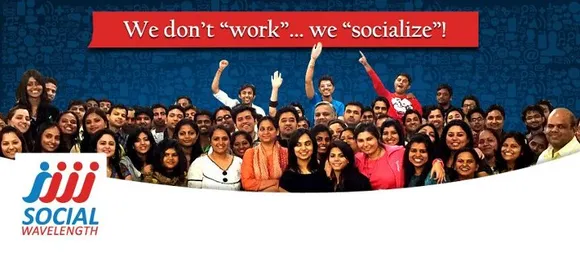 Why we do it?
We really believe that Social Media and Social Technologies can help make people-to-people, brand-to-people and even brand-to-brand relationships richer and more multi-dimensional. And we believe this will change (and is changing), among other things, the way business happens. At Social Wavelength, we also believe that we are best suited to help companies adapt to, indeed benefit from, this change.
How we evolve?
There are two parts to this question.
First one is about keeping up with trends – to do this, we've learned what to watch out for, which blogs we read, which communities to be a part of. The other way to keep up with trends is to create them – planning is a key part of the delivery for us, and it helps us do trendsetting work for our clients.
The other part of the question is how we evolve – We pay attention to what really matters to the client, what problems can we as an agency solve. This gives us a good idea of where we need to be, and a good path for our evolution. We then do whatever is necessary to reach there.
Social responsibility in social media
Two things that we as an agency can do:
1. Run our campaigns and other activities in a socially responsible way. One that encourages free speech, creativity and conversation.
2. Educate all stakeholders – We need to, wherever relevant, educate clients, team members, vendors and end users about the social responsibility aspect
Need of the hour
Lots of Big Questions to ponder upon
1. How do we know or trust the for-profit Megacorps to be arbiters of our online identity?
2. Just in India, there are a Billion+ people who are strangers to the power of the internet and Social Media. How do we ensure that these benefits are more inclusive?
3. Are our current policy makers competent and equipped to frame laws regarding the internet and Social Media, which will for all practical purposes be set in stone for many years to come?
We learned the hard way
Not really learned this the hard way or anything, but the biggest learning has been this – real hard thought has to go into planning a Social Media initiative. Whether it's for your customers, your employees, your vendor network or any other stakeholder, there is no substitute for planning and strategy.
Did we just share that?
There are a lot of funny incidences. If there were books written about these incidences, some of the titles would be
'The lost tweet'
'A tale of two communication plans'
'Waiting (for approval)' etc.
For longer versions and entire stories, you need to come over to the office for a cup of coffee!
They work with us
We have 50+ great clients from across banking and financial services, media and entertainment, technology, f&b, startups and others. Among others, these include great brands like Idea Cellular, channels from the STAR group, Franklin Templeton Investments, Magma Finance, Symphony Coolers etc.
Industry as we foresee
We're looking at the industry really maturing over the next two years. Two things, which have already started happening, will gain momentum. Firstly, consolidation – smaller agencies being bought out by bigger ones, or a few entities merging to get more scale and some people getting out of the social media agency business. Secondly, all players in the ecosystem will get far more serious about results and outcomes. This is something which is absolutely required for the long term survival of the industry itself.
A day without Internet
There is a scene in 'The Office', where Michael Scott realizes that the person he hates most .Toby, the HR guy, is back after a vacation.

His reaction correctly captures what I would feel if someone told me that we have to live without the internet for one day.
Now go watch that video again.
Are you hiring?
Yes of course we are… Check out the openings here