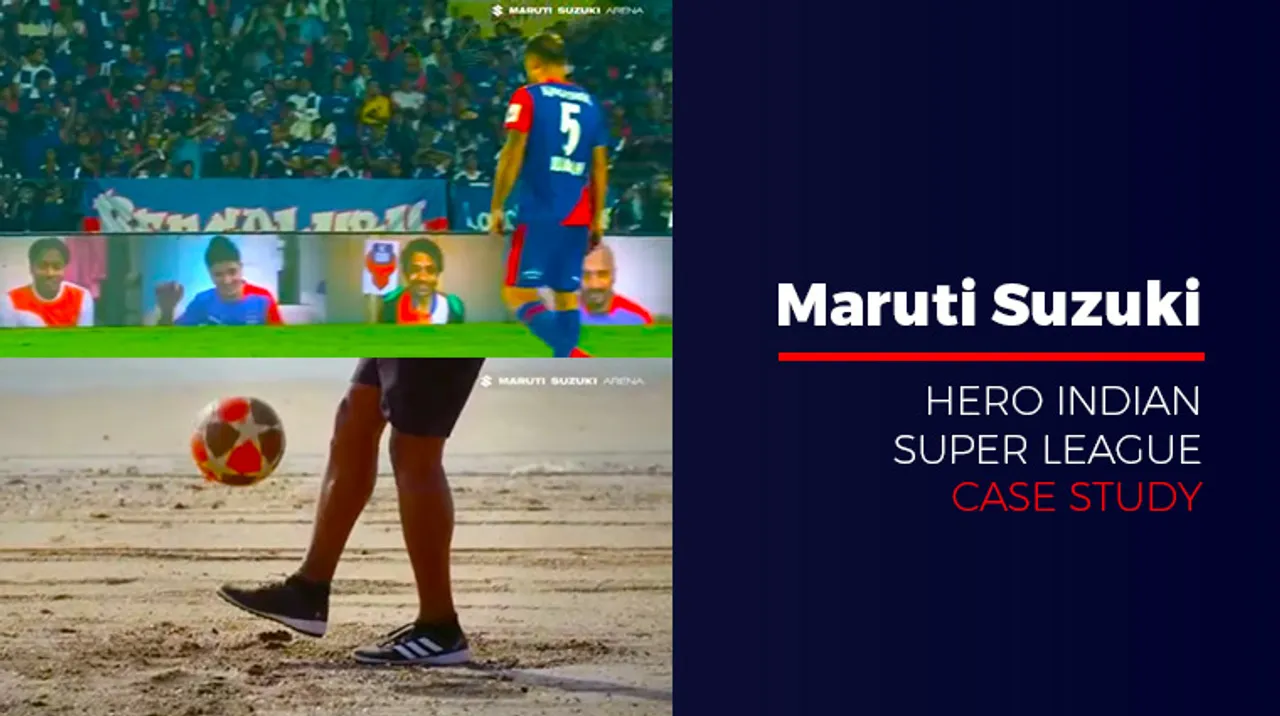 Brand Introduction
Maruti
Suzuki is an automobile manufacturer in India and is known for breaking the
clutter with cutting edge models and engineering.
Platform
Star
Sports & Hero Indian Super League
Introduction
Hero ISL sponsors – Maruti Suzuki wanted Hero ISL fans to be LIMITLESS in supporting their favourite team. To showcase their long-term association with the league and it being the 5th edition of Hero ISL, Maruti Suzuki wanted to go big on innovation and impact with the FINALE in mind
Objective
Creating
ground-breaking technological innovation for Hero ISL fans to BE LIMITLESS and
make their presence felt in the stadium during the Hero ISLFinale.
Strategy
Reach out to Hero ISL fans that would be missing out
on watching the Hero ISL Finale from the stadium due to various reasons.
The idea was to give a few lucky fans a chance to watch the game sitting on the "front seat" at the stadium using technological innovation and make them LIMITLESS.
Execution
Hardcore Hero ISL fans from different states were contacted to know reasons why they'd not be able to watch the Hero ISL Finale at the venue. A back-story of the reason behind missing out on the game was shot for fellow fans to take notice.
As the brand's philosophy goes –"Be Limitless", Maruti Suzuki used internet & LIVE connectivity to make the fans be seated in the front seat, without actually having to go to the stadium. The innovation gave Hero ISL fans who had genuine reasons to not be at the stadium – such as Doctors who are on call, differently-abled persons, new parents, and more – an opportunity to be a part of the game with a seamless experience. 
The
brand created a first of its kind virtual seating in any sport in the country,
by using the LED perimeter board around the football pitch which was to be used
as a medium for fans to be present at the stadium and be seen LIVE on TV.
Fans
were streamed LIVE on the LEDPerimeter board as they watch the FINALE from home
while being a part of the crowd being seated in the "front seat".
The LED Perimeter also surprised the players, creating buzz on ground and on social media. With #Swift trending, the brand managed to raise eyebrows.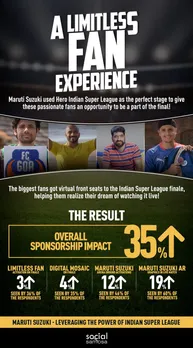 Results
Combining
technology with the growing popularity and passion for football, Maruti Suzuki
managed to present them as a brand of this age. The automobile brand further
managed to penetrate larger markets, especially engaging with the youth.
The
brand achieved an Overall Sponsorship
Impact of +35% with +29% of uplift on Key Brand Metrics.
As
per the research report from Nielson's Sports, the uplift in the key metrics of
the brand are as below-
Limitless
Fan Activation on Finale
+3%Avg.Uplift
Seen
by 36% of the respondents
+4%Avg.Uplift
Seen
by 35% of the respondents
Maruti
Suzuki Arena Ground Activations
+12%
Avg. Uplift
Seen
by 46% of the respondents
Maruti
Suzuki AR Graphics in Live Match
+19%
Uplift
Seen
by 60% of the respondents