"If Social Media is a revolution, Facebook is the moral fiber of this revolution."
No active social networking site understands the needs of social media as profoundly as Facebook. Since its inception in 2004, Facebook has emerged a vanguard in networking, leaving far behind the likes of Orkut, MySpace and others. Be it the introduction of timeline for personal profile or the newly reworked analytics, time and again, Facebook has managed to bombard us with its radical changes.
Let's rewind the time to two months back. A flying birdie told us, "Facebook is planning to launch timeline for brand pages."
We sat back and thought hard. Haven't Facebook already done enough with the profile timeline? What could they possibly come up with this time? It has to be a rumor. The birdie must be lying or working for twitter. Two months later, we come to realize that Facebook Timeline for brand pages is indeed a reality. So let me shout it out and declare to you:
FACEBOOK TIMELINE FOR BRAND PAGES IS HERE!
Proof you ask? Here's what Manchester United did with the new timeline: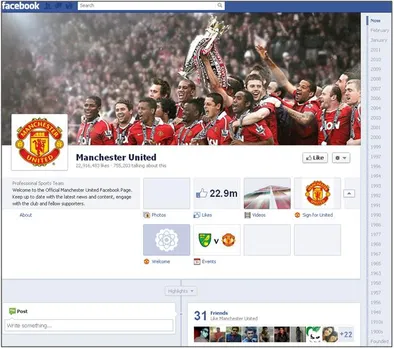 Now that we are in awe of this awesome feature, let us try and understand the new greatest invention of Facebook, timeline for the brand pages. This timeline will give the brands a chance to create their own online persona or identity. Here's looking at some well thought features of the timeline and how brands can benefit from them.
A. Cover Photo: Love at first sight
What it is?
Much like your personal profiles, brand pages will now have their own cover photo. Facebook has been modest in giving more piece of land on the page for the brands to show off.
What brands must understand?
The cover photo is the new landing page for the fans. Nobody likes to see a naked Facebook page or an exaggeratedly dressed one either. Brands will have to be original and creative in showcasing themselves here. This is where the fans must fall in love at first sight with the brand page and hit "like".
Also, brands must understand that the display picture and the cover photo are a match made in heaven. The two not being in sync will only repel any audience.
Now, while Facebook has been generous in giving this feature to brands, they have also made sure that the brands do not use the cover photo for extensive promotional activities. Here are a few guidelines that we stumbled upon.
Brands cannot promote price and purchase information such as discounts.
Information that can go in the "About section" should not be displayed on the cover photo. For instance, website url, e-mail address and so on.
Brands cannot use the cover photo for call to action purposes such as requesting users to "Like" the page or "Share" any information. Cover photos cannot have arrows directing to any of these features either.
Similarly, call to action such as "Tell your friends" and "Get it now" will not be tolerated.
And finally, cover photos must not be deceptive or misleading, and must not infringe any third party intellectual property.
The guidelines are neatly thought in favor of users. It remains to be seen though, if any brand can outwit Facebook while abiding by the rules.
B. Events: History repeats itself
What it is?
Brands can now write their own biography with the help of the Events Timeline feature. Right from its foundation, this feature will allow brands to mark their achievements and milestones that preceded Facebook itself.
What brands must understand?
Facebook has given brands an opportunity to share their story with the world. This is where brands play the part of a raconteur and tell the world how they came into existence and managed to thrive this far. This is where a brand builds its own personality and let the audience visualize their untold history. Here are some fine examples of events timeline feature used by Manchester United: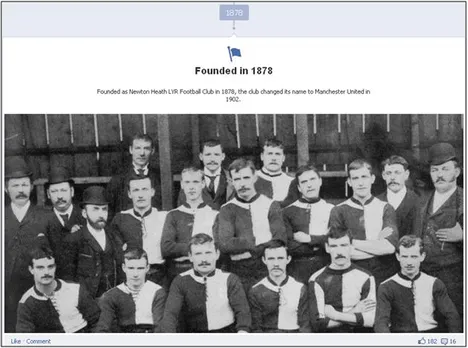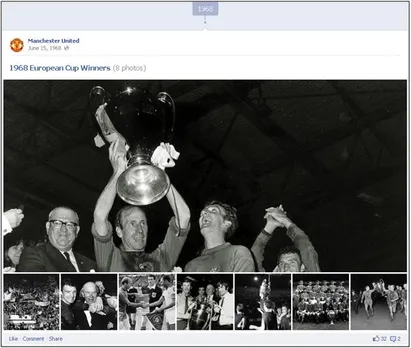 C. Featured Posts: If you got it, flaunt it:
What it is?
This feature reminds me of the huge advertising hoardings standing atop the buildings. One simply cannot miss them amidst the traffic. Don't they just lighten up the city under the celestial night? Something similar will happen on the brand pages. You have an announcement to make? Go ahead and shout it out loud.
What brands must understand?
This feature will serve best in a visually enhanced and creative mode. Any promotional activities, say contests for instance, can be flaunted using the Featured Posts option. Let me show you another fine example by Livestrong: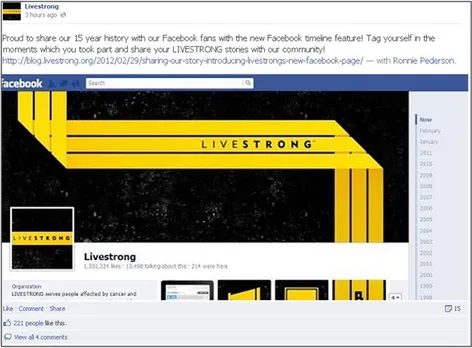 D. Admins: Who will guard the guards?
What it is?
Brand admins will have their own cubicle, and I mean it literally. With the new timeline comes the new admin panel, easy to use and refined. The admin panel will also include notifications dialog to track page activities.
What brands must understand?
Brands need to ask themselves a question. Do you really need Tom, Dick and Harry to be the admin of the page? With the new admin rights, it is much recommended that you flush out Tom, Dick and Harry. Having multiple admins will result in chaos, simply because Facebook follows the tradition of sending a notification to random admin in case of changes. An added advantage for admin here is that he/she can directly respond to the direct messages. Also, the admins will note that Facebook has been humble this time by providing brands a month's time period to prepare themselves for the new timeline before it becomes a mandate.
Facebook has done its groundwork by providing the brands a platform to use social media as a means of business. Now, it is up to the brands to leverage these features to the core and bring in the mullah through social media. There are lots of positives to take from these features and if done fittingly, it will undeniably help the brands prosper on social media.
Since this feature has pushed all my curiosity buttons, I can't help wonder which Indian brands will use this feature the best. Let me take a wild guess on 5 Indian brands in the order of best to not so best:
1. Tata Docomo
2. MTV India
3. Pepsi India
4. Vodafone ZooZoo
5. Fastrack
If these brand get the new features right, they will be an inspiration to smaller and lesser known brands in one way or the other. For now, we can only wait and watch. What say?