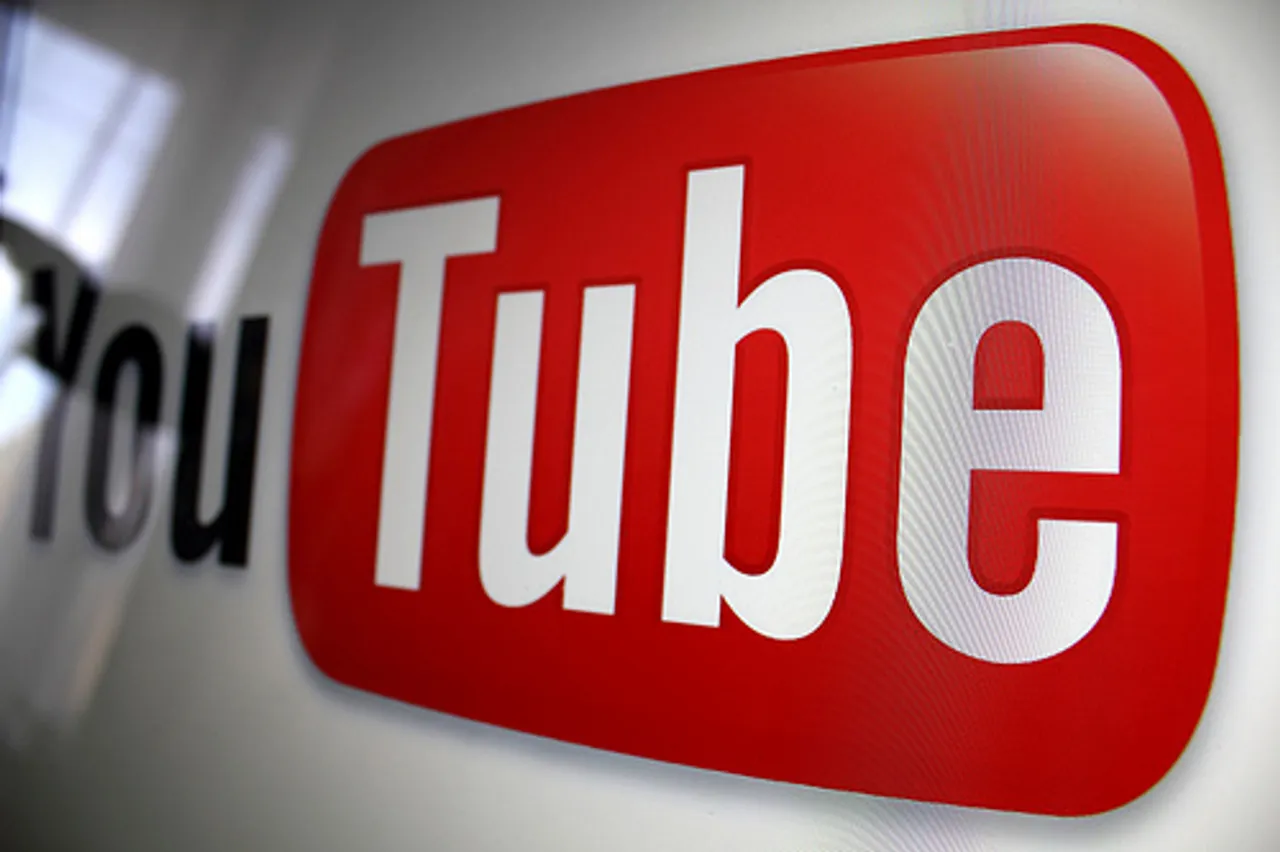 The telecom space is probably one of the most fiercely fought over territories in Brand India with both global giants and smart local players vying for their piece of the nearly a billion-handsets-strong pie of Indian cellular networks. Naturally, to drive home your message in this space you need to be innovative.  That's where the telecom brands in India, both local and global players alike, have embraced social media and particularly the audio-visual medium of YouTube.
Why YouTube?
The challenges of delivering the right message about something that is conceptually intangible, like the idea of communicating over an invisible network (not to mention other intricacies like how some features of that network work), is done best via demonstrating the concept/s with a video (rather than just plain text and or images). Facebook's inherently visual platform does not quite crack the idea, neither does the enigmatic 140 character string of messages that is Twitter. This is where YouTube steps in.
 This post takes a quick look at some of the big players in the Indian mobile space is making use of YouTube. Note that we are talking about the telecom brands in India, not just Indian telecom brands.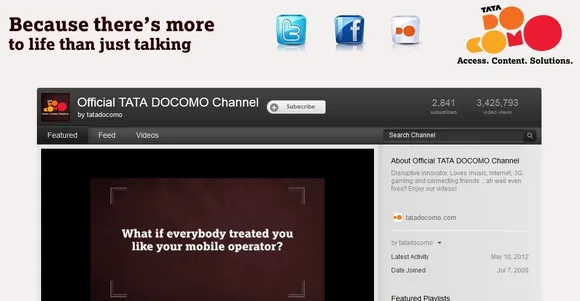 The Tata Docomo motto on YouTube neatly sums up why YouTube matters to them – "Because there is more to life than just talking." In terms of brand their global size could be far smaller than say Vodafone, but when it comes to social media in India, this 'David' has definitively slain  a few 'Goliaths'. The sheer weight of its numbers is, well gargantuan -3,423,444 video views and 2837 subscribers as of 06/08/2012.
A quick look at its videos and you know this thing is social at its heart. Overtly urban Indian in their outlook, the spice and juice are in their content. The videos on Tata Docomo's YouTube channel are always about something you can relate to - be it the famous idli series, or the Photon videos, or even nifty animated videos such as the one about the Bloodline club. Tata Docomo also integrates its YouTube channel with their other social media channels,such as Twitter and Facebook, which strangely enough, quite a few others don't.
Quick recap: Variety is their spice. Their "about us" sums it up succinctly, "Disruptive innovator, Loves music, internet, 3G, gaming and connecting friends ...ah well even foes!! Enjoy our videos!"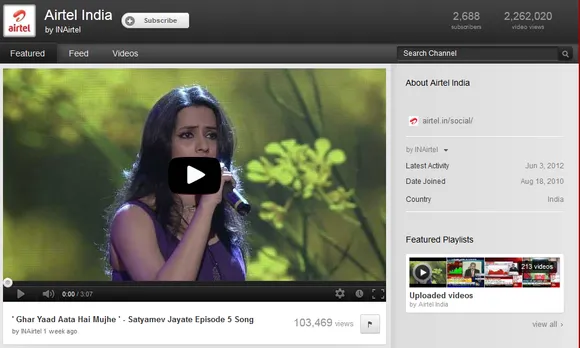 They are not doing too badly either.  As of 06/08/2012 Airtel India had 2677 subscribers and 2,241,253 views to boast of. What do their videos talk about? It's an interesting motley that talks about a few how-tos, (for instance, how to use Airtel Money), puts some older and popular TV ads, and yes, you will get a considerable amount of Satyamev Jayate snippets.
A nice and nifty collection. The only thing is it's a tad heavy on brand collaboration. I mean Satyamev Jayate, yes, but would you really be looking for a video on the collaboration between Airtel and say, Axis bank?
Quick recap: Varied content but somehow here you won't feel the sense of engagement that Tata Docomo commands.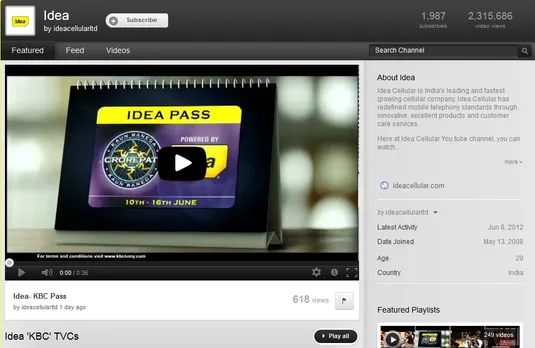 Another statistically massive channel -1982 subscribers, 2.313, 094 views.
If you go through this channel, you will again find a lot of old advertisement nostalgia, from those 'save paper' ads to the one where Harbhajan Singh talks to his fans ad and off course, the "What an Idea Sirji" series by Abhishek Bachhan. And also, their collaborations with a whole lot of other companies. However, you will find here is a collection of some not too old Idea short films. Check  'em out if you have some time to spare.
Quick recap:  The collections here will tell you that Idea does not cater to an exclusively young urban Indian audience.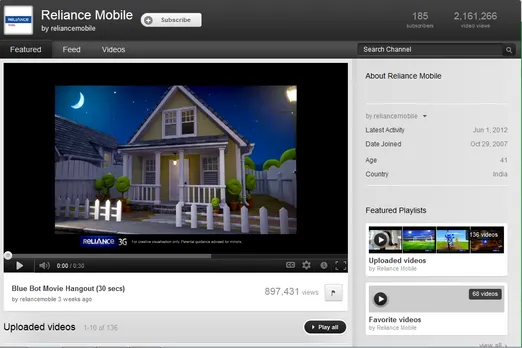 Another massive Indian mobile presence on YouTube with 184 subscribers and 2,156,254views.
So what's their juice?
Old TV commercials and star power (Hrithik Roshan) aside, Reliance mobile has hopped on the back of the powerful little robot, the blue bot, aka the Reliance-ified Android. A considerable number of videos are dedicated to illustrate these adorable little Androids which talk about virtually every service that Reliance mobile provides.
Quick recap: They are pretty much on their way up the ladder when it comes to mixing the traditional with the new.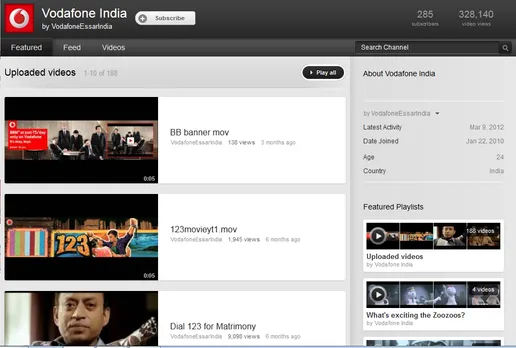 First the stats. As of 06/08/2012 Vodafone India had 285 subscribers and 327, 993 views. That's a lot less than the true blue Indian telecom companies. Not too social you would think.
Now, for the content. You would expect the ZooZoos to be there. But it's not only about the ZooZoos or that loveable puppy. It can be about something as hip as the latest Lewis Hamilton visit in Bamgalore, or something as corporate as the Vodafone McLaren Mercedes Enterprise, or something as homely as the Dial 123 campaign for illustrating virtually everything from movies, masala (literally, recipes), or matrimony.
Note: Strangely enough Vodafone's YouTube channel is not integrated with their Facebook and Twitter accounts.
Quick recap: It's a service for the urban India. Period. 
So, what is the deal?
What can we glean from all these then?
A motley mix: As is evident form the examples here, the content of Indian telecom brands on YouTube really presents a motley mix.  They can range from the homely to the hip, from educational to funky, from serious to outright crazy.  There is no set rule and that's the fun of the game.
Small is beautiful: The other interesting trend is that it's the relatively smaller brands –like Tata Docomo, or Airtel  India –who are performing better in this  space.
Capturing the pulse of the neo-urban Indian youth: The third important thing is, it's the Indian brands that have grokked this domain. Vodafone global might have a massive YouTube presence, but when it comes to the Indian YouTube it's brands like Tata Docomo that rule.
Indian brands rule: As is evident from Vodafone's case vis-à-vis the other brands, its quite obvious that in this space at least,  the Indian brands rule (not if you are BSNL though, they don't even have a YouTube channel).
With all these diversities , there is one thing common about all these brands' usage of YouTube. All of them use it as s space to send a message, a message about the brand's philosophy, its culture, its lifestyle etc. True that all of them are pan Indian brands, but still all of them have different niches - some cater to the urban India, some to families, some to the youth in India and like that. Naturally, the corner of Indian telecom brands on YouTube is shaping up to be an immensely varied space.
Image Source  Rego - d4u.hu