Objective:
The campaign is an attempt to make an impact and improve upon the brand's positioning by a creating digital art piece that will break the Guinness World Records title for the most artists contributing to a single art piece. It also aims to promote Galaxy Note's Pen Stylus feature.
Execution:
The previous world record was held by Great Britain with 201,958 contributions. 'Samsung Incredible Art Piece' is an attempt to break the world record and yes, it has succeeded in creating a new record!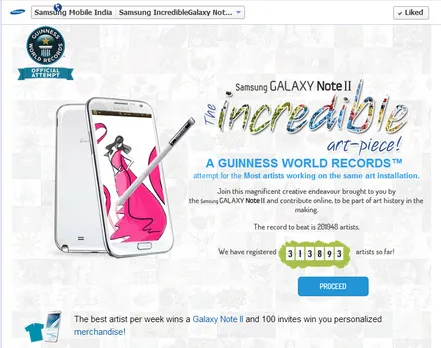 The initiative invites users to participate by contributing their creations for the mega art piece. Participants have multiple options available to them to express their creativity.
Users can either log on to the Samsung microsite or visit Samsung India Facebook page where an online app will help them in creating their masterpiece and submitting digitally.
The application and the micro site open up with a pixel gallery that displays a number of entries. Users can see other entries before starting with their own creation.
Participants can create an art Graphic illustrations on the theme 'Colors of India' using various digital tools like brushes, text tool, color pallet,  pencil tool, eraser, clip arts, auto shapes, paint bucket, etc.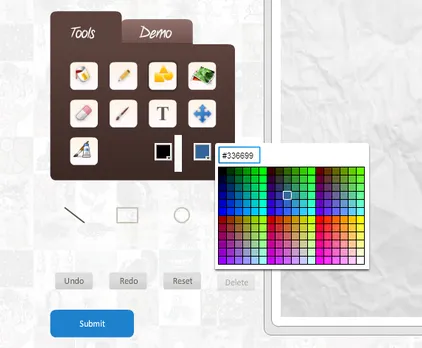 Note II users can contribute to the 'Incredible Art Piece' by using the S Note application on the Note II.
Consumers wishing to participate can also visit any Samsung Digital Plazas where they can use a Samsung Galaxy Note II to create their digital art piece and submit online. Participants can also create an art piece offline, scan and email their contributions through samsung.com.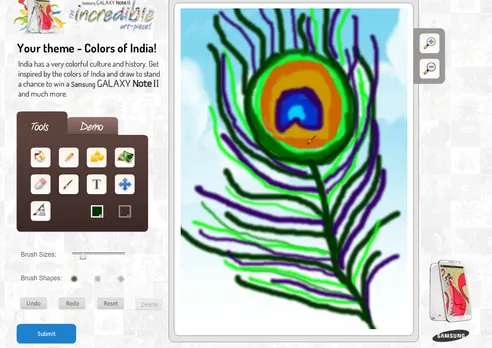 Every week, one art piece  is selected as the winning art piece for that week judged on the basis of creativity. The same would continue for every week until the last week of the contest. Each winner is awarded a Samsung Galaxy Note II
In addition, Samsung offers a downloadable a digital certificate to all its participants for contributing to the Guinness World Record attempt.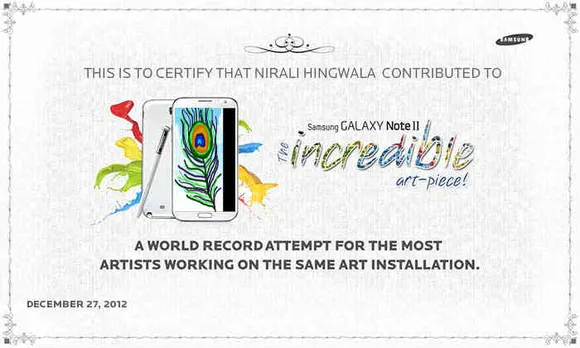 Positives :
Promoting a product feature through a creative campaign that attempts world record is a brilliant idea! The campaign promotes Galaxy Note II and its unique features like its Pen Stylus that allows users to embrace their artistic sides.
Motivating the creative spark in customers and valuing their creativity, certainly improves customer experience.
Rewarding the customer with a certificate  fosters brand loyalty. It completely changes his perception towards the brand with more positive energy.
Inviting consumers to visit any of the Samsung Digital Plazas, Samsung Smartphone Cafe's and Samsung Experience Zones in order to participate in the campaign drives foot fall. It also encourages them to have a hands on experience of the phone.
The campaign is widely promoted on various platforms. The Guiness world record is a master stroke that has set a new benchmark for brands!
Allowing users to explore their creative sides enables consumer delight. The applications offers a number of user friendly options at your fingertips to create a piece of art. It is not only designed very well but also easy to use with very good user interface.
Scope of Improvement: 
Personally, I found the campaign really impressive and can't think of any facet where it can improve itself. It is a well executed all inclusive campaign.
Conclusion:
Involving fans to contribute in creating a world record and letting spill their creative juices can do wonders! In my opinion, the Incredible art piece is a win win deal for Samsung India!