Objective:
The main objective of this Facebook campaign is to promote and create a brand recall value for Baskin-Robbins February flavour of the month, which is named as Love Bite. The objective of the campaign is to connect with the audience through a fun game with the help of fictional character 'Pinky the Spoon'.
Execution:
Baskin Robbins is running a Valentines campaign on its official Facebook page. It has used the most creative and effective way for promotion i.e. Storytelling.
They have created a fictional character 'Pinky the Spoon' that comes alive during Love Bite season and fans can engage and interact with it.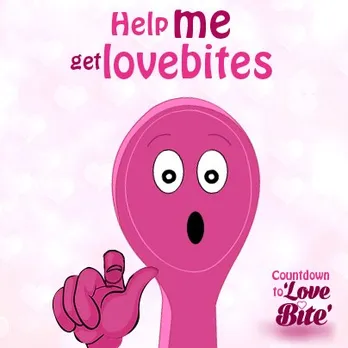 The age old concept of earning a kiss is replayed through this campaign where Pinky the Spoon is the man and the fans help him win a love bite.
Pinky is setting up his date and is confused with a lot of things. So it's time for the users to help the spoon to prepare his date. As all of us know setting up a date is not so easy!
So each time Pinky is confused, he asks an interactive question through a post and users have to answer in the comments section below.
It asks various questions like "What song can you think for him with the word 'heart' or 'dil'?" , 'What do you think, Pinky the Spoon and his date are going on a long drive to?' and users  help pinky with the answers. He asks for help in various situations like Dressing up, Buying gifts, Helping him to plan for the date, etc.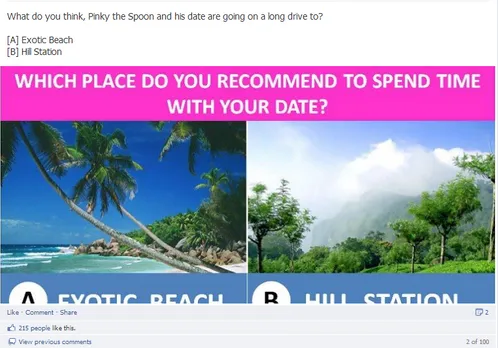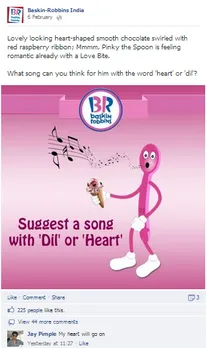 Thus, Pinky the Spoon tries to grab maximum Love Bite which is the Flavour of the month.
Positives:
Story telling is more effective in connecting to the audience than "Hey-try-this-new-flavour" spampaign. The fictitious character in it humanizes the whole brand experience and brings it alive!
The content used in the campaign is entertaining and highly engaging. It has received a great response from the audience.
This shows that even brand with a low budget can create a great engaging campaign that can be carried out on the wall itself without even creating a separate tab or an app.
The pictorial posts used in the campaign are visually appealing and they easily attract attention.
Scope of Improvement:
Considering the amazing response received by the campaign, Baskin Robins can take it one step ahead with an engaging application.
It can also use Facebook Offers to gain more exposure for Love Bite Flavour of the month and boost sales
Conclusion :
The fictitious character in the Love Bite campaign is successfully resonating with its audience. It sparks a human-to-human communication.Engagement on a personal level encourages brand loyalty.
How is your brand engaging this Valentine's Day? Share your ideas in the comments section below. We would love to feature interesting case studies!