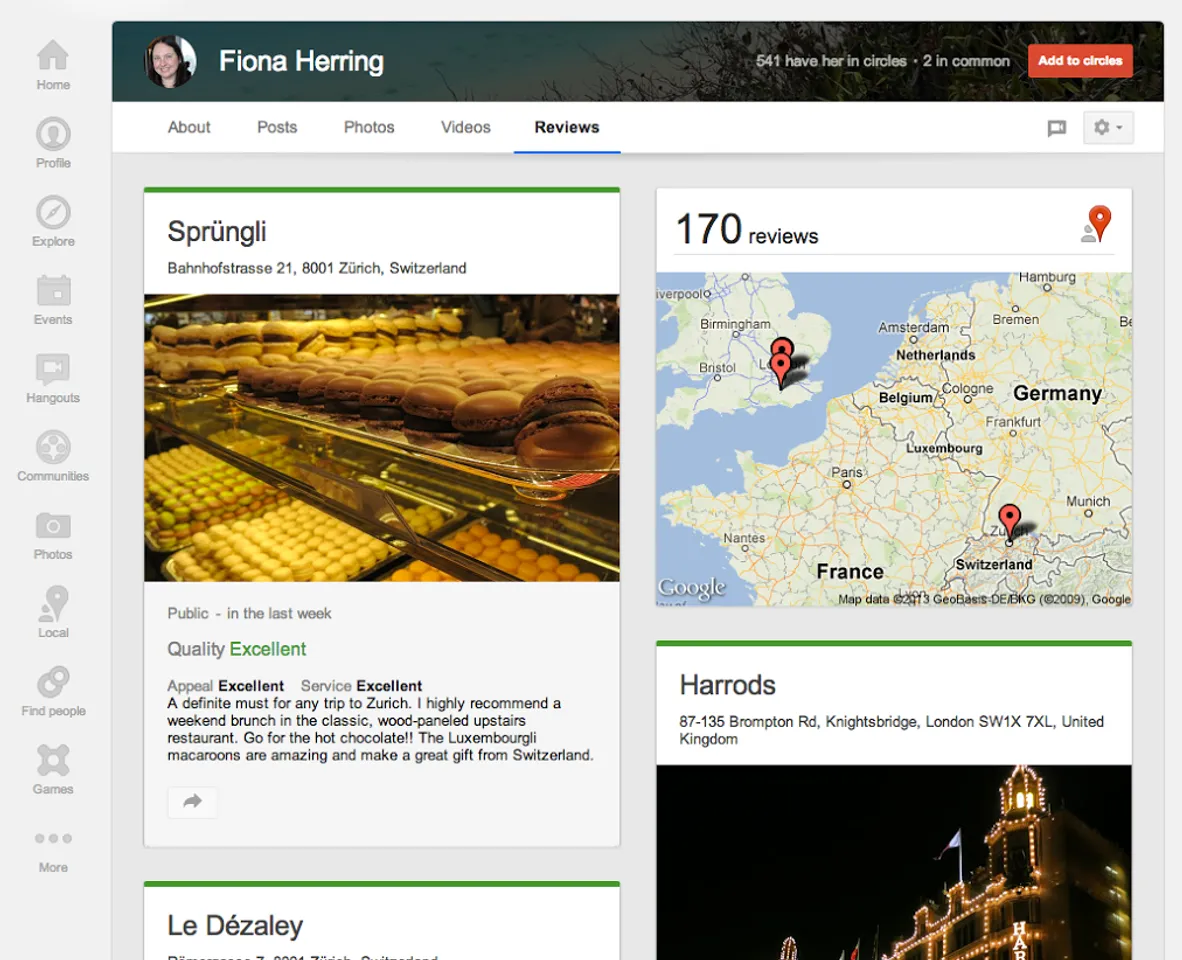 Google+ rolled out some profile and page improvements just day before the big news feed revamp by Facebook.  Google+ changes were announced by Sara McKinley and Vic Gundotra. Here is a list of all the changes introduced:
Bigger cover photos: Going with the paradigm of 'Bigger is better', Google+ now allows users to have much bigger cover photos (up to 2120px by 1192px) and also with a better aspect ratio (16x9 format).                                                                                                        
New tab for Local reviews: A shortcut tab has been added to your Google+ sidebar for local reviews. This brings in better integration of Google's Local service with Google+. You can now write reviews for recent places you visited, check out the recommended places near you and so on. This seamless integration of Google+ with Local can be a hit to other review and recommendation based local apps. In case, you are not much into using Local, you can simply hide it from the sidebar through an option under Settings.                                                                                                   
Easier editing of your profile page: 'About' tab on user's profile page now supports easier editing. The 'About' tab has been organized neatly into separate categories – People, Story, Work, Education, Places, Basic Information, Links, Contact Information and Apps. Each section has a separate edit option and can be edited without disturbing the rest of the sections.                                                 
What's good about these changes: Google+ is moving towards becoming a social networking platform of choice with its slow and steady roll out of important and useful features. Seamless integration with other Google services is slowly developing a strong ecosystem of Google products which are becoming extremely attractive as all you need is one Gmail id to control them all. Another good thing, is that new changes and updates are roll ed out at the earliest to users and users do not need to wait for an eternity to see the new updates on their profiles (I have already received these updates on my profile). Check if you have got these updates here: plus.google.com/me.
Images Source: Sara McKinley's announcement