The fourth edition of Mashable's Social Media Day is being celebrated by social media enthusiasts all across the world on June 30th 2013. It is a day to recognize the digital revolution happening across the world. More than 9 cities and 1 U.S. state have declared Social Media Day an official holiday including the State of Nevada & Arizona, NYC, Toronto, San Jose (California), Dublin (Ireland) and Ottawa.
After hosting a successful Social Media Day in 2012, Graffiti Collaborative, a Bangalore based creative agency will be curating the celebrations, second time in a row in Bangalore. Social Media enthusiasts from across the city will be coming together to make this event a fabulous blend of fun and knowledge sharing – truly in the spirit of social media.
The celebrations for the day will span across different media platforms and activities. The day will start at 11 AM with panel discussions at Hard Rock Café on St Marks Rd. The panel will touch upon multiple aspects of social media – thereby giving us an opinion on where it stands today & where it is headed. Some of the topics that will be examined are the ROI of Social Media, regulating content, endorsements, case studies of 2012 social media campaigns and much more.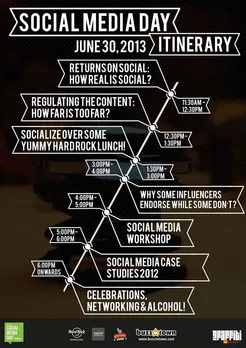 The panelists will include top social media influencers, brand managers, entrepreneurs and social media professionals. Panelists for this edition of Social Media Day include:
Prem Panicker, Editor-in-Chief @ Yahoo
Preetham Venkky, Business Head Asia @ KRDS
Aditya Gupta, co-founder @ Social Samosa
Bhupendra Khanal, founder @ Simplify 360
Ravi Rao, Leader (South Asia) @ Mindshare
Karthik Srinivasan, National Lead- Social @ Ogilvy
Gautam John, Head- KLP @ Akshara Foundation
Pranesh Prakash, Policy Director @ CIS India
Ramesh Srivats, MD & CEO @ Tententen
Mahesh Murthy, Founder @ Pinstorm
Siddharth Narrain, Legal Researcher @ Alternative Law Forum
Rishi Jaitly, India Marketing Director @ Twitter
Vikas Bagri, National Innovation Council
The discussions will continue after a small break, to enjoy a sumptuous Hard Rock Lunch.
There is no better way to celebrate Social Media Day, than to unwind over a few beers, cocktails and a whole lot of networking. And that is precisely what we will be attaining in the second half of the day.
The celebrations continue through the evening with an eclectic mix of interactive activities, games, quizzes followed by a delightful stand-up act by the' kolaveri di of stand-up comedy', Vipul Goyal.
Obviously, a day to celebrate digital revolution cannot be complete without online activities. A very creative twitter led activity is planned out that will be conducted throughout the span of the event, along with other multiple online activities as well. You can get access to all of them by visiting the Social Media Day India Facebook page – SMDayIndia
Social media enthusiasts, who want to understand the industry trends better, should definitely be attending this 'Limited Invite Only' event.
The Social Media Day passes are available @ buzzintown.com at a price of INR 800/person, which is inclusive of an appeasing Hard Rock Café lunch, a refreshing mug of beer, panel discussions, activities and evening performances!
Follow the official hashtag #SMDayBlr on Twitter!