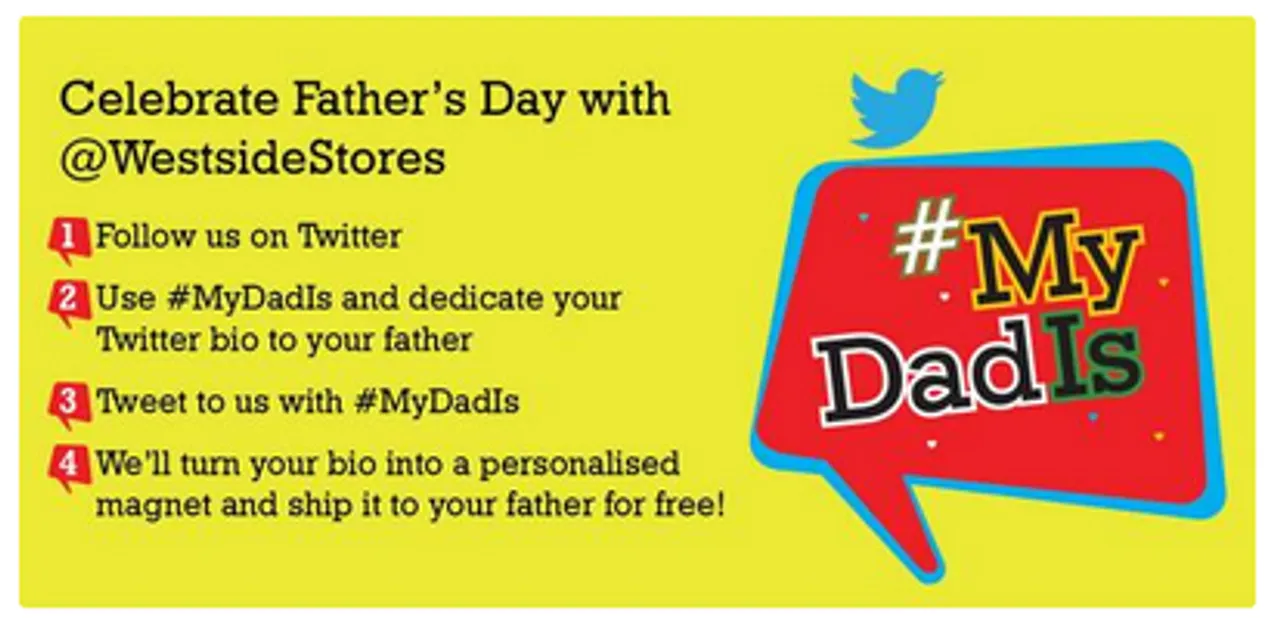 Retail stores have always used special occasions to push sales and create a bond with its customers, but some efforts create enough buzz and give a healthy ROI on the money invested, while, others do not bring the desired result. In this article, we shall analyze Westside Stores' Father's day Celebration campaign, and see if it falls in the former or the latter category.
Objective
The design of the campaign clearly suggests that it needs to reach out to create offline buzz by giving away a custom magnet to the campaign participants' dads with the tweet they posted using #MyDadIs hashtag scribbled on it. Another objective appears to be to reach out to male members of the family. This is a worthy effort for a brand that is patronized largely by women.
Execution
The retail store has created a hashtag #MyDadIs and asked the users to tweet what they feel about their dads in order to participate in the campaign. The participants also need to dedicate their twitter bios to their fathers. The design of the campaign is very simple and straightforward.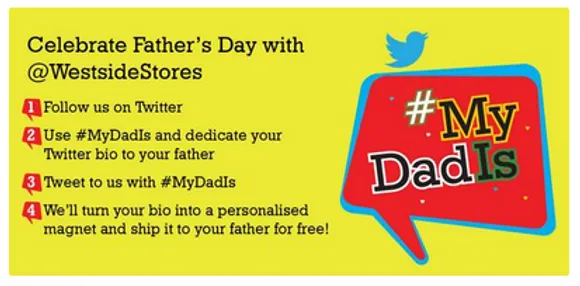 For those who came in late - we're celebrating Father's Day all this week with #MyDadIs. Here are the details ---> pic.twitter.com/NuGCsBimKj

— Westside (@WestsideStores) June 13, 2013
Westside Stores have also created a video montage of various people talking what their fathers mean to them. The video is " target="_blank">hosted on YouTube and is shared on Twitter.

Positives
The retail store has elicited positive emotions and helped users voice their love and respect for their fathers, which is evident from the tweets posted below and an image-montage of tweets shared on the platform by Westside.
 

#mydadis A provider, A supporter, A leader, A lover, And an amazing father! I love you daddy!

For those who came in late - we're celebrating Father's Day all this week with #MyDadIs. Here are the details ---> pic.twitter.com/NuGCsBimKj

— Westside (@WestsideStores) June 13, 2013

 

— People Problems (@PeopleProblems1) June 17, 2012

 
@WestsideStores#MyDadIs is the glorious beacon of light, who shines even in the toughest of the times

— Shilpy Saxena (@ShilpySaxena) June 14, 2013
Westside is cross promoting the campaign on Facebook as well. Now that we have Facebook hashtags, they could have spiced it up!
A personalized magnet giveaway is a nice tactical move. This will help the store enter Indian households and remind the dwellers of its presence creating a top-of-mind recall for the store. The magnet will also be a subject of many discussions between the recipients and their friends and families, which will help the store project itself as a strong brand with high recall value.
Scope for improvement
For one thing, Westside should have used a little more appropriate hashtag or a branded hashtag than #MyDadIs. This particular hashtag has been used by other brands as well to promote their Father's Day events on Twitter- eg. HP and Tanishq (Though Tanishq and Westsite, both belong to Tata Group). Sharing the hashtag for different contest creates confusion, and it will be difficult to know who has tweeted on Westside Stores' initiative and who has done so for HP and others.
My dad is pretty cool. He just doesn't know it. Tell us about your dad. Use #MyDADis & win Tanishq vouchers . pic.twitter.com/7syV1zGHZH

— Tanishq (@TanishqJewelry) June 15, 2013

 
Tell us in 5 words what you admire most about your dad w/ #myDadis & we'll give you gift tips for #FathersDay. Score! http://t.co/2JYjTZ9oYK

— HPPrint (@HPPrint) June 12, 2013
In addition, as it has used a video montage to generate interest, the retail store should have created Vine videos (micro videos) about Father's Day to generate interest. The store could have used an image as well in all-text campaign ad.