About the tool!
Reputome® is a Brand Management & Reputation Audit tool that tracks all conversations and mentions that are relevant to the brand across all of the World Wide Web, covering Blogs, Social Platforms, Websites, News Channels, Video Channels, etc. It can be extended to function as a Marketing & Sales support platform for conversation marketing, brand launches and concept selling.

One of the biggest features of the tool is the real time Response Management System™, which is a workflow manager to manage all conversations in the online space based on an internal organizational hierarchy, with the ability to pull out detailed MIS reports as well as Consumer Preference Learnings.
Who founded the product/company?
This tool is a product of id8labs. id8labs is a leading full service Digital Agency based out of Mumbai.
What platforms does it cover?
The tool has the capability to track practically the entire world wide web. It specifically covers different platforms including, Facebook, Twitter, LinkedIn, blogs, Yahoo Answers, forums, websites, as well as video channels such as Youtube, Vimeo, etc.
Features of the tool?
The tool provides features which are pretty simple, that allow you to manage your conversations and customize your analytics and MIS on the fly:
Conversation Streams: Single Conversation Stream which lines up all conversations across all media in a single linear flow, sorted by time stamps.
Extensive Filters: Sort the streams on multiple formats. Platforms, Geo-location, The influence reach of the User, Data, Sentiments, and Gender.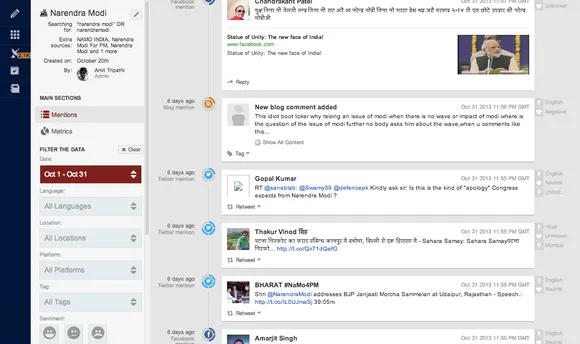 Easy Publishing: Schedule Posts/Conversations using single/multiple ids in a simplified convenient manner from within the application.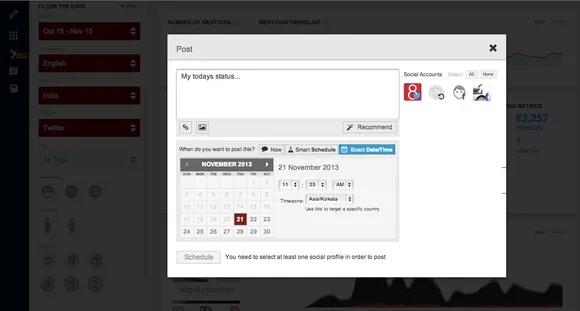 Smart Reporting: Generate reports and PDF reports to share with teams. There are already pre-created specific platform report templates available within the system. Alternatively, choose your own self-designed reports.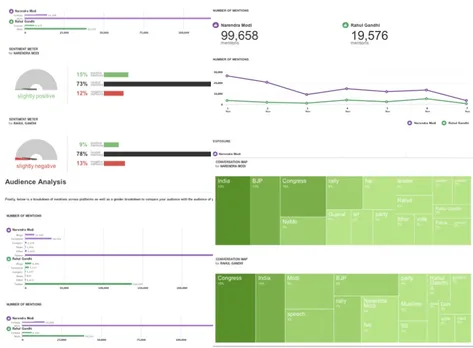 Does it give an option to download Reports?
The Smart Reporting feature of Reputome allows downloading, scheduling and automatically emailing reports to designated email ids. These reports can be personalized based on the users' requirement and can be changed on the fly.
What kind of sentiment analysis does it do and how accurate is it?
Reputome extensively uses NLP (Neuro-linguistic Programming) methodology to derive the sentiment analysis. We have purchased the required licenses to use a Salience Engine which is capable of multilingual text analysis.
What are the brands/agencies that are using this tool?
Clients are under contract and cannot be disclosed.
Pricing & Packages
The pricing is based on two broad structures:
Only License of Reputome: Where clients will get credentials to use the tool themselves.
Software as a Service: Where Reputome will provide dedicated resources to brand management cutting across Earned and Owned Media.
Pricing is customized for each service and determined as per the client's requirements.
Road Map
We see Reputome evolving into a leading Analytics Platform cutting across the digital realm and providing real time management capabilities as well as analytics for brand management.
The Team
Currently, Reputome is empowered by a Cross-functional team comprising of senior PR professionals, Digital Communication professionals, Domain Specific Content team and Cyber Lawyers.
Are you hiring?
Not at this moment.