There are hundreds of contests happening on Twitter everyday but one hardly gets to hear about a brand holding a contest on WhatsApp. If we look at numbers, WhatsApp has some 450 million monthly users compared to Twitter's 215 million. Since it involves the users' phone numbers, privacy concern is one of the major issues as to why brands avoid using WhatsApp to hold contests. Sony DADC took this challenge and attempted to engage with their audience through WhatsApp.
Objective
To engage with the audience on a unique platform.
Spreading the Word
Sony DADC used their existing popular platforms, Facebook and Twitter, to spread word about their campaign on WhatsApp.
Facebook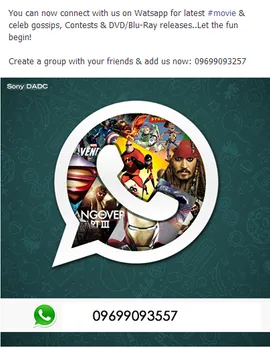 The response on Facebook was amazing, with over 60 people commenting on the post with their phone numbers.
Twitter
On Twitter as well, Sony DADC was able to create a buzz as they managed to get a lot of girls to participate.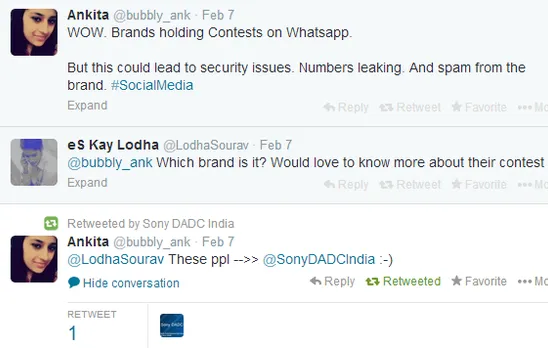 Execution
Before starting out with their campaign, Sony DADC ensured interactions between group members to make everyone comfortable, by asking questions like what was their favorite movie, their Valentine's Day plans etc.


Pick Up Challenge
Sony DADC asked the guys how they would impress a girl.


Girls, too, were involved in this contest as they started helping them out by pointing out which guy performed the best in their pick-up challenge. In this way they got everyone in the group involved.
 Guess The Movie
Sony DADC gave out some movie quotes and asked the group members to name the movie. The members replying the fastest would win a prize from them.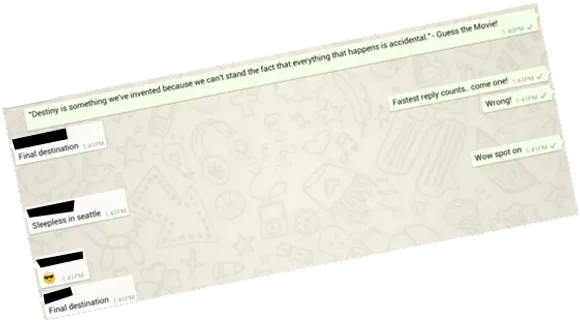 They also did cross promotion by spreading word about their forthcoming Twitter contest among their WhatsApp group members.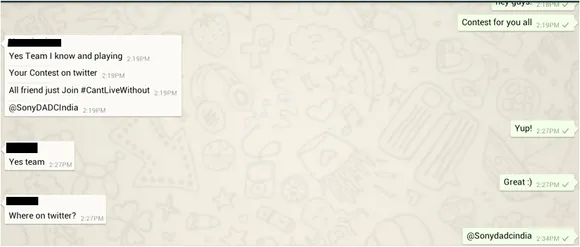 Sony DADC also leveraged the platform to promote their offers and solve any kind of queries.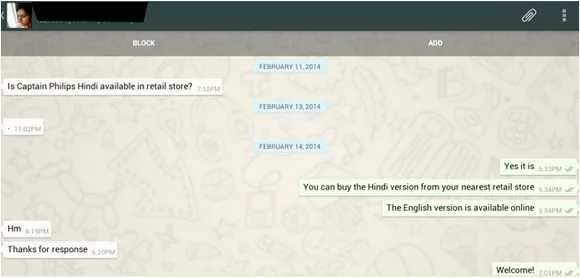 Results
Sony DADC has 3 running groups, each having 25-30 members.


Over the two campaigns, Sony DADC was able to generate close to 1000 interactions cumulative from the 3 groups.
Positives
The biggest strength of the campaign was the uniqueness of the platform. WhatsApp has not been used by an Indian brand for multiple contests and Sony DADC has proved successfully that WhatsApp is a platform which can be tapped by other brands. There were no big prizes yet people played, interacted with new people and made friends so much so that people chat among themselves even when there is no contest.
Scope of Improvement
Sony DADC had a great opportunity to leverage the groups they had made and success of their first two campaigns by driving the interactions in the group but they were seldom to be seen after the first two campaigns. Also since the groups are private, one cannot know what is being talked about in a group and what kind of interactions are occurring.  The contest also lacked adequate female participation as ladies are hesitant to be part of an unknown group and share their details. Another point to be noted is that though each group had 25-30 members, less than half of them would be active in the group which means that their audience for the campaign is much less.
Conclusion
Overall Sony DADC did a reasonable good job in not only initiating but executing the campaign. It's a unique path taken by them from which other brands can take a lesson.