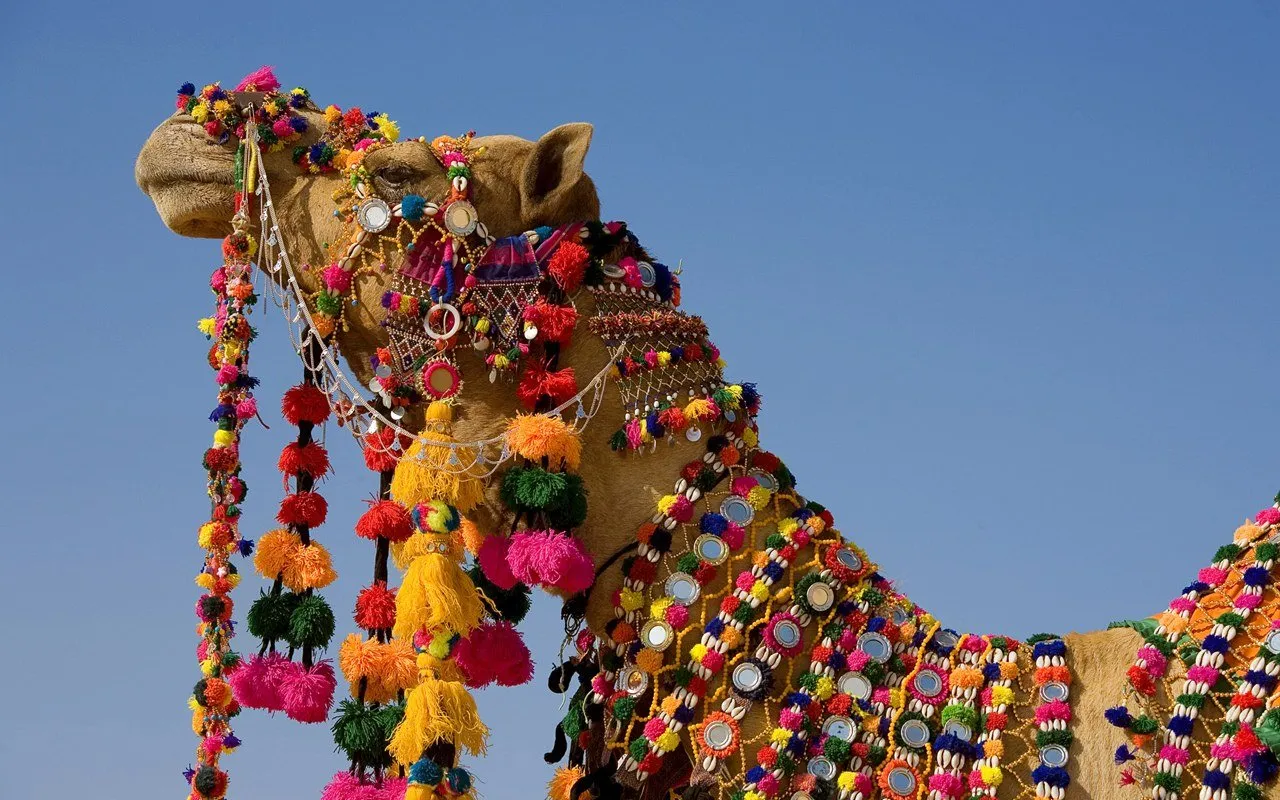 Berger Paints recently launched a social campaign on the eve of the 68th Independence Day, reminding users of the milestones in India's history, some of which might have gone unnoticed. The campaign is titled – the India You Have Seen. The campaign produces a fascinating account of various moments and events in your country after an individual's birth. It makes your think – Is this the India I missed seeing?
Objective
The objective of the campaign is to highlight the number of events of national importance that have occurred since the birth of the user till current date. And in the process of it, if you are sensitive, it could also strongly remind you of your Indian roots and inject significant patriotism in your blood.
Execution
At the outset, a tricolour coated campaign page asks for user's date of birth.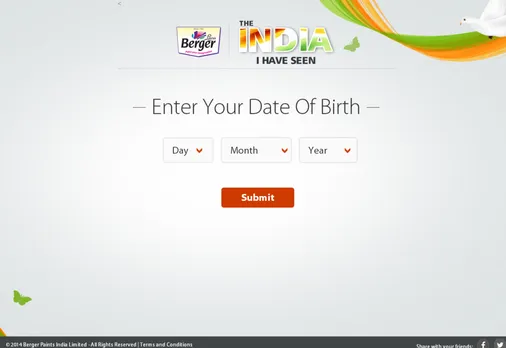 Once date of birth is mentioned, the app provides a custom chart for the user highlighting all the major national events that have occurred in her lifetime.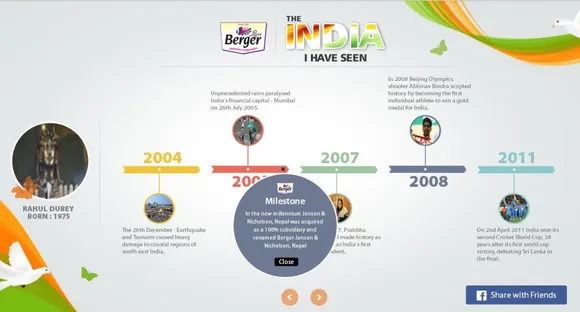 Users can share this chart on their social accounts and invite their friends to use the app to check their milestones. This chart also highlights the milestones achieved by Berger Paints during the period of time, invariably reminding them of the brand that is leading the campaign.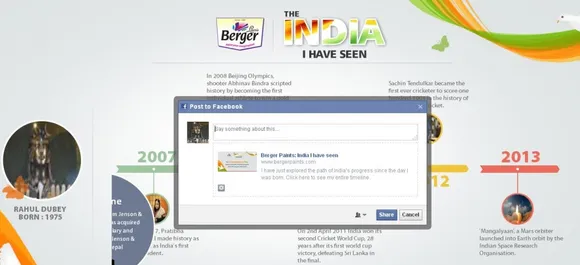 To win the exciting prizes on offer, one has to share the campaign on their Facebook timeline, which will take you to Bergerpaints.com. Wait, there is more.
To add more spice to the dish, Berger Paints also launched a quiz based contest, where users are presented with a set of questions around Independence Day. Participants need to log in via Facebook in order to be a part of the contest.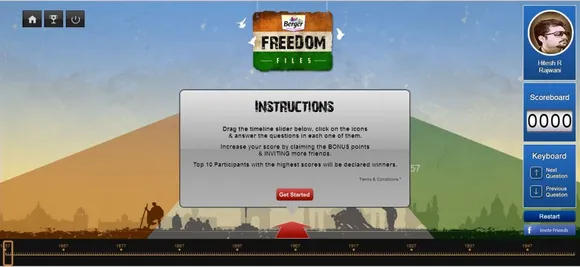 For every right answer, the participant gets 5 points and there will be a total of 35 questions.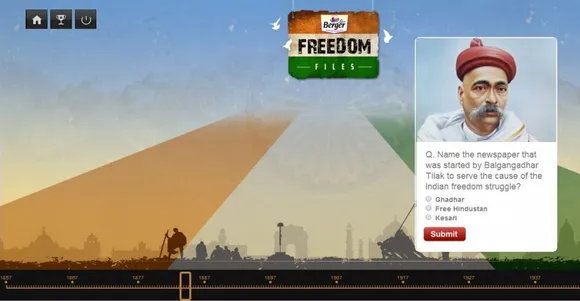 After every 7 questions, participants can get 50 bonus points if they share a 'Berger Paints' generic brand promotion creative. There will be a total of such 5 generic brand promotions that will be provided to the participants.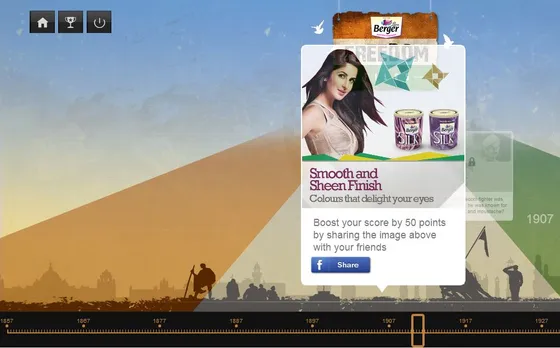 Participants can also increase their scores by inviting more of their friends. Each invite will give them one point. Participants get a point only after their friend accepts the invite. At the end of the contest period, 10 winners will be selected based on the highest scores.
Positives
To this author's surprise, the campaign brings out phenomenal factoids and historic questions to one's notice. A timeline of a score of events appear, such as the day India tested its nuclear capabilities, liberalisation of our economy, India's beauty queens Aishwarya Rai and Sushmita Sen's crowning as Miss World and Miss Universe to Abhinav Bindra bagging a gold medal at the Olympics. To measure the success of the campaign, Berger will collate the number of users who visited the campaign page, those who participated and those who invited their friends to visit the link.
Overall, the campaign is straight, colourful, information rich and engaging. The contest, on the other hand, intelligently (and subtly) promotes the brand through the scoring system. For a curious mind, the contest will make you log into the Berger contest more than once. Some questions are truly mind-boggling.
Scope of Improvement
 The campaign is pictorially strong, so definitely is great for Facebook users. It doesn't say much about how I can share the (post-birth) rich information on other social media accounts (say, Twitter, for instance). But all in all, it is fun to read the interesting events and facts of Indian history.
Conclusion
I would recommend you to fake your age (Berger won't e-penalise you for that) and put it as, say, 1 January 1947 and read about all the important events in Indian history. I assure you it will be a fantastic read for a whole day. The campaign is intellectually striking. I mean it is not a campaign which asks you about your favourite Bollywood film and couriers you a gift hamper. It provokes thoughts. And you probably ask yourself, "Did this really happen in India?" Possibly, there is a strong message hidden in this campaign for brand managers.