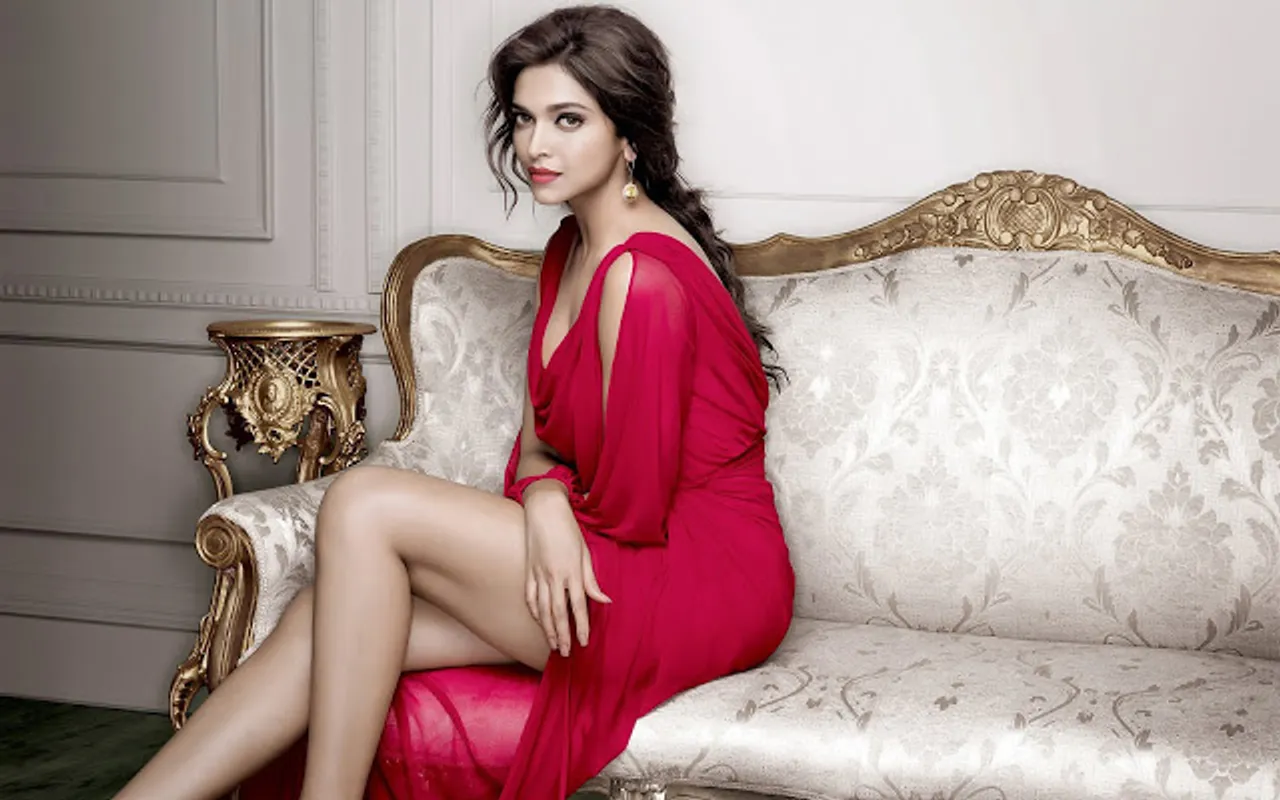 Five reasons why Times of India's response is more of a tricky and deceptive bluff than an editorial response.
Dear Times of India,
Thanks for throwing a light on how different, cluttered & chaotic we the online audience are and how different our consumption of content is as compared to TV & print audience. It was also  a big relief to know that you guys do not zoom into a woman's vagina or show her nipples, and I thank you for that (Read TOI's reply to Deepika Padukone). You were more than successful in telling Deepika Padukone through a 'Tablatorial' that editors at Times of India own Deepika's cleavage because in their opinion she has made a career out of flaunting it, hereby the entertainment editors at TOI have a right to sell the same cleavage to its online audience in whatever way without giving Deepika a right to object.
In your entertainment editorial published in Bombay Times which also features on top of TOI website, you have stressed upon the fact that Deepika started her career as a calendar girl for a liquor brand and you have proceeded in your counter by publishing six pictures of Deepika where she appears to be showing her cleavage voluntarily. There are and there always will be people who would agree with your point of view arguing that Deepika asked for what she got from you. Also there are folks around who may not agree with you entirely yet applaud you for the brilliant logic and counterarguments you came up with, well congratulations for that. Yet there are ordinary people like me who after carefully reading, find your response shrewd, tricky, bluff and inconsistent and below are the reasons-
TOI Bluff 1: Avoiding The Original Question
We'll discuss every word that you have written in your response to the actor but let's first tell the readers what you have not written or deliberately and wisely avoided in your 600 words response to Deepika Padukone. Yes you have taken up what Deepika had written on facebook but we all know that's not where it all started. It started from the three tweets where she asked you a few questions and if you have problem remembering them, here are some clues for you; Leading Newspaper, News, Cleavage, Problem, Women's Empowerment, Respect. Remember anything now? Good! In your editorial response you have deliberately avoided the questions which she raised on twitter, why? You wishfully chose to answer the arguments which she later posted on facebook because they were bit complicated in nature, and had an actor's perspective to it but the more fundamental question such as "Is this News?", "YES!I am a Woman.I have breasts AND a cleavage! You got a problem!!??" and ""Dont talk about Woman's Empowerment when YOU don't know how to RESPECT Women!" were not taken up by your wise editor because they were hard to answer. And you were not being ignorant in avoiding these questions, you were being wise and shrewd because these were the questions that connected to people and erupted into an online outrage against you and you conveniently avoided discussing them in your response.
TOI Bluff 2: The Wrong Picture

TOI's response came up with a picture (on the left) showing "the famous cleavage" from the video, apparently this picture looks nice and doesn't look too be controversial at all. The only thing TOI did not tell that when TOI posted the link on it's website they had a different picture (one the right) which has a top angle shot capturing Deepika's cleavage from a height which otherwise would have been impossible to capture. It's one thing to claim that someone is showing off but it's not the same when you position your camera at a public event in order to capture someone's cleavage. Looks like TOI just did that and tried to cover it by publishing another picture from the same video in Bombay Times.                
Picture Published With TOI's Response -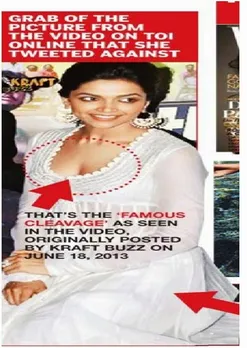 The Original Picture Appeared On TOI Website & Twitter -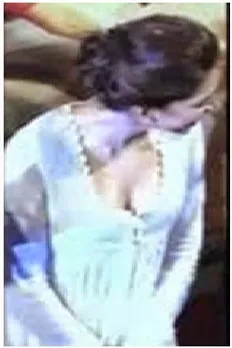 TOI Bluff 3: A Model is Real
Do the editor's of TOI don't understand the concept of modelling? Well at least person writing TOI's response wants us believe that. The six pictures of Deepika published along with TOI's response are from either photo-shoots or magazine covers. If a model is posing for a condom brand that doesn't mean she is asking for sex in real life, then how come TOI's argument that since Deepika has been showing cleavage in photo shoots, she must have been doing the same in all public events is acceptable? Modelling is also a form of acting where you pretend to look what you may not be in real life.
TOI Bluff 4: Half Argument/Half Pictures
The argument behind publishing six pictures of Deepika to establish that she's a regular flaunter is void and defunct and here is why; TOI took more than hundred hours to research and came up with its response. In order to prove that Deepika always does the flaunting, they dug up old magazine covers and photo shoots. What they did not tell that they could not find a photo from a public event where Deepika is seen exposing not as a model or a character but as Deepika Padukone. Considering the kind of resources and archive TOI has, the reason that TOI could not came up with such stuff because there are no such stuff.
TOI Bluff 5: It Was a Media Outrage
In Its response, TOI wants to make it a media outrage, for the records, it wasn't a media outrage at the first place, it was Deepika's outrage because she felt offended, she brought it to public domain using social media, it's just that a majority of people agreed with her and that turned out be an outrage against you. Other media outlets, including international media just reported this outrage. TOI also had an option to report it following high values of journalism but you forgot journalism and chose to be a party and after days of research came up with a shoddy editorial response in the entertainment section of the Newspaper, that's not Journalism, that's Management and it's called saving your own ass formula.
After reading your response to Deepika & watching the pictures that you have published to prove your point there is only one question that remains to be answered now,
Dear Times of India, have you completely lost it? Is there no one in your editorial board who can stand up and tell you that what you had done was wrong and what you have done with this response is just insane? If not, then log on to social media and see what people are talking about your journalism, I am sure you will have an idea.
Regards
A Fellow Journalist
Ankiit Koomar