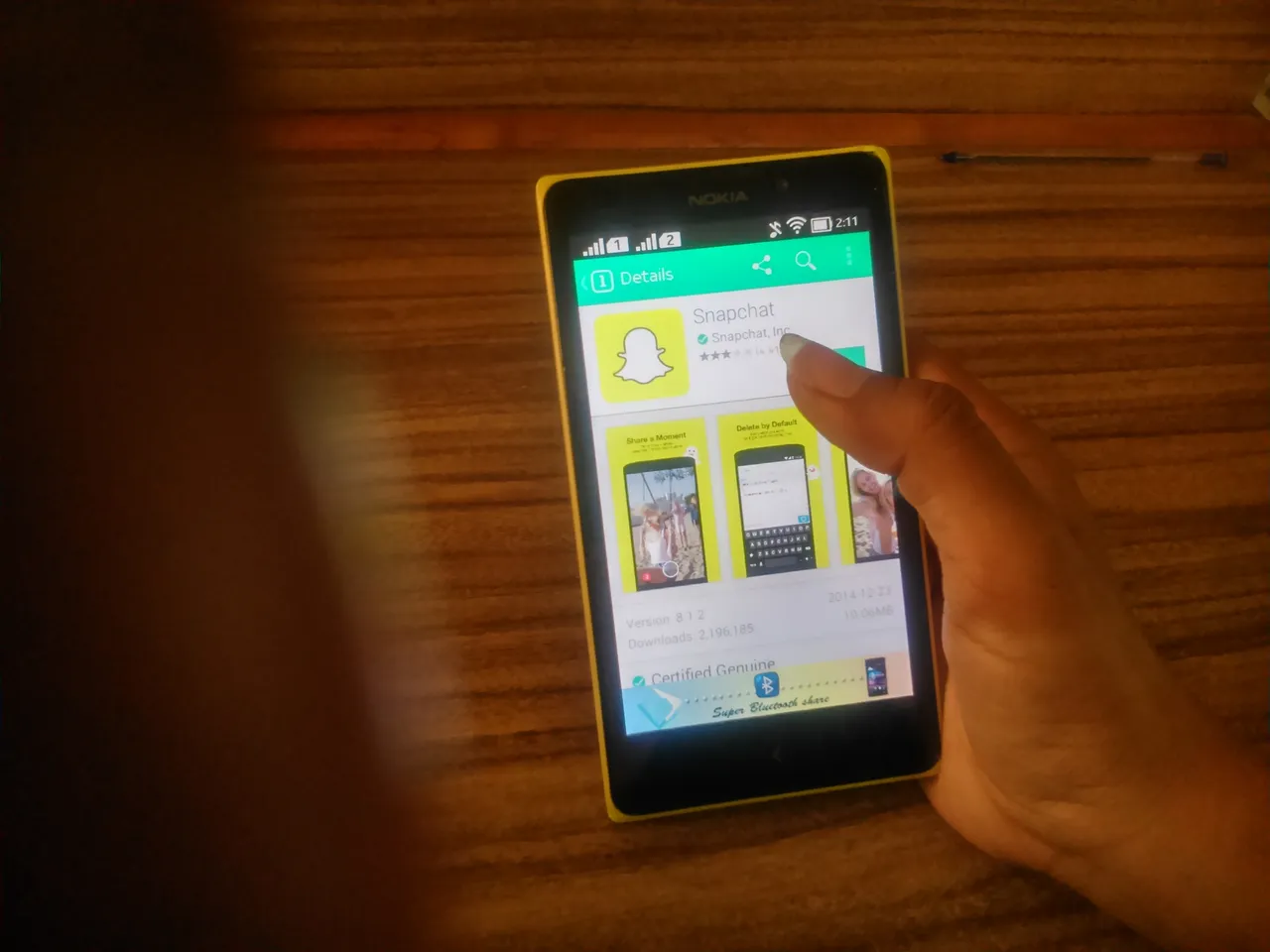 Snapchat is the hottest photo messaging app around and is a fun way to share photos and videos with friends and family without bulking up your mobile storage space.
Snapchat is one of the most interactive and user friendly apps with cheeky features like time limits and draw features to name a few. The interesting catch is that you can view Snaps for a maximum of 10 seconds.
Here's a quick guide to Snapchat and to take the perfect "Snapsterpiece".
1 - Download and Sign Up
Snapchat is available on both Android and iOS. Once you have downloaded the app, all you have to do, is…. Open it. Snapchat asks you to either Log In (If you are an existing user) or Sign Up (If you are a new user). If you are a new user and Tap on Sign Up, this will appear
After you have filled you credentials, you will get a verification code for authenticity via SMS or Call. Enter the verification code and Viola! You are now on Snapchat!
2 - Add contacts
First thing you have to do is to add friends and families to your contacts. Other Snapchat users who have your phone number saved in their address book can find you, too. You have the choice to add all your contacts that are existing users on Snapchat, or add people one at a time by typing in their username into the search tool on the "My Friends" tab.
"My Friends" is a place to view your friends, add friends and search for other Snapchat users. You can find this page by simply swiping right or tapping on the three lines located the bottom right corner of the camera screen.
3 - Change Settings to your preferences
First of all, make sure you have the latest Snapchat version and have all the new features. If you don't, you can download or update the app from Google playstore or iTunes. Tap on the gear icon on the top-right corner of your feed and Tap "Manage" under "Additional Services". In this section, you can enable bonus features such as filters, front-facing flash, replay and special text, and also choose the number of best friends you want displayed on your "Send To" screen.
4 - Begin Snapchatting
Snapchat automatically activates your phone's camera and then it's just basic photo capture.  Adjust the focus of the camera, tap anywhere on the screen. Tap the camera icon in the top right-hand corner to switch from rear camera to front camera, and tap the lightning symbol at the top-left corner to turn on the flash on. To take a photo, tap the circle at the bottom of the screen. To record a video, tap and hold the circle at the bottom of the screen. You can record videos up to 10 seconds long.
5 - Add Captions
You can add a candid message to your Snap. Tap anywhere on screen and a text box will appear. Type your caption and spice up your conversation.
6 - Use Filters
For this feature, make sure you have enabled the filter feature. Swipe your finger left or right to preview each filter. Snapchat has also come up Location based filters. Turn On your location settings and get special filters for your Location.
7 - Doodle on your Snaps
One of the best features of Snapchat is that it lets you draw on your pictures and make them look creative and fancy. Pick a color by simply adjusting the slider. Use your finger to draw on the photo, make your creative juices flow and make the best of what you have got. If you make a mistake, don't worry. Simply tap the arrow (left of the pencil) to undo your mistake. Modafinil 200 mg online https://dodgecityksdental.com/patient-resources/modafinil/
8 - Set the Time Limit
The app lets you choose how long you want the recipient to see your Snap for a maximum of 10 seconds. To adjust the time limit, tap the stopwatch icon at the bottom-left corner.
9 - Save your Image
You can save your favourite picture or videos before sending it, tap the downward-pointing arrow at the bottom of the screen. Snapchat must have access to your photo album in order to save an image.
10 - Send your Snap
Once you have finished making your Snapsterpiece, it's time to send it. Select contacts you want to send your photo to. There is no limit as to how many people you want to send the photo to — choose all the recipients you want, and hit send by tapping the arrow on the bottom-right corner. Once your recipient has opened your snap, the triangle (for photos) or square (for videos) icon next to your friend's name will not be filled in. A filled-in icon means your snap has been sent, but hasn't been open yet.
11 - View Snaps by Friends
Press and hold the snap you want to look at. Make sure you continue to hold your finger on the screen to view the snap. When you let go, the snap will disappear. You'll see the timer in the top-right corner, which shows how long you can view the snap. When the timer ends, the snap is gone permanently (For seeing it again, turn on the Replay feature, refer.1)
Caution — if you want to be smart and secretly take a screenshot of the Snap the person sent you, Snapchat has a solution, for that, if you take a screenshot of your friend's snap (the same way you would take a screenshot of anything on your phone), he or she will receive a notification. So stop being a creep and let Snapchat be.
12 - The Snapchat Score
Snapchat Score is the total number of snaps you have sent and received. To check your score, go to the page where you can view the snaps you have received. Tap "Snapchat" at the top, and your score will appear. The people you send and receive the most Snaps from become your favourites.
13 - Make a Story
If you want to depict your story through Snapchat, you with the "My Story" feature.
Your story will exist on the recipients feed for 24 hours. To create a Story, take a photo or video and then tap the rectangle icon with a plus sign located on the bottom of your screen. Tap "Add to Your Story." Once you've pressed this, it will exist on your feed for 24 hours. To delete the snap from your Story, go to your "My Friends" page and tap on the gear icon next to your Story. Tap "Delete."
14 - Texting and Photo-Sharing
Snapchat isn't just for sending snaps and Stories. You can also have real-time conversations. To start a chat, visit your Snapchat inbox and swipe right on a friend's name. To attach a photo or video, tap the yellow camera button. Once you leave the chat screen, all messages between you and your friend will be cleared. If you want to save your message, you can either take screenshots of it or tap the conversation to save it. When you tap on the messages, the font will change and will be highlighted in gray, which means that you have saved the conversation.
If you have any more suggestions, share them in the comment box below!