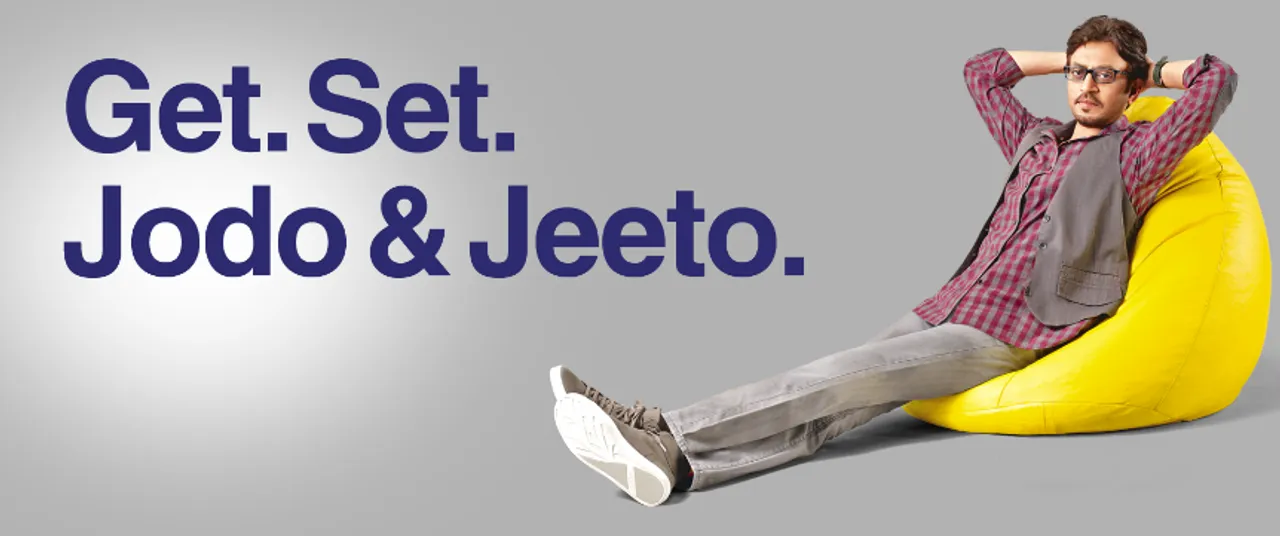 After receiving a fairly good response from the 'Aaram Ki Tune' campaign, IndiaMART unrolled its 'Kaam Yahin Banta Hai' campaign, only to have an even better comeback!
The 'Aaram Ki Tune' campaign was focused on the fact that ordering whatever you need from IndiaMART is as easy as singing your favourite tune, and further led to 'Kaam Yahan Banta Hai' highlighting the sheer variety of products one finds on IndiaMART. The brand now extends the same core message in its latest set of TVCs. With the launch of its new 10 seconders, the country's leading online marketplace is witnessing another round of overwhelming participation from its audience as the ads seem to be catching up with the audiences online as well as offline.
10 second TVCs are catchy –
While most brands would love to produce video content in order to showcase their range of products for maximum visual appeal and entice customers to their website, IndiaMART keeps its message as short and crisp as a 10 second video. The video has been strategically kept so short, that by the time it ends, the viewer would want to watch it at least one more time since it contains elements of humour and surprise.
A pre-buzz for unveiling the TVCs across platforms -
IndiaMART conducted fun quiz contests & kept promoting the same to encourage audiences to interact with the brand.
Facebook post –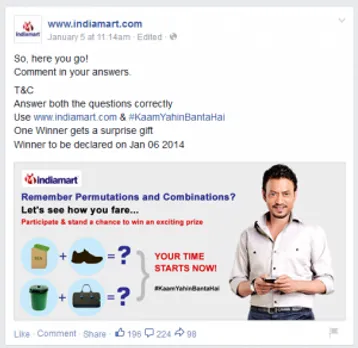 Receiving a good number of participation for the contest, the brand then posted the answer to its first question not only through a Facebook post but also provided a link that led fans to their new TVC on YouTube.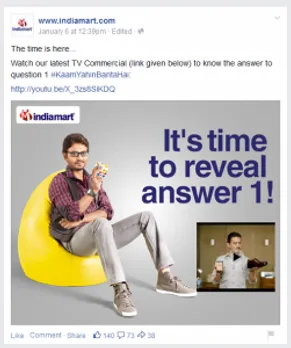 By unveiling their new ten seconders TVC first on social media, it managed to grip the attention of the audience. These TVCs do not fail to entertain the audience with the kind of sense of humour Irrfan Khan has. In one of the videos, their brand ambassador Irrfan Khan, takes tea in one hand and shoe in another, combining them in a magical trick and making a tissue out of it, whereas the other commercial shows Irrfan holding a bin in one hand and a bag in the other and combining them to make a bean bag! This campaign works as a perfect example of permutation and combination to engage its audience in a very interesting manner.
Quickly catch a glimpse of each of these TVCs below -
              TVC 1:
TVC 2:
To unveil the TVCs, IndiaMART, instead of doing it the traditional way of just putting a countdown and unveiling the videos, went a step further and seeked active participation from their social media audience.
Post Video Engagement – Jodo & Jeeto Contest
They sparked off a contest both on Facebook and Twitter wherein the audiences were asked to solve a crossword based on the same permutation and combination method shown in their new TVCs and the winner was gratified with exciting big prizes!
Contest Tweet –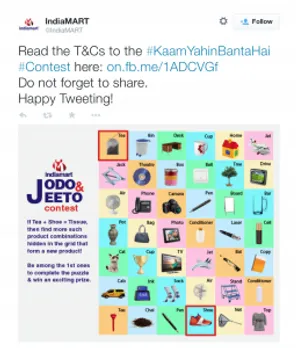 Contest Posts on Facebook –
 Post 1 -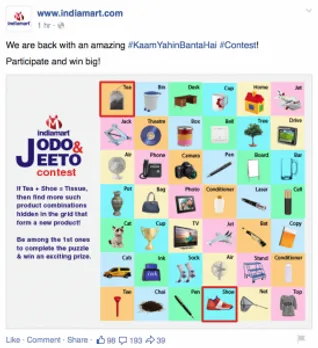 Post 2 -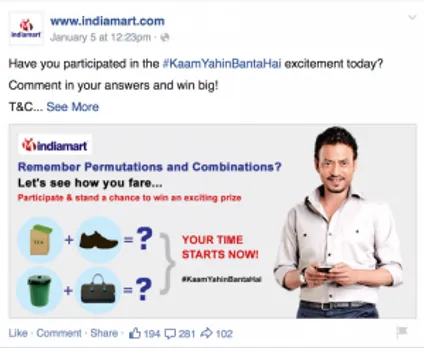 Closing Thoughts –
It is indeed a good move to first get the audience acquainted with the TVCs across social media by getting them to engage with the brand. Once fans start engaging online, it becomes easier for the company to penetrate through the minds of the consumers, once they watch the same content on their television sets. For now, let's wait and watch how IndiaMART manages to win over its audience.