NESTLÉ Munch launched its new campaign on digital platforms followed by television. The brand urges the its target audience to claim their stage, to sport and embrace their flaws and their passions and be unapologetic about whom they are. The Longer version of the TV ad was posted on the NESTLÉ MUNCH Facebook page, YouTube channel and Twitter on the 10th of January and has received an enthusiastic response from consumers. With over 3 million views on Facebook and YouTube, this ad will definitely start a new trend amongst the youth. The music has been a great hit, with over one lakh downloads within two weeks of its launch.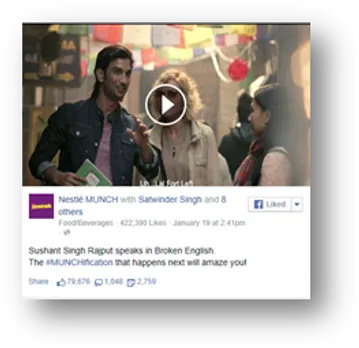 The Plot:
The protagonist in this new film by NESTLÉ MUNCH is the confident, happy-go-lucky College Student played by Sushant Singh Rajput. From a street scene, talking to tourists in 'Broken English', to trying to impress a girl in the college library with the same 'tootaphoota English', the film showcases this common angst among a large section of our country's youth in a light-hearted and comical manner.  All of this culminates into a big fail at the 'Romeo and Juliet' audition, where the lines that he utter are obviously ones that Shakespeare never wrote.
A dejected hero walks out of the theatre, crunches loudly into a NESTLÉ MUNCH 4X4, which gets everyone's attention. He now has a 'Manch' (stage) to showcase his talent; he uses this to fantastic effect by breaking into the very catchy 'MUNCHification' song in 'Broken English', catapulting himself to stardom in the process.
This new commercial inspires us to embrace the beautiful little flaws and imperfections within all of us by parading them out in the open- Simply put, Nestlé MUNCH khao, Apne Manch pe Aao!
The Campaign:
The campaign extends to Twitter and Facebook with the hashtag #MUNCHification. Soon after the launch the conversations around the campaign have exploded on both Facebook and Twitter.
Consumers tweeted about the Brand Message 'Embrace who you are, you're a superstar!' and the catchy jingle of the ad.
Facebook users loved the idea of Broken English becoming the next cool thing for the young generation, with many humming the lyrics of the jingle across Facebook posts. A new trend, Facebook also saw a lot of consumers updating their status to 'Eating Nestlé MUNCH' while posting about the campaign.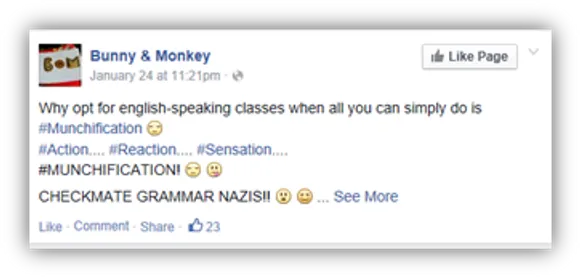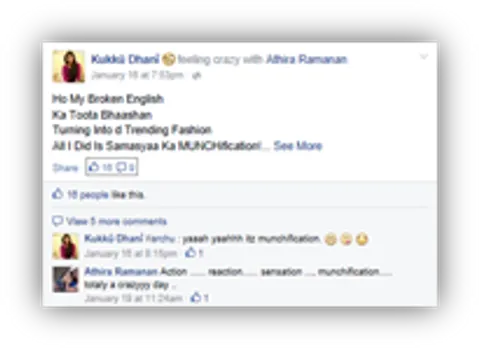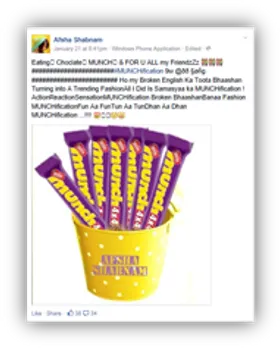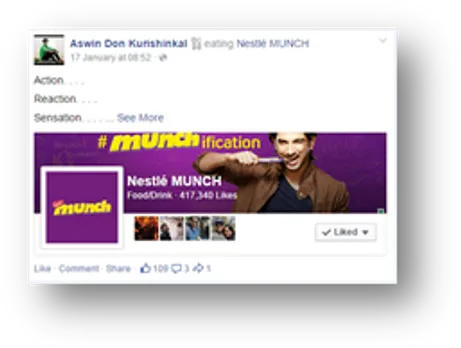 The jingle of the ad or the 'MUNCHification song' has been sung by Mika and can be downloaded from the YouTube and Facebook video by clicking on the download button. It is also available on digital music platforms like the mobile Gaana app. The #MUNCHification song has seen over one lakh downloads, just two weeks into the campaign.