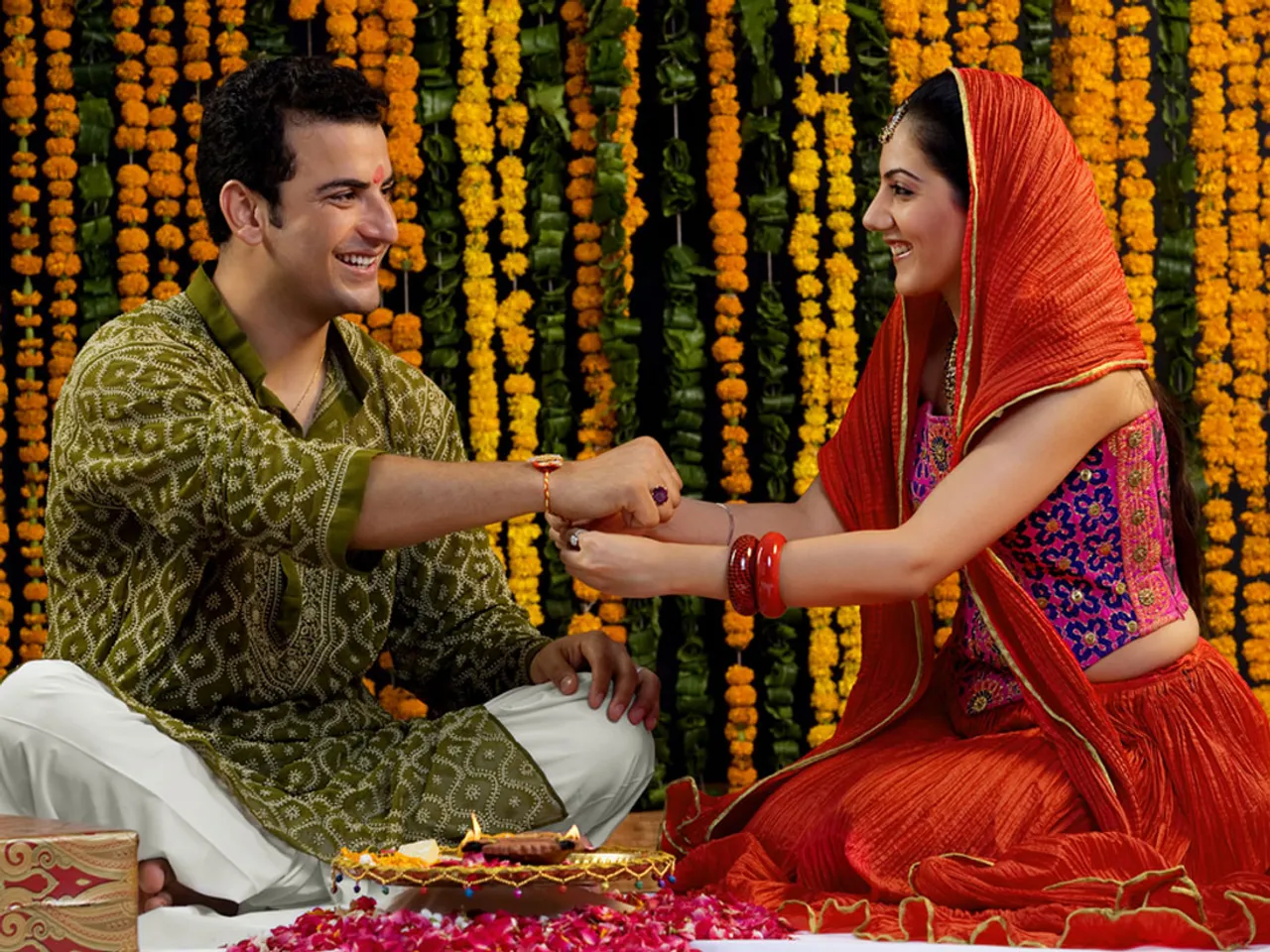 Social Samosa brings you a qualitative analysis of the two Raksha Bandhan campaigns that stirred the socialverse.
We find pleasure in cursing them sometimes and then shielding them most of the times; almost can't live with or without them - apart from these standard designations our definitions may vary when it comes to siblings but the relationship somehow sways in the same direction.
Breed in the multi-cultural setting, we've grown up celebrating something every other day, but what sets Raksha Bandhan apart is we rejoice one relationship which evolves to play varied roles. Frenemies on most days, our siblings are mostly the beholder of our shady secrets, prey to our pranks, co-founders of inventing bizarre entertainments and the list goes on long as we empty the memory bank.
Social media streaming the sibling relationship this Rakshabandhan
As we keep up with the rakhi tying ceremony with one hand, we enlighten the social world about it with the other. Fitting in this digital culture, brands too, have embraced the internet generation and are bringing out the essence of this relationship through their campaigns. As Rakshabandhan merriment campaigns floods on social media, we picked two out of the lot, that managed to intrigue us along with the netizens.
Both these brands from absolute dissimilar ends produced campaigns, throwing spotlight on the festivity and executed their thoughts through a film posted on social media exemplifying this bond.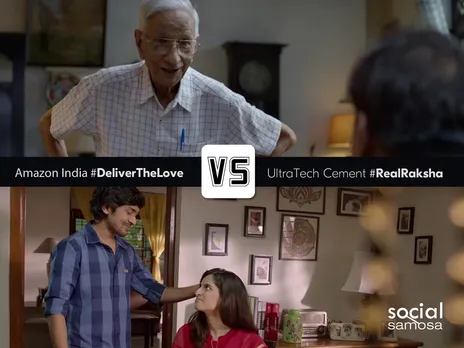 Qualitative analysis of both the campaigns
'While we can deliver gifts you can #DeliverTheLove' - as soul-stirring as this statement sounds, the visuals resonate similar emotions. Conceptualized by Ogilvy Bangalore, Amazon has yet again left its trace on the digital platform by delivering a thematic campaign.
Putting the visuals into words, this film attempts to highlight the golden lining of this enduring relationship, which is put on the back seat as our life is driven by fast paced urban concerns. The film commences with an old man prepping up for a trip, meanwhile his son tries to convince him to send across a gift through the Amazon app, owing to his health issues. The film then unfolds beautifully as the old man reveals his entire motive of taking the trip is not just to gift his sister but watch her smile. Based on an awfully minimal thought, the film synopsis pleasantly showcases the sweet sibling relationship even at the age of wrinkles and grey hair, leaving a wide smile across the viewers' face.
Rising to the occasion, UltraTech Cement too became a part of the trend. Titled #RealRaksha, their film spoke volumes on how real protection is not what his brother could give his sister but could give it to all the girls, with little respect.
A country where feminism as an issue needs a push, the execution of this film brings out a casual sibling conversation where the sister asks from her brother as a rakhi gift that he quit objectifying women. The campaign cogently narrates the utmost care brother-sister hold for each other through this one minute long film shared on the brand's social media handle.
Brand connect of the campaign
As we break down and lay across both the campaigns for our readers, it is easy to decipher that while both the brands shed light on sibling relationship, which ideally is the highlight of the day, the difference in the relationships portrayed in both the campaigns talk about different generations.
The content dissemination of both these films intended to string in with the emotions of the viewers making an unswerving connect through relatable content. While #RealRaksha not only put across the trending festival in the frame but also surfaced the current societal concerns faced by the society. This however, was extremely similar to what Postpickle did last year on the same occasion with their successful campaign #ForASister, urging all brothers to give up on the widely used Hindi cuss word thus, making #RealRaksha's content somewhat second hand.
On the other hand, #DeliverTheLove held a surprise value to it till the very last sentence through its unique content. Among all the cluster of cliches, this campaign with its matured script felt like a breeze of fresh air.
Another remarkable difference was that, while #DeliverTheLove boldly mentioned their brand name within the film, #RealRaksha focused their attention specifically on the crust of their theme.
Social reactions
Users too started participating in the social celebrations of Rakshabandhan by pouring in their love through photos, posts, and by sharing the campaigns they related the most to.
#DeliverTheLove became a hit digitally as on Facebook the campaign received a thunderous 6.1M views, 14k shares, 121k reactions and 1.5k comments since its release on August 7. The campaign also received tweets by celebrities who shared their pictures with their siblings, mentioning the campaign.
Only this brat @saqibsaleem knows how to make me :) at #RakshaBandhan Thnx @amazonIN for #DeliverTheLove inspiration pic.twitter.com/IpfEccmWiP

— Huma Qureshi (@humasqureshi) August 18, 2016
Hi @SunitaKatyal, your brother @AnilTrehan23 has a special #DeliverTheLove moment for u on this happy day @amazonIN pic.twitter.com/7mOiVMhKma

— Gaurav Kapur (@gauravkapur) August 18, 2016
.@shivangchopra99 knows how to make me happy
The @amazonIN #DeliverTheLove video totally worked this #RakshaBandhan pic.twitter.com/c9kncGWUVE

— Parineeti Chopra (@ParineetiChopra) August 18, 2016
@amazonIN #DeliverTheLove Our Best pic...:D

Happy Rakhi...<3 pic.twitter.com/NZ8XeLdHP8

— Arpan Mahajan (@XGame07) August 18, 2016
.@amazonIN #DeliverTheLove
U guys truly livd upto the xpectations n made my Rakhi special sittng miles away :) Thnx pic.twitter.com/nIDGluhiim

— Hitesh Kataria (@ErHiteshKataria) August 18, 2016
@amazonIN #DeliverTheLove Rakhi from bachpan....:D pic.twitter.com/gebup7K7bJ

— Arpan Mahajan (@XGame07) August 18, 2016
Along with the video, the campaign was beautified by animated creatives and plenty of GIFs revolving around this love-hate relationship.
#RealRaksha too garnered plenty of attention and participation from the twitterati, receiving thorough acknowledgement. On Facebook since its release on August 12, the campaign garnered 1M views, 10,499 shares and 25k reactions. The brand's social media page was filled with festive illustrations and to boost engagement also conducted a contest wherein they asked their audience what 'Raksha' means to them.
Raksha means a shield provided by a loved one with which we feel fearless & protected throughout the life?#RealRaksha

— Naina (@MeSoCoool_) August 18, 2016
Raksha means a protection from every fall and down throughout the life?#RealRaksha

— Naina (@MeSoCoool_) August 18, 2016
@UltraTechCement from my side Raksha means honour his religious duty and protect me.#RealRaksha

— dimple (@dimplekuhar) August 17, 2016
@UltraTechCement its d bond of togetherness ,the bond of love,unbreakable the bond of faith,unbeaten its a sense of delight !! #RealRaksha

— deepak (@DeepuLeo1995) August 17, 2016
To draw a comparison, Amazon's product was finer, making a stronger sentimental connect whereas #RealRaksha though mirrored the reality of the society somewhere lacked in their script. Nonetheless, both the campaigns managed to capture the interest amongst the crowd.