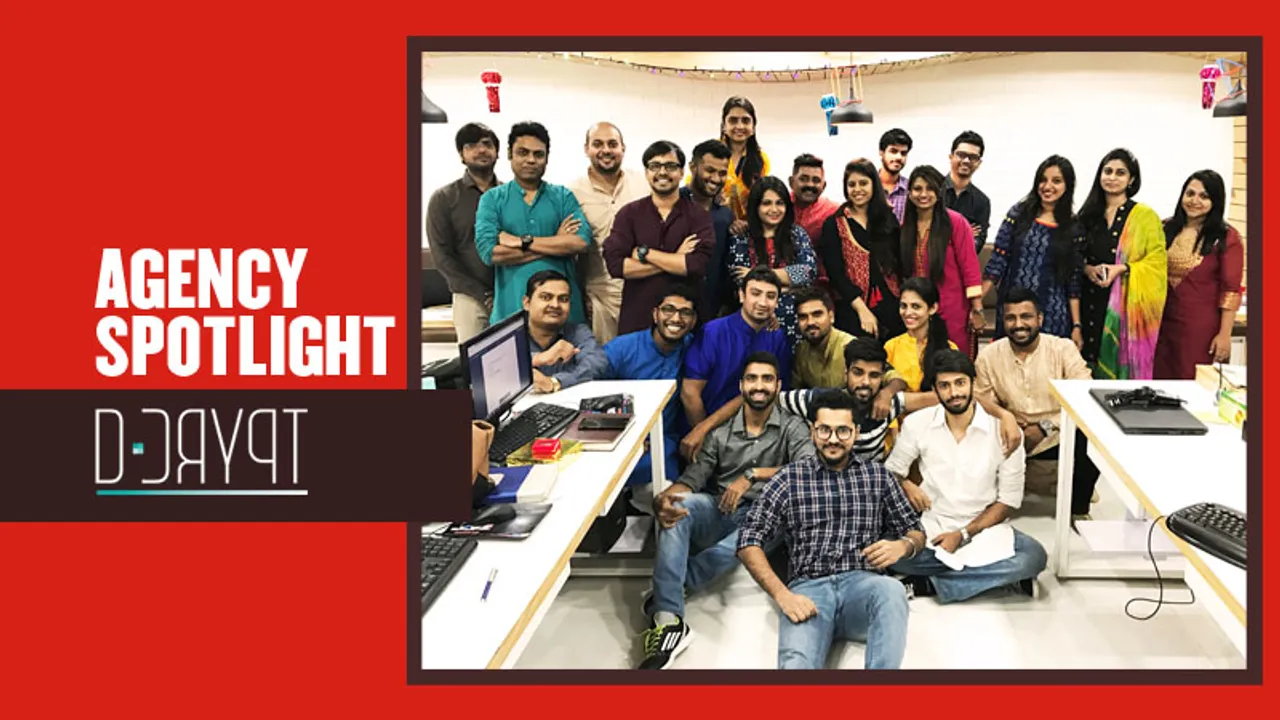 This is a part of our Agency Spotlight segment, featuring D-Crypt and the path breaking work done by their team. We spent a day at D-Crypt and below is how our encounter went.
A warm hued, sprightly workplace, nurtured by the zest of perky youth and the experienced, D-Crypt, is an agency, dynamically involved in the evolution of the digital scene in the country. Reflecting today, tomorrow's possibilities.
The story began, three years back when Aastha Singla with a vision, founded the agency and then brick by brick (or more likely click by click) erected a digital foundation of thirty enthusiasts.
"The day here is absolutely insane! In the morning when I walk in I don't know what's going to happen," shared Singla, expressing how crazy the industry has gotten over the years.
Looking into everything, from creative to content and always keeping her door open to everyone, Singla usually starts her day by interacting with her team. Singla further informed how the agency goes against the current as the team decides their deadline to churn out some amazing work.
According to Ashna Sawhney, the Account Planner at the agency, work is like attending college where everyone works sincerely but they never fail to miss out on the fun chit-chatting and playing pranks on each other. She further shared, "There is no cabin culture at work, and we sit together in a huge hall in open spaces on desks with no dividers. We are transparent. We need no personal space, be it taking Snapchats, eating all day long or simply walking around."
A team which is always available for each other. In a nutshell, the day long work commences with planning, allocating systematically, taking selfies and then discussing the menu for lunch! She also shares that a 15 minute walk post lunch is a must and then there is no pause to them to deliver their best.
Describing the scenario at work before a campaign launch, she said, "You'll see the content and creative team gelling extremely well because they're already aware its going to be a late nighter and they are going to accompany each other while the client servicing team becomes a PCO attention to plenty of client calls from the panicked ones handling situations beautifully whereas the others support them by being around cracking jokes, playing darts and just lightening the mood of the room."
While Amol Shinde, Web Developer in the team described the scenario saying, "too much to do in too less time. Every campaign launch needs proper planning and timelines that need to be met. All the minute changes and detailings need to be accounted for before the Big day."
They strictly believe that novelty is the only viable option and fumed by an undying curiosity, D-Crypt is on a mission to string in people by strengthening connections.  The place is sheer dynamism.
"Fun and fights, laughter and squabble alongside the routine work," this means a day at D-crypt for Rohit Yerunkar, Creative Group Head. The agency does not fail to offer abundant creative freedom, this makes D-Crypt a stand up place according to Yerunkar.
Pankaj Sonkusare, the Senior Media Planner escorted us through his work at the agency, "After hearing the brief from the client servicing team, we execute the current needs where some come for lead generation, app building, advert management or SEO campaigns" After working in a field for the past 13 years, he thoroughly enjoys working with his extremely creative juniors.
D-Crypt is all about blending work with fun, and transforming fun into raw creativity.
"We work here as a Big Family," Nehal Rathod expressed wholeheartedly in this one statement and looping in his designation as the Group Account Manager at the agency. He further asserted on the popular quote, "Choose a job you love and you will never have to work a day in your life." Emphasizing on his love for the job, Rathod also shared how the job allows him to meet new people and build strong and long-term relationships, which he absolutely adores.
"If someone talks about disturbing the lot, 99% the source would be me, because I can't keep quiet!" this is how their cheerful Associate Creative Director- Copy, Rohan Dias introduced himself.
To find out more about the content team and their day at D-Crypt; they prepare a jobsheet in the morning followed by a quick session illustrating the work flow for 30 minutes. Usually the content team begins with the Client Servicing team dropping them an email with a brief about the day's work. They also have different levels of work priority, where the least important thing is picked up post lunch.
"If you have a writer's block, the best thing to do is shut down your laptop and go out and stroll around," Dias ended with a pro-tip for all writers.
Our next pit stop was at the Client Servicing Desk. The team had a lot to share.
Chhavi Miglani and Sarang Shah, the Senior Managers Client Servicing seem to be lucid with their workflows, both shared how prioritising work is imperative, considering the unrealistic client demands. They even shared how they manage to tweak their schedules as per the meetings and priorities.
Making proposals, fixing meetings and following up with the multi-facet government and private clients, is what goes around at D-Crypt for Manoj Vyas, Business Development Executive.
Self-assured with his tasks, he takes upon himself to build relationship with his clients and more than often consults them about various ideas. "Apart from working in smooth team, it's exciting to meet new clients as it gives me immense exposure. So far, it's been an adventurous ride" Vyas said.
Singla shared how the clients always keep Facebook as their first preference, followed by Twitter, then Instagram for the young audience and finally Google Plus to gain some momentum and these are the four platforms the agency majorly deals into.
Social Samosa spent a few hours with the D-Crypt family, interacting with the members where we discovered the benevolence of the team and their ardour towards the digital world. Flourishing massively within just three years, this agency with a fit mix is something to look out for.
Stay tuned in for our next post under the segment to meet the happening team at D-Crypt.