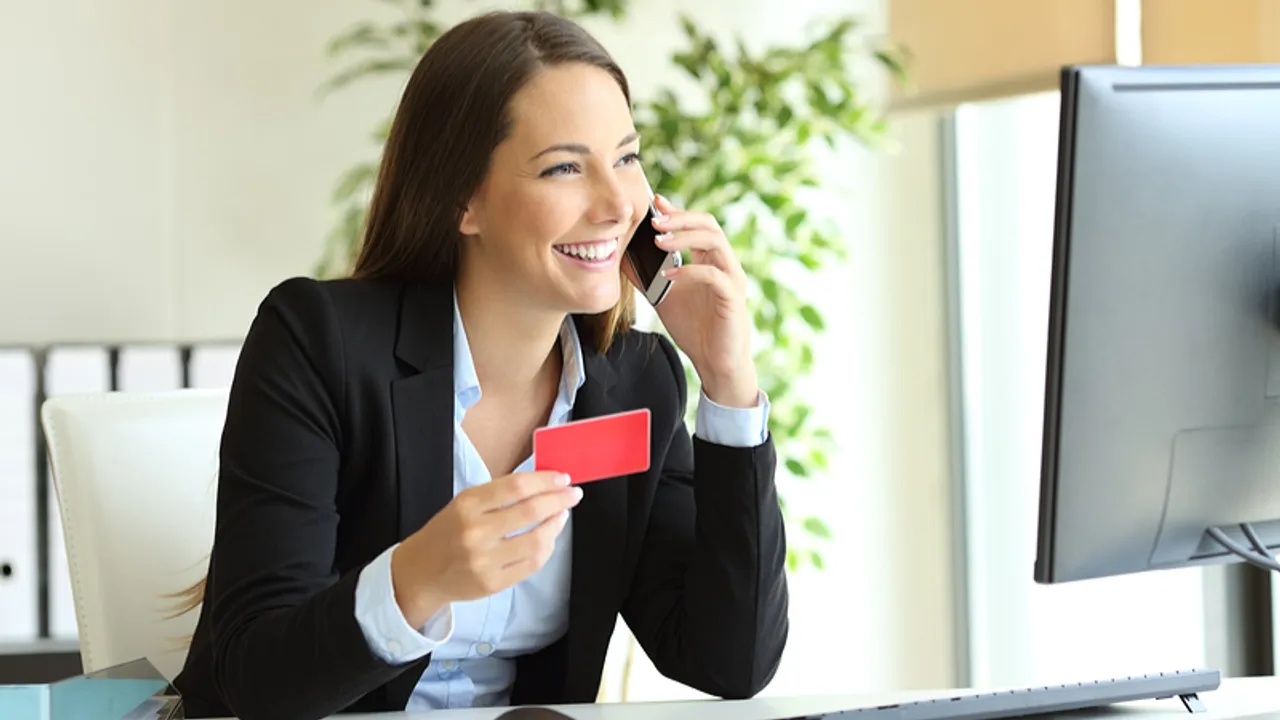 Twitter and ICICI Bank, announced a partnership that integrates a slew of digital customer care support features for ICICI Bank, benefiting millions of its customers with direct online response to their queries and feedback in real-time.
ICICI Bank is the first bank in India to implement the new features to its Twitter account @ICICIBank_Care for social customer care. The bank has activated the support indicator, introduced the message button, and embedded deep links for moving a conversation from public to private thereby allowing customers to provide feedback on a service interaction.
According to recent research, businesses create a massive opportunity for themselves when they acknowledge customer service-related Tweets from consumers. When a customer Tweets at a business and receives a response, they are willing to spend 3–20% more on an average priced item from that business in the future. In order to make it easier for businesses to respond to customers promptly and effectively, Twitter has introduced the following new customer care features for businesses:
Display a 'Message' button on their profile for customers to send a Direct Message
Indicate to customers that the business provides support on Twitter
Guide users from a public conversation to a private message with one button
Get instant Customer Feedback after a service interaction
Speaking about the partnership, Sujit Ganguli, Senior General Manager, ICICI Bank said, "ICICI Bank has always been a pioneer in using path-breaking technology to reach out to its customers. With the growing prominence of social media in our lives, we anticipated the need to be where our customers are. We are among the first few organisations in the country to have started resolving customer queries and requests on Twitter since 2009. We are also the first bank in Asia to introduce money transfer services on Twitter last year. We are delighted to partner with Twitter to bring forth some unique new-age customer-care functions. Customers can now use these functions to communicate, navigate as well as resolve their banking related queries with improved convenience and speed on the bank's Twitter handle for queries, @ICICIBank_Care. This initiative is in line with our philosophy of 'Khayaal Aapka' wherein we offer services that make banking a rewarding experience for our valued customers."
ArvinderGujral, Senior Director, Business Development for Asia Pacific, Twitter, added, "Twitter is delighted to partner with ICICI Bank on real-time innovation for their customers. Millions of people talk to businesses publicly each month via Tweets. With the latest customer care features from Twitter, we hope the bank and their customers will find greater convenience in their digital engagement and stronger customer relationships as a result."
How customer care on Twitter works:
Message button (NEW)
The profiles of businesses who have enabled 'Receive Direct Messages from anyone' as well as that they provide support will also display a more prominent button to start a Direct Message so people know the business offers support privately.
Companies using these features love how they enable them to better serve their customers and tell the world they provide support on Twitter. On average, Customer Feedback requests receive a response more than 60% of the time. Many brands have told Twitter that is ~5–10x the average response rate they get for other feedback surveys. Early use has also shown that customers who are sent a Direct Message link follow through to actually send a message roughly 30% more often than those who are asked to send a Direct Message via text only.
Support indicator, and support hours (NEW)
Businesses can now clearly communicate which of their company accounts provides support on Twitter. The 'Provides Support' indicator will show up when people search for a business, mention a business in a Tweet, or find a business in Direct Messages. Additionally, businesses can display hours of availability on their profile to help set people's expectations for when the business is likely to reply.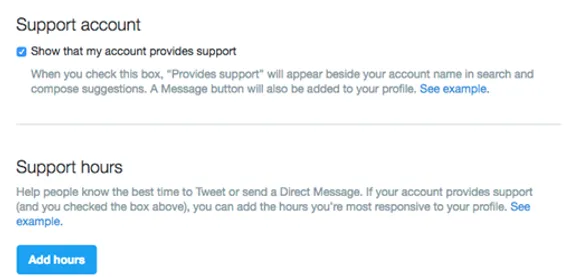 Simple way to start a Direct Message
Direct Messages are a great way for users to have a private conversation with a business. Customer service conversations often start in Tweets, but need to transition to a private channel when personal information is required. We're making this transition as easy as a single click. A business can now add a deep link to their Tweet that automatically displays a call to action button, which allows the customer to send the business a Direct Message, quickly and easily.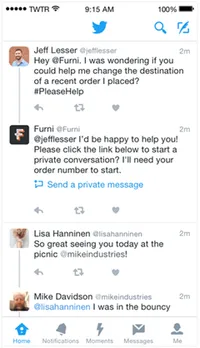 Customer Feedback
This tool enables people to privately share their opinions with a business after a service interaction. Care teams have told us they love the open-ended feedback they get from people via Tweets and Direct Messages, but they also need the ability to survey customers in a structured way to better measure and improve their service experience. With this feature, businesses will be able to use two industry standard question formats: Net Promoter ScoreSM (NPS®) and Customer Satisfaction (CSAT).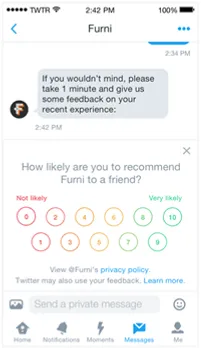 How to Get Started?
All of these features are available to businesses globally. To learn more about how to implement Direct Message deep links for customer service, visit Help Center.
Net Promoter, NPS, and the NPS-related emoticons are registered trademarks, and Net Promoter Score and Net Promoter System are service marks, of Bain & Company, Inc., Satmetrix Systems, Inc. and Fred Reichheld.