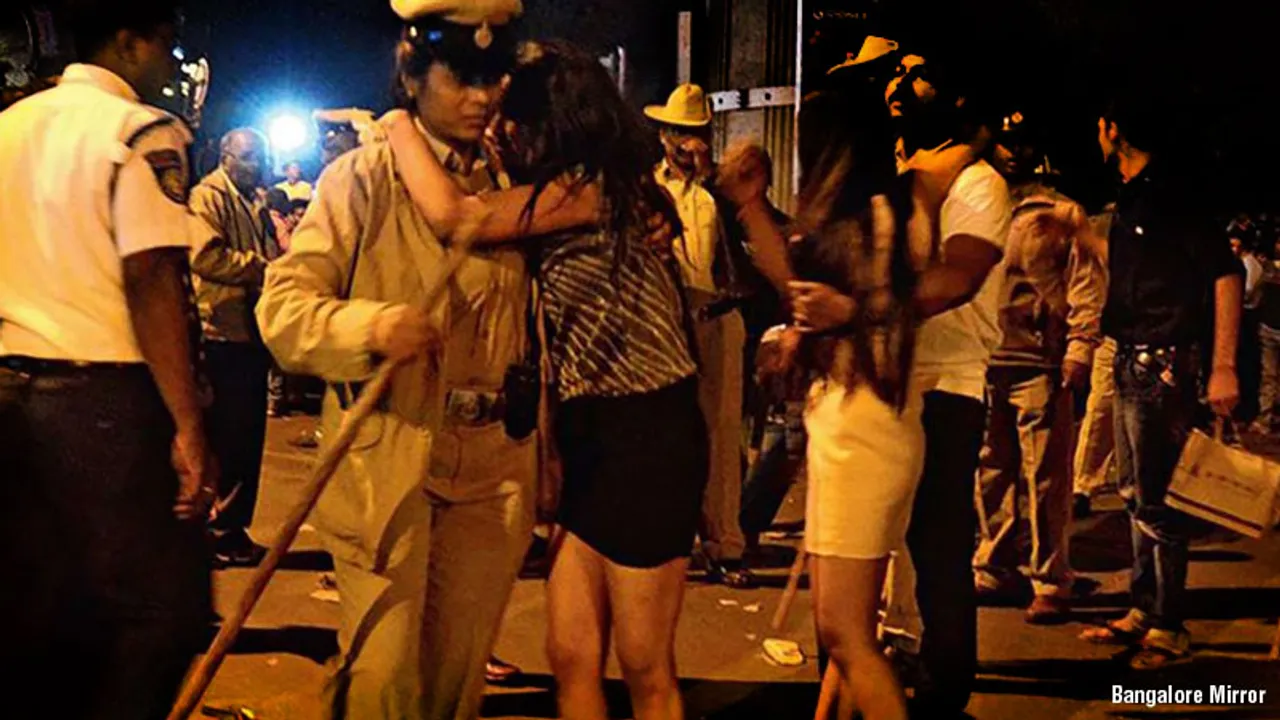 It is a script so familiar today, that the outrage and corrective reforms that should follow an incident so critical are nowhere to be seen. New Year's Eve. Women. Molestation. Western Culture. Appalling.
Each year we wish to start the year on a positive note, with a hope to build upon it further, and this very hope is jolted out of our minds by the regressive attitude and mentality that dominates the minds of monsters in the country.
Bangalore was considered one of the most developed cities in India that guaranteed women their safety, but not anymore. Victims and Police were both left helpless, surrounded and harassed by so many degenerates at once.
The social media outrage that followed has left us feeling, will this be another noteworthy incident, or the dawn of a change long overdue?
Bangalore incident proved what I have always maintained. No city is safe for women in this country.
Indian Men, this is on you.#bangalore

— Lola Kuttiamma (@Priya_Menon) January 2, 2017
Such a shame!? That too in one of the most educated and liberal cities in India! #NYE #SaveTheGirls #BangloreUnshining #Bangalore #WTF https://t.co/tho7AhKQ69

— Deepti Nagarkar (@deeblueangel) January 3, 2017
ohh #bangalore what have you done. this was not supposed to happen. saddened by the very news of it. #newyearhorror #bangaloremolestation

— Bhuvanesh P Singh (@i_am_bhuvi) January 3, 2017
So sad to read. 2016 was my 1st time to #India #Bangalore. Felt very safe and welcomed as a single woman. Love to all the women who didn't. https://t.co/UUjU5dLp8O

— Scarlett C (@ScarlettC_UK) January 3, 2017
#Bangalore's 'Night of Shame': Mass molestation in #India's Silicon Valley on New Year's Eve https://t.co/fBQn9EVFnw via @mashable

— Mona Eltahawy (@monaeltahawy) January 3, 2017
After the issue was picked up by International and National publications and the statements of political figures reeked of chauvinism and plain stupid, the topic of discussion became something else entirely as #NotAllMen began to trend. Used by men to distance themselves from the incident, trying to proclaim #NotAllMen are rapists or molesters, it sparked off a heated exchange of words between social media users.
Ok men that's it. If you don't shut up with this #NotAllMen thing i'ma have to do a punparty with it & your day will get exponentially worse

— Rohan (@mojorojo) January 3, 2017
Logic of #NotAllMen pic.twitter.com/AeRb3NckJ4

— Sherlock (@engineerology) January 3, 2017
1/ What people (both women and men) need in times of distress is empathy. With #NotAllMen hashtag, men have conveniently run away from it.

— Sachin Kalbag (@SachinKalbag) January 3, 2017
So insensitive to trend #NotAllMen Crime can't be generalized so it's a shame to play victim and trivialize the gravity of the matter

— Mona kanwal (@monakaran) January 3, 2017
Why do we have to explain? Why do we have to be sensitive to fragile male egos by putting this stupid disclaimer #NotAllMen

— Sanjukta Basu (@sanjukta) January 3, 2017
Twitter's reaction can only be termed natural as an event of such seriousness shook the nation. Does it end here? We certainly hope so.