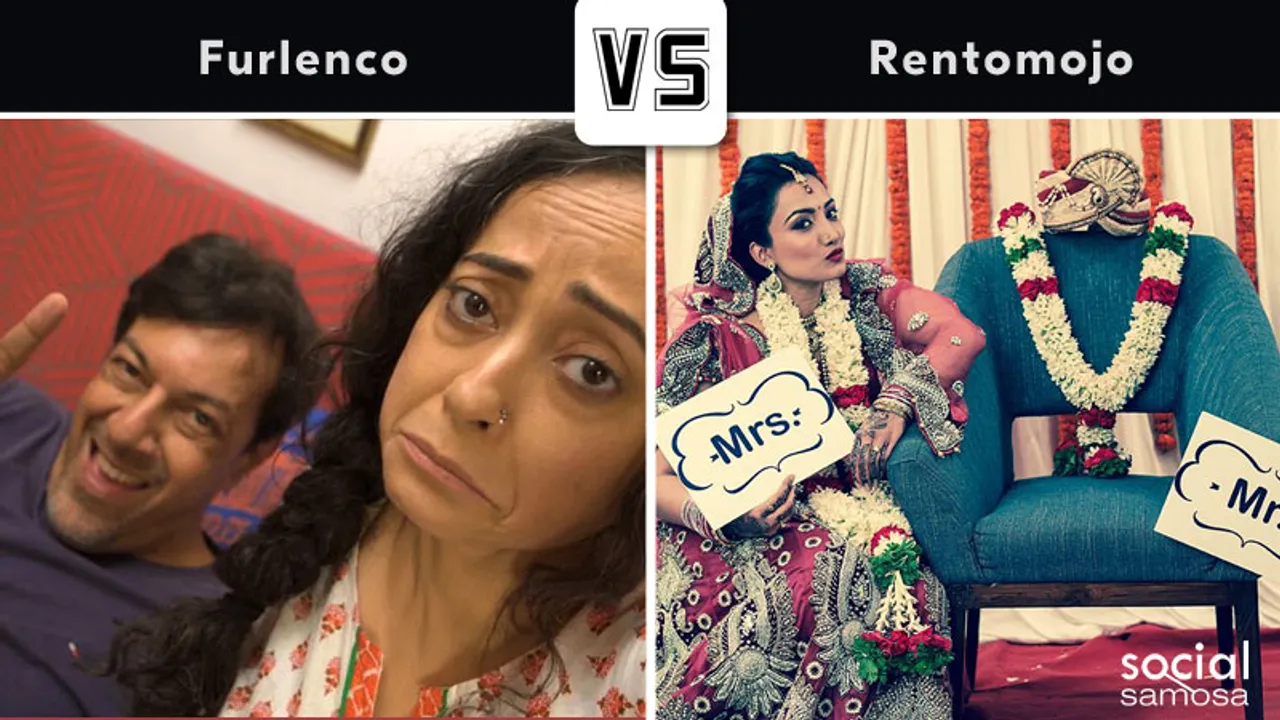 Two furniture brands - Furlenco and Rentomojo, are prompting us to rent furniture instead of buying it. Social Samosa draws a direct comparison between the two, fighting it out through content marketing strategies.
Going back to basics they claimed, "Home is where the heart is!" but one had to never tell us how we leave bits and pieces of our heart in possibly every element of our home. Right from the couch to the bed or even the cupboard or that black recliner, our attachments are stronger than ever and it's time to break them. Not one, but two brands, RentoMojo and Furlenco, are here to rehabilitate that thought, combating their ways through the digital world.
Breaking the furniture commitment
We all adorn our materialistic pleasures but when bounded by finances, a crave for constant décor transformation or simply to cope up with a job that requires a lot of traveling, renting furniture seems to be feasible and to bring ease to these needs, two brands are promoting the same motive, at the same time but in a different way.
Firstly fitting in this wedding season where people rush around for a grand gala involving everything from décor, pre-wedding shoots, social media timelines flooding with glitz and so much more, RentoMojo invited their consumers to the most eccentric wedding of all, 'Priya weds Sofa.'
Women have become independent,they no more need men to get title of "Wife". That's what we call #WomenEmpowerment.#PriyaWedsSofa #WordSmith pic.twitter.com/ZjTkubXrUE
— Ms.Mausam #WordSmith (@miss_kothari) February 21, 2017
Priya, a contemporary, enthusiastic girl - a dynamic, dedicated working professional with powerful dreams and travels around for work has just one weakness - an attachment to her furniture. As portraying her personality in the campaign, it describes how she gets emotional each time she has to part with her furniture, thus feeling totally married to it.
Commenting on the campaign, Geetansh Bamania, CEO & Founder, RentoMojo, said, " Associating daily life essentials with long term commitments has been a prevalent mindset of Indian consumers and through this campaign, we want to emphasise that through smart ownership one doesn't have to feel being tied up to them.We want to encourage the millennial generation to open up to change when there are smart, convenient and affordable solutions are available for smarter lifestyle choices."
The truth is out...#PriyaWedsSofa because she *bought* one.
Just rent furniture instead... save commitment for things that matter! pic.twitter.com/W2kuFwHtHR

— RentoMojo (@rentomojo) February 21, 2017
Basing their campaign on this satire, RentoMojo's #PriyaWedsSofa targeted the mindset of these intense feels towards material possessions; the brand attempts to create awareness about accessing a particular lifestyle without actually owning it.
"The campaign was conceptualized in the form of a satire so as to make it extremely thought provoking about how inadvertently we keep taking unnecessary 'wedding vows'  with every new furniture purchase. We hope that with the quirky and unique visuals we have successfully helped the brand to reach out to its effective target group," shared Gautam Reghunath, SVP & Branch Head of Dentsu Webchutney, Bangalore.
If parents behaved like us
Collaborating with entertainment company, Pocket Aces, to launch their film titled 'Own experiences,' Furlenco created a campaign to boost millennials to be different and to validate their desire to commit to experiences and not furniture.
Through the flagship channel of Pocket Aces - FilterCopy, along with Furlenco released a four minute film that showcases a scenario of role reversal of parents acting like the digital generation featuring Rajat Kapoor and Sheeba Chaddha playing the adult version of these millennial.
Commenting on the new association, Aishvarya Chanakya, VP of Marketing, Furlenco said, "Our largest target group is the urban millennial - which believes in living life to the fullest, both inside the home and outside. Furlenco enables both - with awesome furniture on rent that helps millennials live well inside the home, with enough money left over to truly experience life the way they always imagined. Pocket Aces was exactly the right partner for this campaign, and has been a pleasure to work with, as their content eyeballs these consumers with their relatable, slice of life content."
With a clear concept, the brand looked at revamping the state of mind of the young generation that one does not have to possess things to experience its joy. Here, they clearly portrayed how the generation is obsessed with their digital lifestyle and detest the thought of commitment.
Through this film, the subtle mention and purpose of the brand is imbibed in the content, feeding us with ease and without direct marketing Furlenco.
The rental furniture wars
Bringing in a new concept in this age, both these brands held the same message on a broad level and tackled it by hitting on the commitment part - they used different kind of content to say the exact same thing.
Firstly, RentoMojo attempted to create anticipation with their content and utilized on influencer marketing to create a buzz where they were trending on Twitter and received over 8 million impressions in just 6 hours.
Rubbed my eyes. Washed my face. Had strong coffee. But this still reads the same as it did when I woke up. WTF is this? #PriyaWedsSofa pic.twitter.com/jscjnPNZH8

— Ankita (@lady_gabbar) February 21, 2017
Seeing RAGA's Long run Bachelorette life and his desire to be the PM of India the Hashtag should named as #PappuWedsSofa not #PriyaWedsSofa pic.twitter.com/90RgJ4msNs

— Swamidutta (@BeingSwami007) February 21, 2017
If #PriyaWedsSofa then Priya is a lucky girl because Priya gets to sit on her husband all day and watch TV and eat chips.

— Tanvi (@sinpulsive) February 21, 2017
#PriyaWedsSofa Messy eater vs way to your man's heart is through his stomach. #LOL pic.twitter.com/4Tfs4uxNhh

— Real_Bengal_Tiger (@Bondhu_Bongo) February 21, 2017
Why own when you can rent?#priyawedssofa #oscars @rentomojo pic.twitter.com/WxTnBV7tE1

— संजय (@cerebralriot) February 27, 2017
With little over 4k followers on Twitter, influencer marketing was a smart move by the RentoMojo, aiding them to disseminate their content whereas Furlenco's collaboration with FilterCopy, who already possess 1,311,448 followers on Facebook managed to garner enough attention.
To draw a direct comparison, Furlenco had a bigger brand name in collaboration with it. RentoMojo seemed dry in contrast as the latter did not possess more content and thus  lacked the ability to grasp attention.
Yet, RentoMojo gave a great fight to their competitors through influencer marketing and the witty tweets, thus making it a balance of crowd-funded campaign and organized content marketing.
Overall the brands managed to depict individualism and create content with a clear message of commitment.