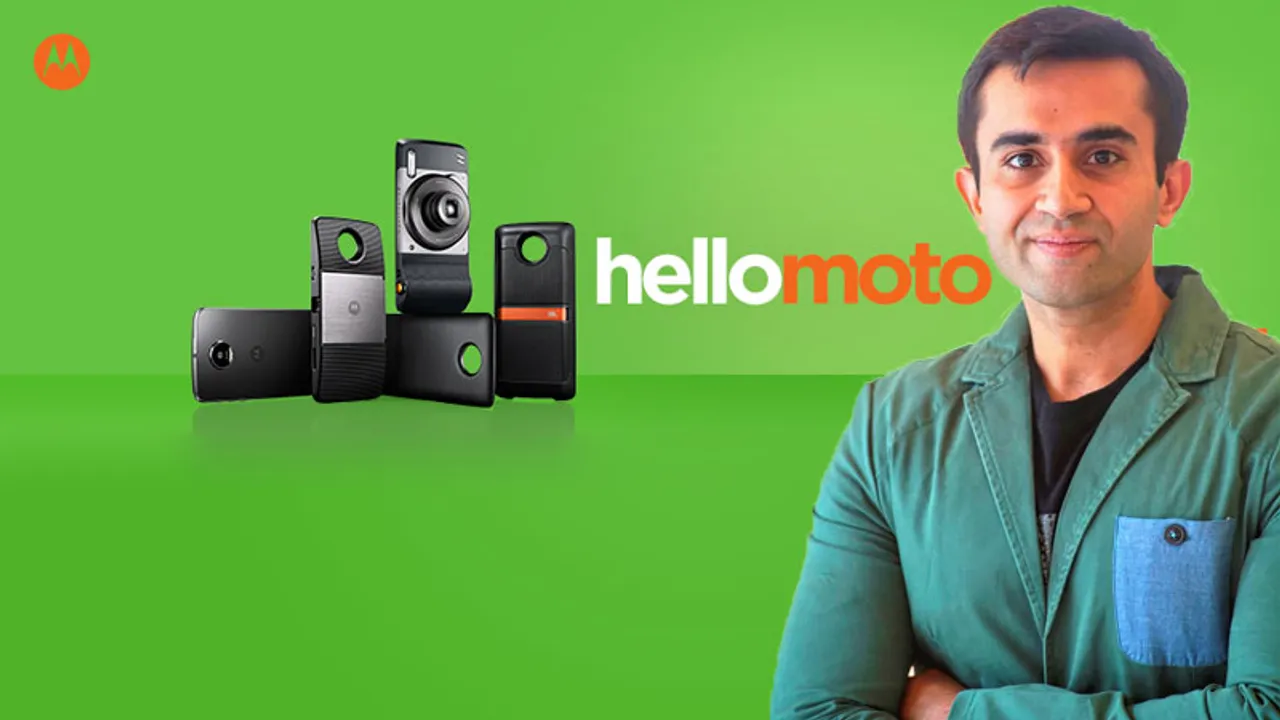 Social Samosa says Hello to Moto, one of the most iconic taglines of a brand that has withstood the test of time to connect millions of people throughout their existence. Speaking to us about how they forged together a lasting memory with their latest social media campaign on World Hello Day Simran Dhindsa, Lenovo MBG.
Motorola is a name synonymous with mobile phones since many of us begun to understand what mobile phones actually were; and the brand has just ignited a strong comeback through the social media launchpad.
We speak to Simran Dhindsa, Digital Marketing head, Asia Pacific, Lenovo MBG about how the brand created a campaign that aligned perfectly with their brand image, and their future endeavors.
What was the idea behind revamping or reusing the iconic Hello Moto campaign?
Hello Moto was the most iconic slogan of Motorola by far and we wanted to create a campaign that revives the same. So on the World Hello Day, we urged people to reconnect with their loved ones through its #SayHello campaign and start a conversation which they have been holding on to for a while. As we are in the business of connecting people via smartphones and hence it makes perfect sense for us to own this day and give an opportunity to people to connect/ reconnect with their loved ones and say hello. The idea was to bridge the gap of physical distance between people and encourage them to explore the power and warmth of greeting someone. We are always a part of people's celebration be it festivals or special days and through Say Hello campaign, we urged people to reconnect.
Did the campaign achieve the objective? What kind of results did you witness?
The campaign witnessed massive participation across the globe and with 18 countries being a part of it, the activity generated 186 Million+ impressions, 26 Million reach, 340K social engagements by consumers across Moto's social media channels. In India, the #SayHello campaign trended on twitter for straight 11 hours on that day with 24,000+ tweets. The campaign kicked off with a YouTube video on Moto's official page and registered tremendous attention by consumers. On YouTube alone, the video garnered more than 600,000 plus views in one day. As part of the campaign, the video was displayed at 12 PVR multiplex screens in the top 4 metros in India.
How has marketing for smartphones on social media evolved over the years? What has changed?
Social media is a huge part of our culture and it allows us to generate discussion and increase conversations, building community and e-connectivity with people around the globe. 70-80% of individuals access social media through their smartphones and it makes perfect sense for a smartphone brand to have an online presence always. What is important is the fact that the brand needs to be a lot more connected, lot more reactive when it comes to Social Media. Gone are the days when brands used to just publish content and be done with it. Now Social media has become one destination where the brand needs to listen, act & react to what consumers want. Moreover with the growth of social media communications platforms like Facebook and Twitter brand are now using data analytics to reach out to their TG. Storytelling has evolved a lot on social thanks to the newly launched ad units like conversational cards on twitter or carousel and canvas ads on Facebook which in turn helps in conveying the end benefits of the smartphone better.
We focus on one communication for all consumers and targeted communication for the target audience. Owing to the increasing smartphone penetration in the country, the targeting ways and means have grown beyond imagination. With the changing times video and storytelling has taken precedence over static product led communication. These days it is all about being LIVE, right from Live streaming of launch events to product unboxing to tapping into Live conversations with consumers has seen a decent growth .
What kind of data and analysis went behind associating with Untag by Voot? From ideation to execution, please take us through the process
VOOT as a platform has seen great popularity among the Youth of the nation and within a short span, VOOT has registered 10 million plus downloads. There was a perfect fit right from the audience who consumes content on VOOT to the storyline of the show with the product proposition i.e. "Different is better" the idea was not just to have a logo presence on any show but to opt for content where the device can do justice to the storyline and yet look seamless and we thought Untag was a perfect fit. UNTAG is the new web-series by Voot that delves into the lives of regular people with seemingly harmless tags. It gives the audience a fresh and light perspective of 6 characters, each dealing with their imposed tags, trying to become much more than what the world has labelled them as. Like Moto Z with Moto Mods enables you to break away from mundane smartphone usage by allowing you to transform it in a snap. UNTAG is a journey of six individuals who are trying to break away from the tags they have received from the society.
Did the association yield the kind of results you expected?
Yes, the results are overwhelming. Within the first week of the launch, the show had garnered 1.5 million plus views and the buzz around the show has been very positive. Also, within 10-15 days, the webisodes garnered a whopping views of 2.3M.
What are the content marketing trends witnessed in the space lately?
We as a brand follow 2 folds strategy when it comes to content marketing: 1) Association with the right talent to create the right content which resonates well with our audience and 2) co-creation of content with our consumers.
Our view on content marketing is not an orthodox one, and we do not just create content but co-create it with our consumers as they are our biggest content marketing partners. In the recent digital times, we make sure that we engage with our fans and consumers on a regular basis via social media to co-create content for us. Our consumers are equally involved with us for across activities and this gives us insight on what consumers really want and helps us create our content in a more effective manner.
What does your social media road map look like in 2017? Any campaigns in the pipeline?
Digital has become a very important medium for us to not only spread awareness but also to engage with our consumers/fans. For us social and digital is an always on strategy instead of talking about just investment. Also, under digital, video consumption will continue to grow and we will be focusing on developing more engaging video content to educate the target audience on our products and brand. Moto as a brand will continue to stay topical and engage with our audience with the key passion points of the youth. Moto is currently running an engagement program called Moto Spotlight where we are giving an opportunity to young talents in the field of Music, Movies, Photography and Fashion to come and create the India version of "hello Moto" and also get a once in a lifetime opportunity to work with the biggest names in the industry.
As a social media first brand, how is social media marketing different from marketing in the social age?
We believe that brand needs to show a more human face to the end consumer. Customer response management and quick turnaround time are the key factors for customer retention and to build strong customer loyalty. The targeting and customized content push is far easier on Social as compared to traditional marketing media. Consumer is usually bombarded with communication and to build a strong loyal customer base you need to connect beyond product push and it has to be a two way interaction. Consumers need to see the brand as a friend who is reachable and reacts aptly to their needs.
How important is it for a brand's management to stay active on social media?
Though it is important for consumers to know that the brand's vision but it is equally important for them to also know the vision of the leader. Fans/consumers love to listen and follow the brand's leadership to know their personal side and that kind of make them as role models for the consumers. It is very important for a brand to maintain a human touch with it's consumers in all of it's communications and having the management on social media helps us achieve that.
5 social media trends that you foresee in 2017
From product feature based communication to storytelling via interactive ad units on social and next level of personalization in order to stay relevant will also be important in the coming year. Also, mass influencer marketing to create more authentic, personalized communication along with Social CRM will be critical for brands.
The 5 social media trends that I foresee in 2017 are:
More livestreaming/ live videos on social pages
Chatbots by brands to improve customer relations on social media
Virtual Reality will be used more extensively by brands
Social Commerce: Social commerce is huge around the world. Pinterest, Twitter and Instagram are allowing purchases and that will help with mainstream adoption for brands.
Social Channels will continue to evolve