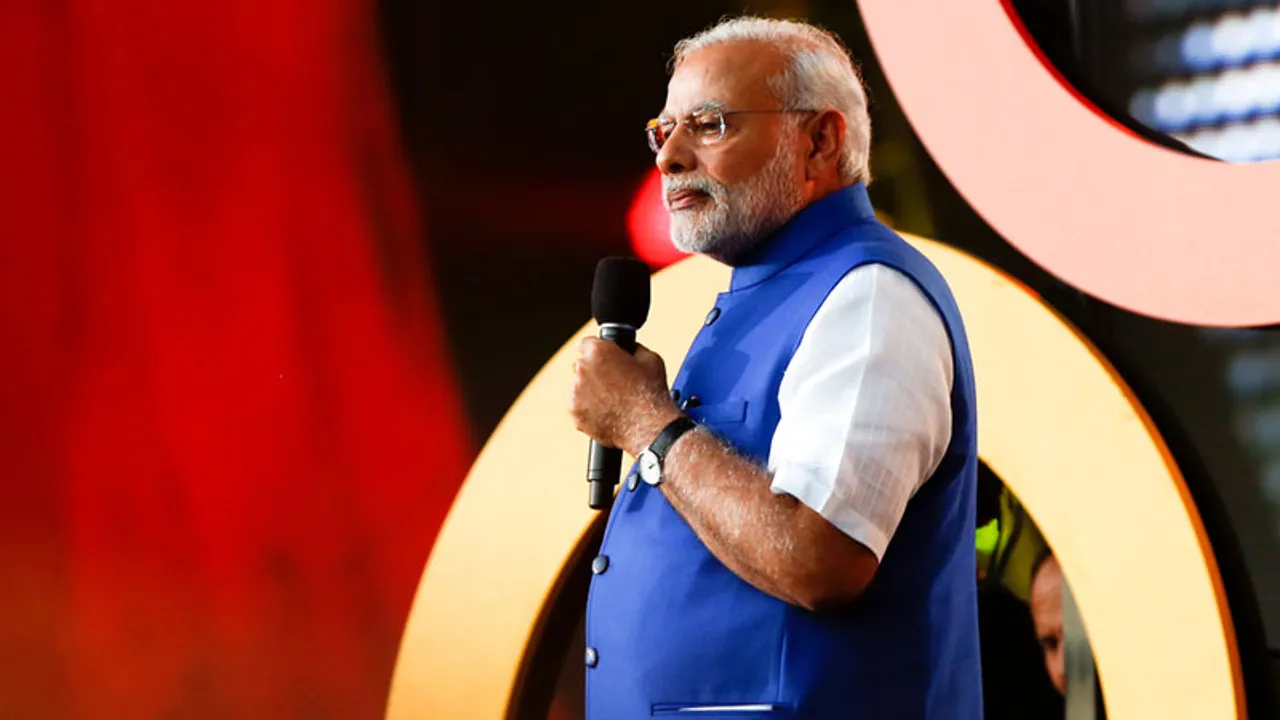 Not only does Prime Minister Narendra Modi own India's most followed Twitter account with more than 30 million followers, the third anniversary of the Narendra Modi government generated more than 1.1 million conversations on Twitter, between 25th-28th May, 2017.
From politicians, athletes, entertainers to Indians from all walks of life, people flocked to Twitter to wish the PM and his Government on their successful three years with hashtags such as #3yearsofmodigovt and #modi3years. Prime Minister Narendra Modi reciprocated with his own message on the platform too.
कड़े फैसले, बड़े फैसले। pic.twitter.com/ZeHZaIbocB

— Narendra Modi (@narendramodi) May 26, 2017
The conversations peaked at 9.28pm on May 26th with more than 690 Tweets per minute.
For the Government of India, Twitter has emerged as a critical platform for citizen engagement over the past three years. One of the world's most Twitter-savvy leaders, PM Modi's @narendramodi account currently has over 30.2 million followers, which is 7 times more since 2014. India's technocrat Prime Minister with 25 of his Cabinet ministers and 29 Ministers of State actively leverage the platform to engage with citizens, update them on government policies, and connect with them through live conversations.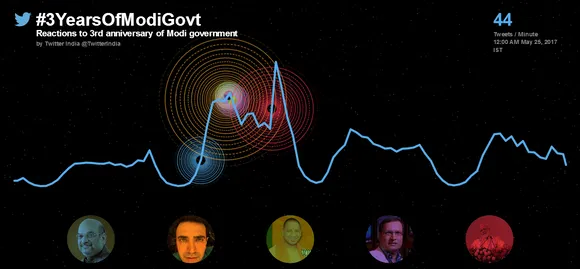 For example, the platform recorded maximum conversations regarding the Union Budget with 7.2 lakh Tweets with the hashtag #Budget2017 between January 30 and February 2, 2017. PM Modi's Tweet-powered campaigns such as #MannKiBaat, #SwachhBharat, #SelfieWithDaughter, #MyCleanIndia, and #TransformingIndia, are further examples of how he has used Twitter to reach and connect with Indian and global audiences.
One significant public engagement initiative from the government is through Twitter Seva. As an India-first innovation, Twitter Seva is currently being used for citizen engagement across 10 large government ministries and public service departments in the country, including: the Ministry of Commerce (@DIPPGOI), the Ministry of External Affairs (@MEAIndia), the Department of Telecommunications (@Dot_India), Department of Posts, MTNL, BSNL under the Ministry of Communication, Department of Administrative Reforms and Public Grievances, Ministry of Home Affairs, the UP Police (@Uppolice) as well as the Bengaluru Police (@BlrCityPolice). The Twitter Seva system has tracked more than 1,220,000 Tweets since it began and each Tweet stacks up as a metric of the Government's intent to deliver effective and transparent service.
Mahima Kaul (@misskaul), Head of Public Policy, Twitter India said, "Twitter is the best place for people to see what's happening around the world and the Indian government's holistic use of the platform is a great example for citizen engagement. PM Modi's Tweet about his three years of governing excellence sums it nicely -- "कड़े फैसले, बड़े फैसले।". It's been phenomenal to see PM Modi and his senior cabinet members leverage Twitter to engage with the public in India. We look forward to collaborating with more ministries to engage with citizens, gather public feedback and provide real-time response across India."
Top 5 Retweets by PM Modi in the three years of Modi government
GST बिल पास होने पर सभी देशवासियों को बधाई | नया साल, नया कानून, नया भारत!

— Narendra Modi (@narendramodi) March 29, 2017
I thank people for the historic participation in the survey. Its satisfying to read the insightful views & comments. https://t.co/xf14LEiQHT pic.twitter.com/cGSBPlCnE5

— Narendra Modi (@narendramodi) November 23, 2016
Congratulations @realDonaldTrump on being elected as the 45th US President.

— Narendra Modi (@narendramodi) November 9, 2016
My mother returns to Gujarat. Spent quality time with her after a long time & that too on her 1st visit to RCR. pic.twitter.com/2n5ZT2C4PC

— Narendra Modi (@narendramodi) May 15, 2016
India has won! भारत की विजय। अच्छे दिन आने वाले हैं।

— Narendra Modi (@narendramodi) May 16, 2014
Narendra Modi has been one of the most prominent and influential personalities on Twitter, in addition to being the most followed Indian Twitter user.