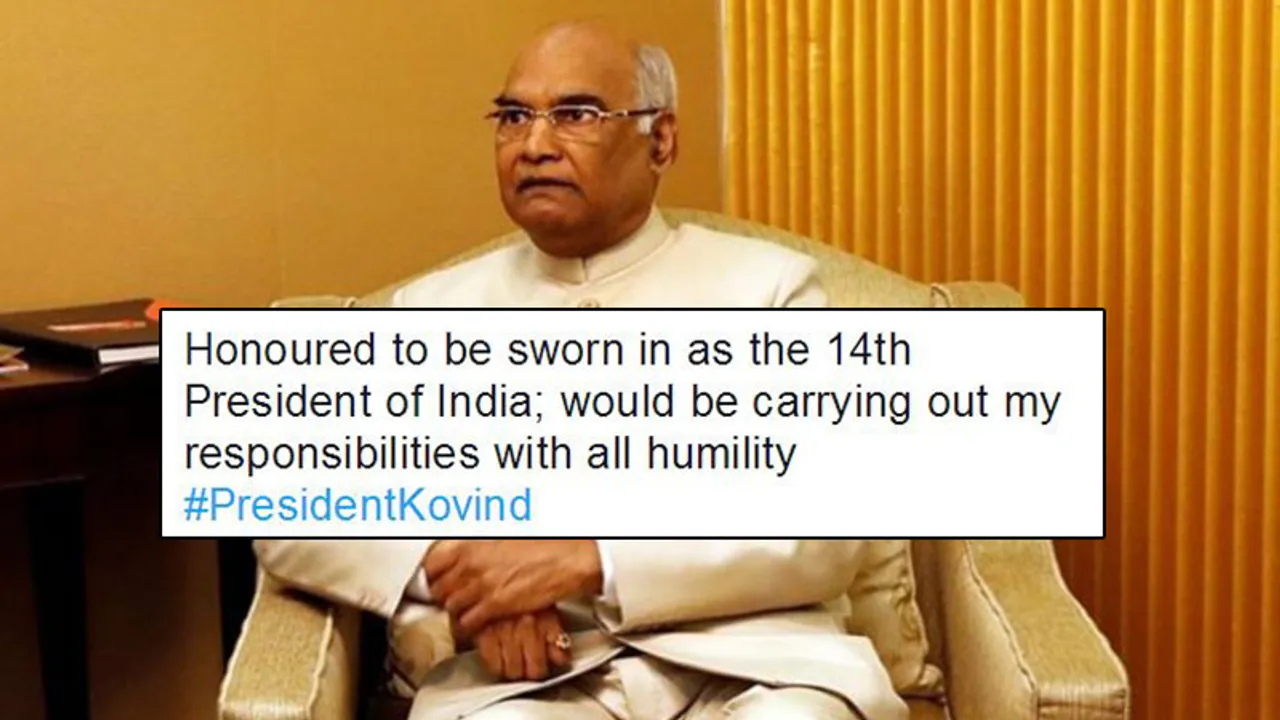 The 14th President of India, Hon' Ram Nath Kovind, made his Twitter debut and Twitterati welcomed their new President with open arms, and more than 3 million followers within minutes.
The baton now passes from now Hon' Former President Pranab Mukherjee, to Ram Nath Kovind, who will now communicate with the citizens through his Twitter handle, @rashtrapatibhvn. Prominent political personalities and celebrities as well as the Indian Twitter population welcomed their new President as they the hashtags #PresidentKovind has trended consistently on the platform.
Prime Minister Narendra Modi congratulates President Ram Nath Kovind on taking his oath as the 14th President of India.
Congratulations to Shri Ram Nath Kovind ji on taking oath as the President of India. @RashtrapatiBhvn

— Narendra Modi (@narendramodi) July 25, 2017
From mud hut in small village to President of most diverse Nation in the world. Sir, u prove Democracy is alive in #India @rashtrapatibhvn https://t.co/4D8892yvhz

— Shekhar Kapur (@shekharkapur) July 25, 2017
Congratulations to our new #President #RamNathKovind ji for the oath taking ceremony. @RashtrapatiBhvn pic.twitter.com/93PAGEaj1g

— Sudarsan Pattnaik (@sudarsansand) July 25, 2017
The President of India also sent out his very first tweets after his debut, and the tweet has racked up thousands of replies, retweets and likes in no time.
Honoured to be sworn in as the 14th President of India; would be carrying out my responsibilities with all humility #PresidentKovind

— President of India (@rashtrapatibhvn) July 25, 2017
As the transition begins, former President Pranab Mukherjee's Twitter history of tweets and other activity will be archived under the Twitter handle, @POI13, since he was the 13th President of India. Being the first ever Indian President on Twitter, this is a historic move as this is also the very first transition for the President of India's Twitter account. President Mukherjee made his Twitter debut on 1st July, 2014.
Due to the transition, these are some of the few changes that President Mukherjee's Twitter account will undergo:
1. All embedded Tweets from President Mukherjee will automatically link to @POI13 for continuity and preservation of the digital history of his administration.
2. Those who were following @RashtrapatiBhvn will now automatically follow BOTH accounts: @RashtrapatiBhvn and @POI13, to facilitate communication from the official President of India account to its audience. Users who do not wish to follow @POI13 may unfollow that account through our normal process.
3. In relation, those who had previously blocked @RashtrapatiBhvn will continue to have the account on their block list.
"President Mukherjee leveraged Twitter extensively to make it easier for citizens to stay connected with the Rashtrapati Bhavan. They were able to get a real-time glimpse into the activities on Raisina Hill and experience traveling alongside the President as he visited different parts of the country and met leaders around the world. His handle (or account, whatever is the technical language) is being archived now. This transition ensures that his legacy is captured in digital history and the people of India will benefit from the continued real-time citizen engagement with his successor through the official President of India account @RashtrapatiBhvn," says Mrs Omita Paul, Secretary to the President, in relation to the digital move.
Former President Pranab Mukherjee will now use his personal Twitter account, @CitiznMukherje, where he will continue to communicate with users.