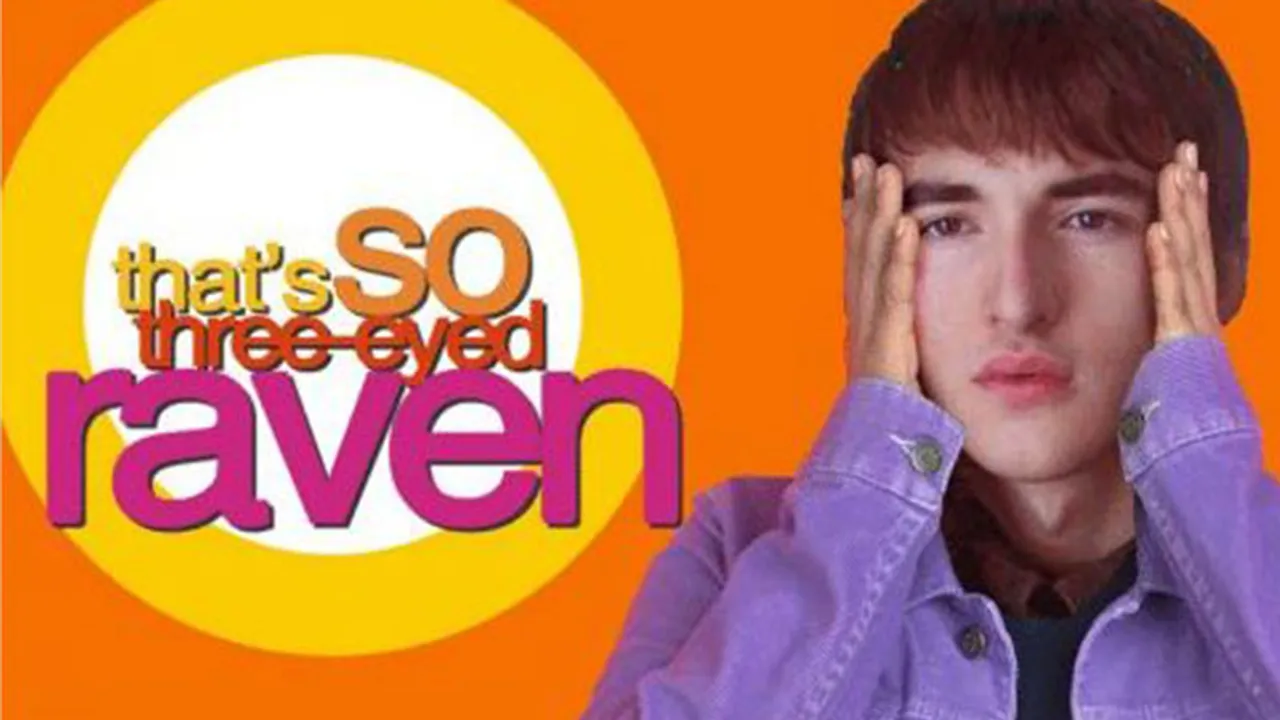 The latest Game of Thrones season has been in the news for all the wrong reasons, and the show, infamous for violence and deaths, also has great potential for humour! Don't trust us? Take a look at these hilarious Game of Thrones memes.
We understand you must be shaken after watching 'Spoils Of War', worried about the well being of Drogon, Jaime and Bronn! Will Jaime drown? Did Bronn get roasted? Will Drogon be able to fly again? Grim questions truly, although the answers lay 6 days away. Until then, these Game of Thrones memes should keep you entertained.
There are thousands of Game Of Thrones memes, we know, but these ones are fresh and 'straight outta Season 7'!
1. This is not even a meme! It's an actual scene from the fourth episode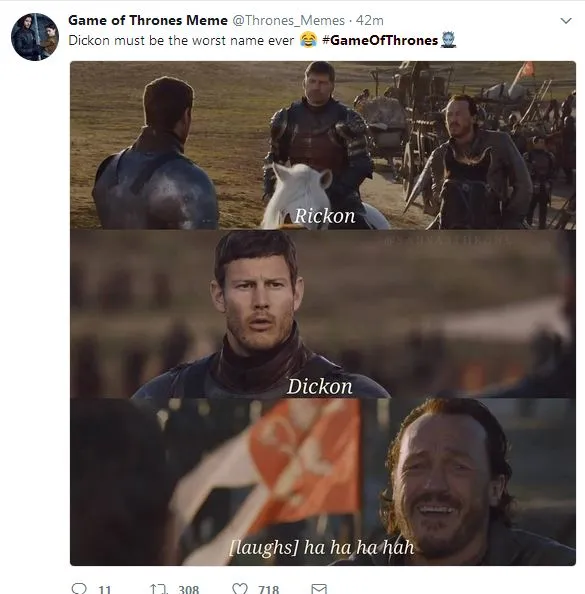 2. Sucks to be Jaime right now.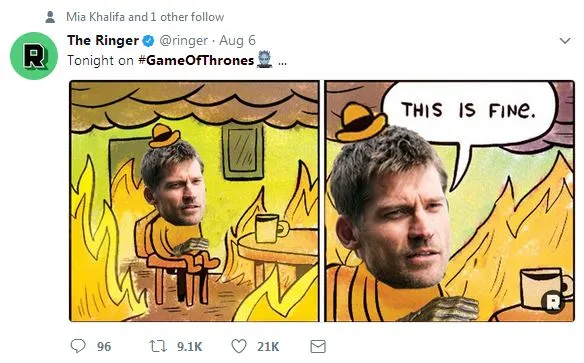 3. Don't you dare!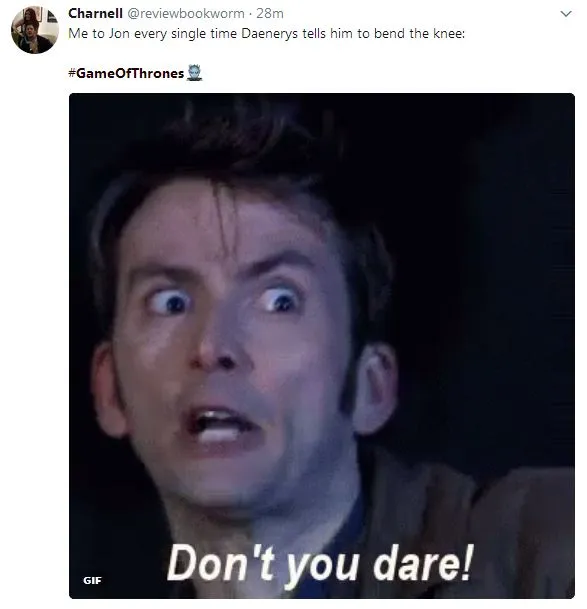 4. Okay, who did this?
Why isn't this thing trending??? ??? #iceicebaby #GameOfThrones pic.twitter.com/XMMfAnXpvU

— Sonia Dey (@SoniaDey) August 8, 2017
5. Goddamn Drogon!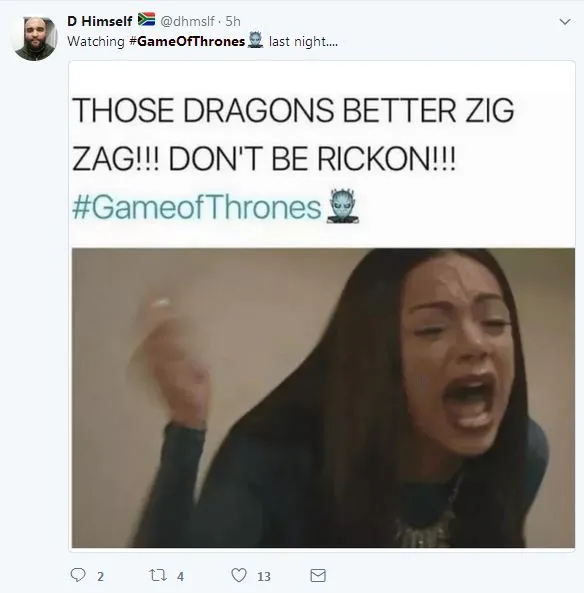 6. Oh. Shit.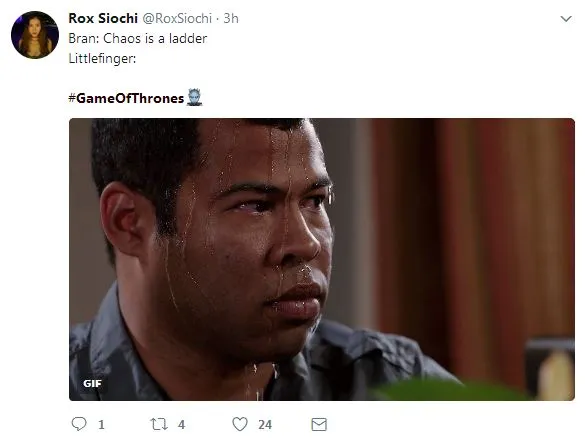 7. Do it Drogon! Just do it!
#GameOfThrones how i was when the dragon turned to jamie pic.twitter.com/nmkKJsVnmU

— Mista'Jay (@WEtC0AStVibes) August 8, 2017
8. The gold arm has got to weigh him down.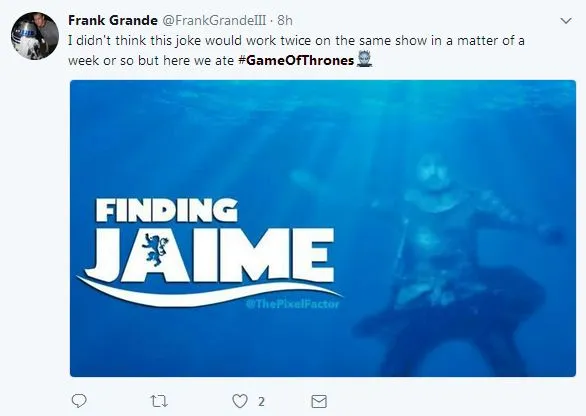 9. I knew it!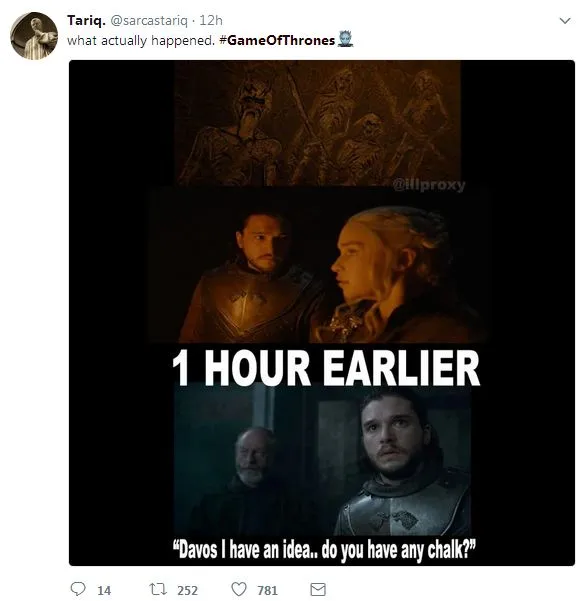 10. Gotta be honest, my dog did the same with his farts :(
The evolution of Drogon. #GameOfThrones pic.twitter.com/c3wJzogOaA

— The Pixel Factor (@ThePixelFactor) August 8, 2017
11. Can't we all just get along?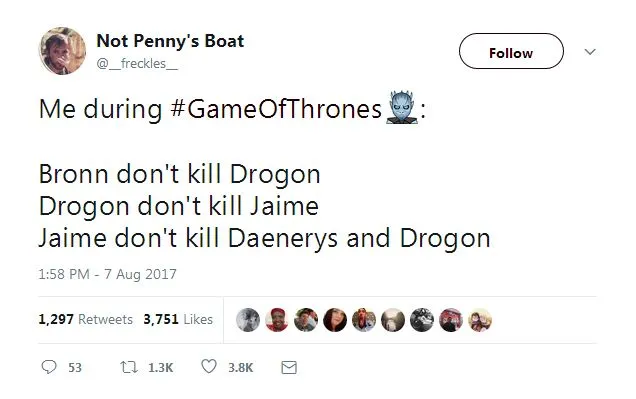 12. I felt it.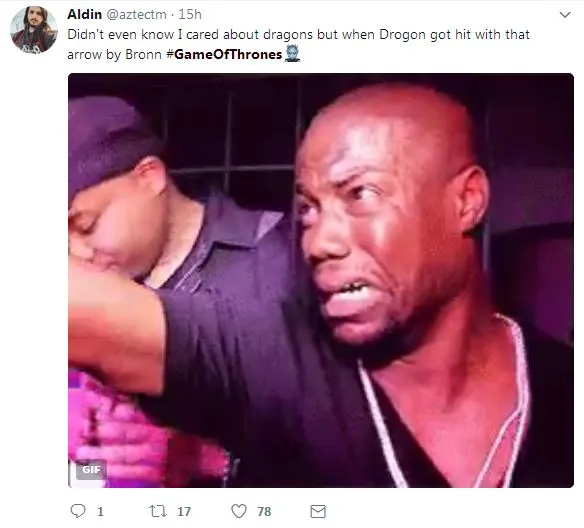 13. I can't. I just can't!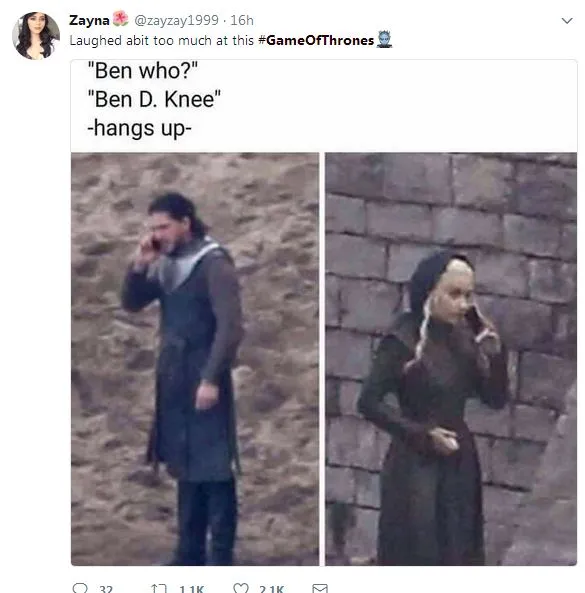 14. This GIF is everything
when you just paid your debts but a dragon shows up #GameOfThrones pic.twitter.com/yavCIfKYpS

— wow (@Hunnycombz) August 7, 2017
15. Dragon and Charizard are my two favourite dragons tbh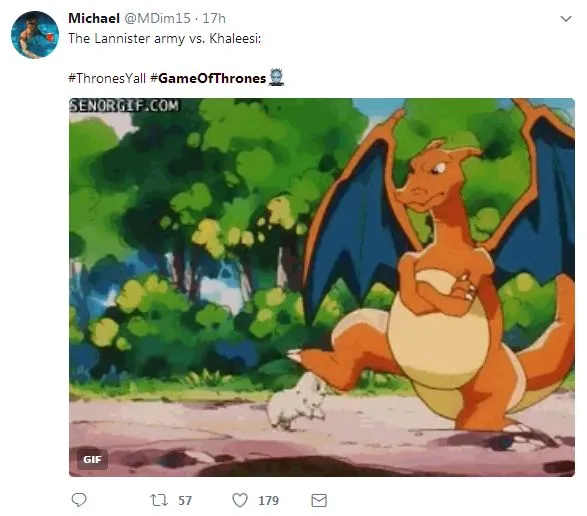 16. Reacting to the best show ever, with a GIF from the best show ever
Watching that dragon fly in like #GameOfThrones pic.twitter.com/UlD0A4jJlW

— CalebJordan (@CalebJordan360) August 7, 2017
17. Thank God they're patient.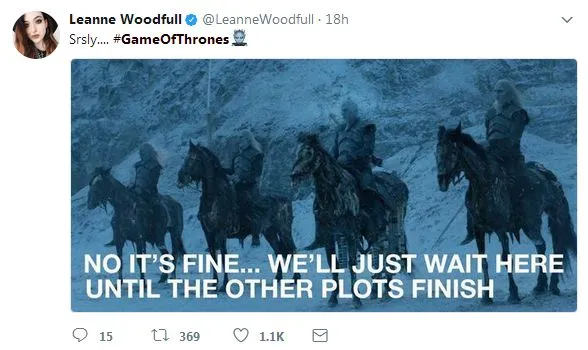 18. I'm dying.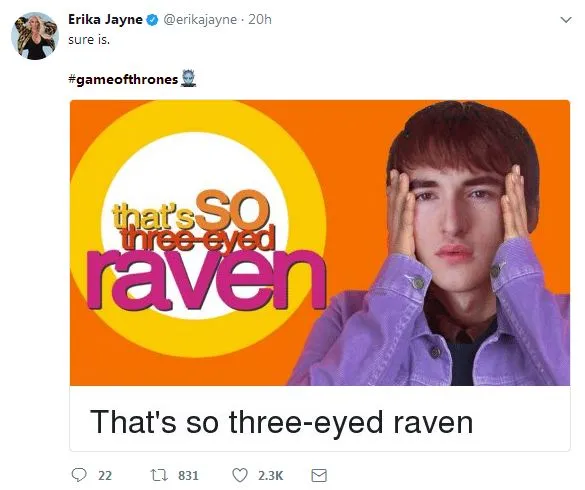 19. Guilty.
Me : Watching #GameOfThrones and appreciating the nuanced acting and layered themes

Also Me: Dickon pic.twitter.com/Ly0yO5rsRZ

— Torrens (@torrens_b) August 8, 2017
20. After you imagine them, see them!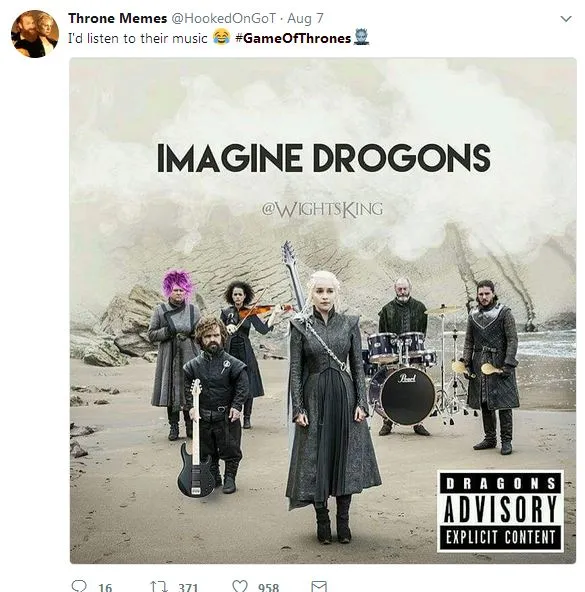 21. Unforgivable.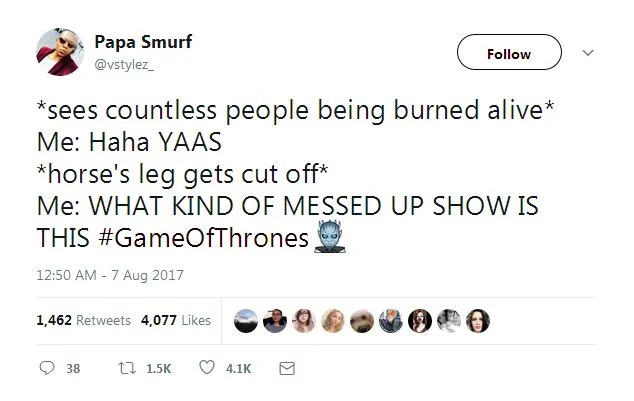 22. Every. Single. Episode.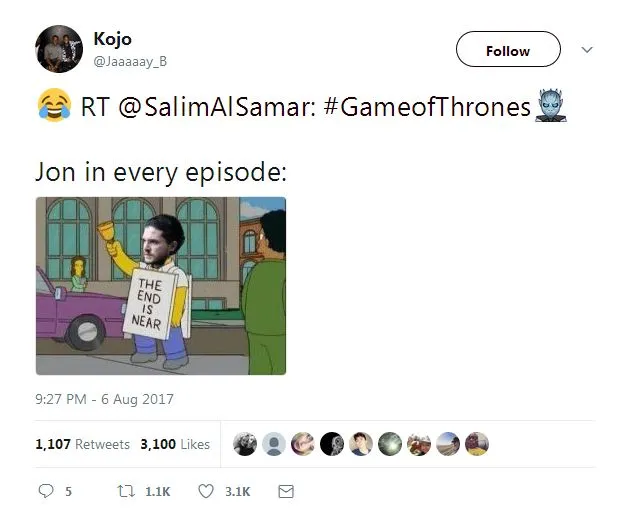 23. I thought I was bad at reacting to emotional stuff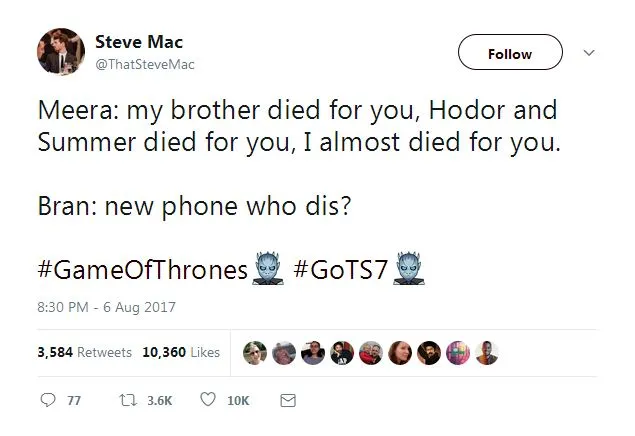 24. Nasty
Daenerys: wait...many things?

Missandei: #gameofthrones pic.twitter.com/ZutwKZUyAW

— Film Roast (@filmroastshow) August 8, 2017
25. Don't you dare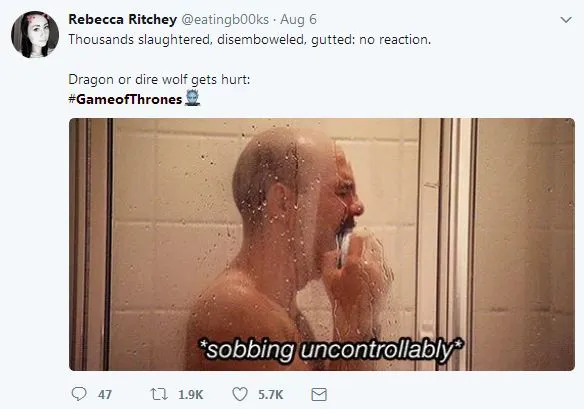 26. I traveled?
#GameofThrones
Jon: I died and came back to life.
Bran: Caw caw I'm a bird.
Arya: I'm a magical assassin.
Sansa: pic.twitter.com/nIgyN3jqQL

— lily? (@LilyRitter6) August 8, 2017
27. Would you make up your mind?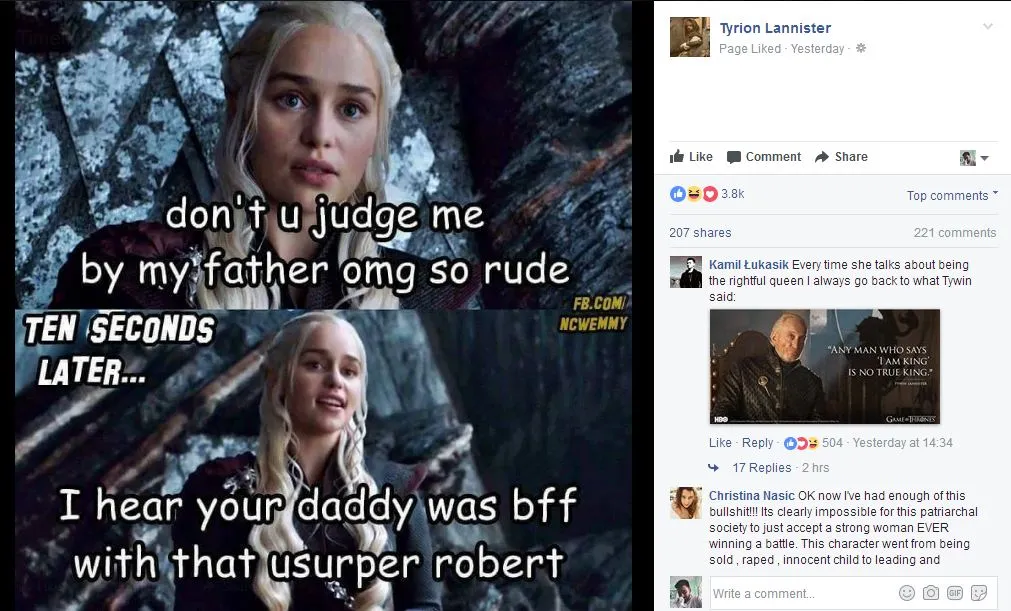 28. This does not give me Greyjoy?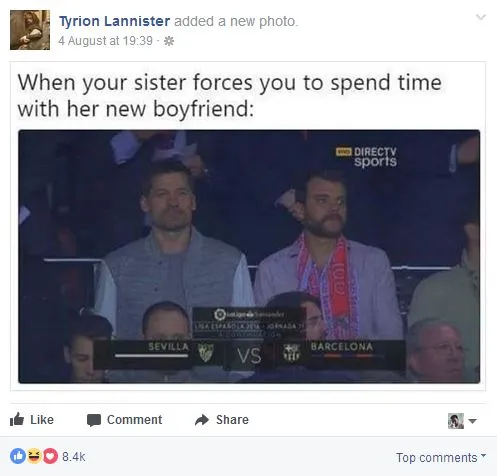 29. All Sansa had was a Littlefinger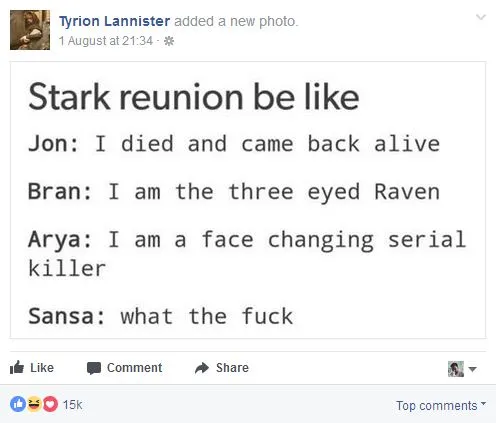 30. Shit.
Seeing three characters you like in a battle when no major character has been killed off in a while #GameOfThrones pic.twitter.com/WyQoexOdcb

— Salim Stark (@SalimAlSamar) August 7, 2017
31. Drogo is in heaven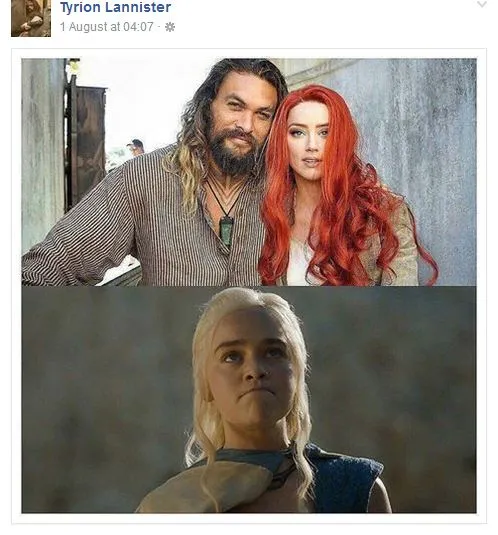 32. My Greyjoy pun was much better right?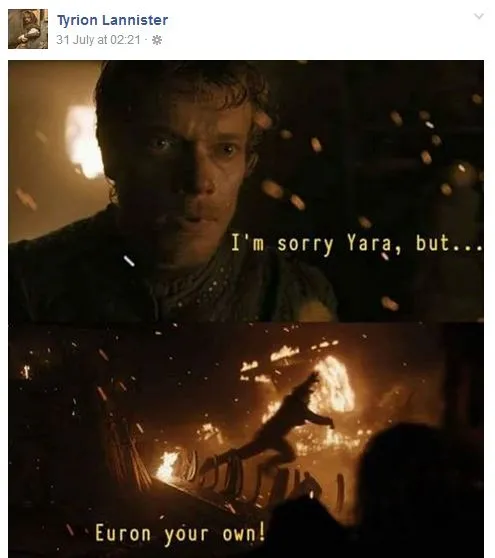 33. I'm done!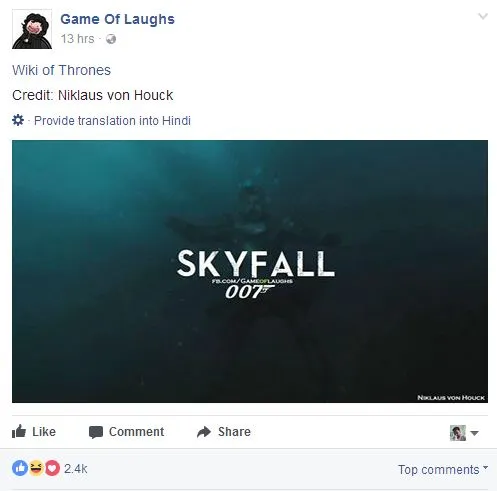 Tell us about your favorite Game of Thrones memes, or send us the ones we may have missed out at team@socialsamosa.com or in the comments below.