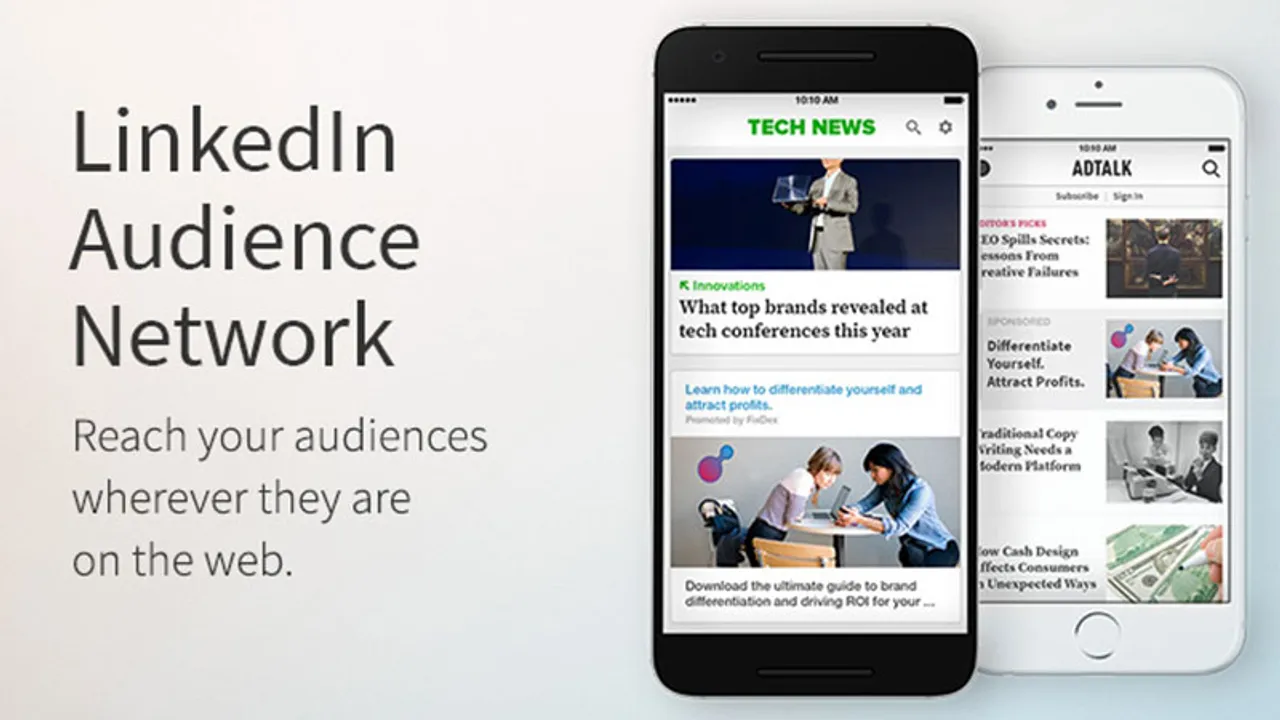 The LinkedIn Audience Network, a native advertising network that enables advertisers to reach even more professionals with their ads by placing Sponsored Content on high-quality, third-party publishers across mobile and desktop went live.
Designed to increase the marketing footprint beyond the LinkedIn platform, the LinkedIn Audience Network helps advertisers extend their campaign's reach, deliver on budget more easily and get their content in front of the right people, wherever they are.
LinkedIn says, "to date, more than 6,000 LinkedIn advertisers have participated in our Audience Network beta program. On average, these advertisers have seen a 3-13% increase in unique impressions served, and up to an 80% increase in unique clicks. This means that advertisers running campaigns in the Audience Network are reaching new people they hadn't yet engaged on one of LinkedIn's owned and operated properties."
Hiscox, a financial services and insurance provider, enhanced their campaign reach and performance by running their Sponsored Content on the Audience Network. "When we reviewed campaigns that ran on the LinkedIn Audience Network, we saw a level of engagement that was nearly 4X greater than the benchmark for the financial services industry," said Gyawu Mahama, U.S. communications and marketing manager at Hiscox.
Measuring ROI is crucial when it comes to gauging the performance of a particular campaign. Ads delivered through the LinkedIn Audience Network, enables advertisers to download performance reports that include clicks, impressions, and engagement that their ads get specifically through the network. This allows the comparison of network performance to your onsite performance.
The blog post further states, "At LinkedIn, it's our top priority to promote your content in a high-quality and brand-safe context. To that end, we've taken measures to ensure brand safety within Audience Network placements and give you control over your network campaigns, including the ability to block IAB categories and upload custom block lists. You can read more about our brand safety efforts here."
Ingrid Lunden from TechCrunch writes, "Adding audience networks has been a logical progression for sites that already serve ads to users based on information that they collect about people like you: Facebook, as one example, has been running a mobile-based audience network since 2014. The reason is clear: social networks and others like Google who can distill information by way of your browsing and search history have a large trove of anonymised information that they can use to serve you more targeted advertising. Innovations in ad tech make it possible to leverage that data on a much larger playing field: outside that specific company's walled garden."
To know more about Linkedin Audience Network, click here.