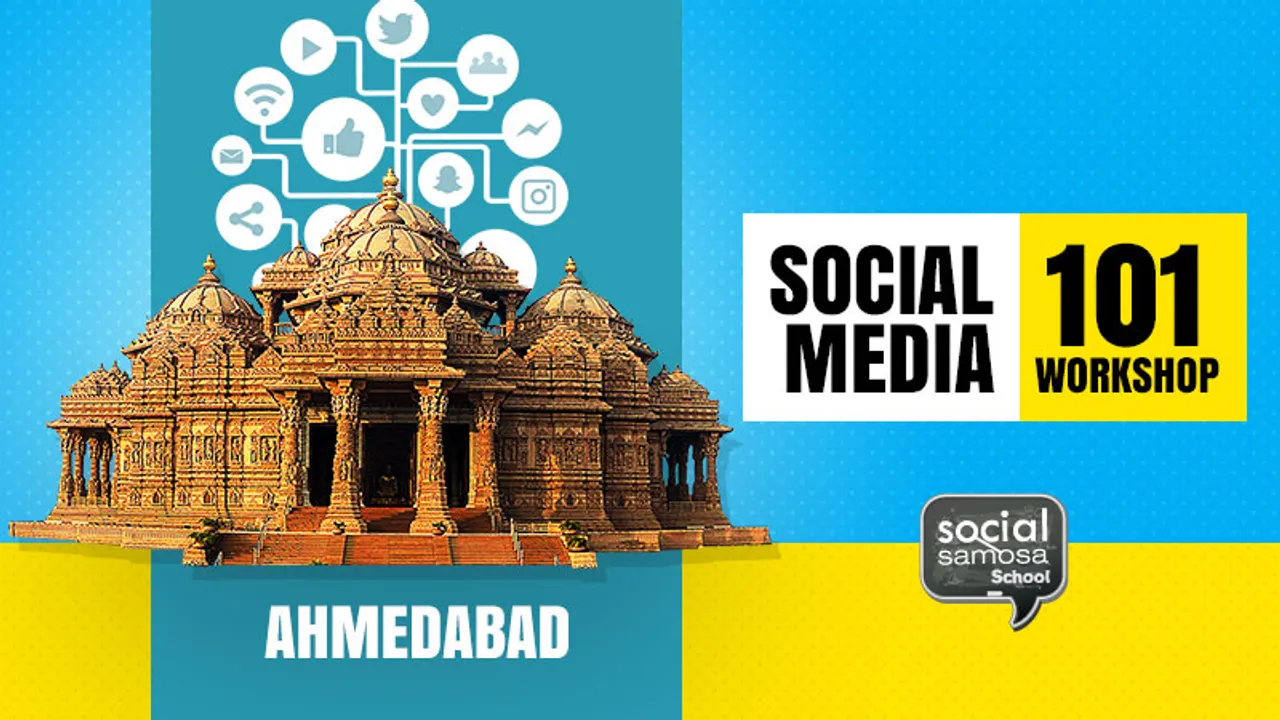 To all the social media aficionados out there , your day is about to get happier. Pleased to announce - for the first time, Social Samosa's Social Media 101 Workshop in Ahmedabad
The workshop will be held on October 07, 2017 from 10 AM to 6 PM. It's a one-day interactive session full of information directly descending from the pioneers of this field. Get enrolled and learn social media tactics that could help your business prosper.
How will you benefit from this workshop?
As we all know social media can increase your online presence by helping you take your business to the right consumers. It also helps in businesses by improving the quality of relationships—both with its customers and its broader target audience. But what are the measures that help us achieve these goals? Here is where our workshop comes in picture.
We will help you devise the right strategies for your business, plan the right balance between Paid, Owned and Earned Media, identify the right influencers for brands, run Ads on various Social Media Platforms to explore new audiences etc. There's a whole world of possibilities waiting for you to explore. And we will help you reach that shore glitch-free.
Trainers for the workshop
Since expertise matters, we have picked four trainers for the workshop. Each trainer will impart knowledge of the domain they master.
Hitesh Rajwani, Head of Social Samosa is an expert when it comes to digital marketing, social media advertising, and brand management. It's been half a decade since he first entered the digital domain. He possesses great experience as a workshop mentor, nearly participated in 50 workshops till date.
Jaydip Parikh, CEO of Tej SolPro, the co-founder #SEOTalk, and DIIM Institute, an active speaker with over 15+ years of experience in Marketing will be the trainer for this edition of the workshop. He has worked with brands like YourStory, CIIE-IIM, Kevi Rite Jaish, Saptpadii (ABCL Movie), Shamiana etc. He will enlighten the attendees with social media analytics.
Govind Rai, Director Strategy at INIT and GOBANANAS. He is also a co-founder of INSOMNIACS. In his prolific career, he has worked with brands like Hitachi, ONGC, Denim Jeans, Claris Group, and Adaani Group. He will help attendees explore the course of social media marketing.
Amit Panchal is a social media influencer, a strategist, a digital marketing consultant and the co-founder of social initiative #BloodMonk. He will elaborate the concepts of #InfluencerMarketing, how to pick right influencers in order to reach the target audience and how to devise campaigns that could help your business find the right amount of attraction needed.
So, keep all your excuses aside and attend our workshop to evolve in social media marketing and advertising. The Social Media 101 Workshop will be held at Regenta Central Antarim (Between Girish Coldrink & Xaviers Corner, Off. C.G. Road, Navrangpura, Ahmedabad 380 009, India). Don't miss an opportunity that might become the turning point for your business. Come; join us on October 07, 2017.