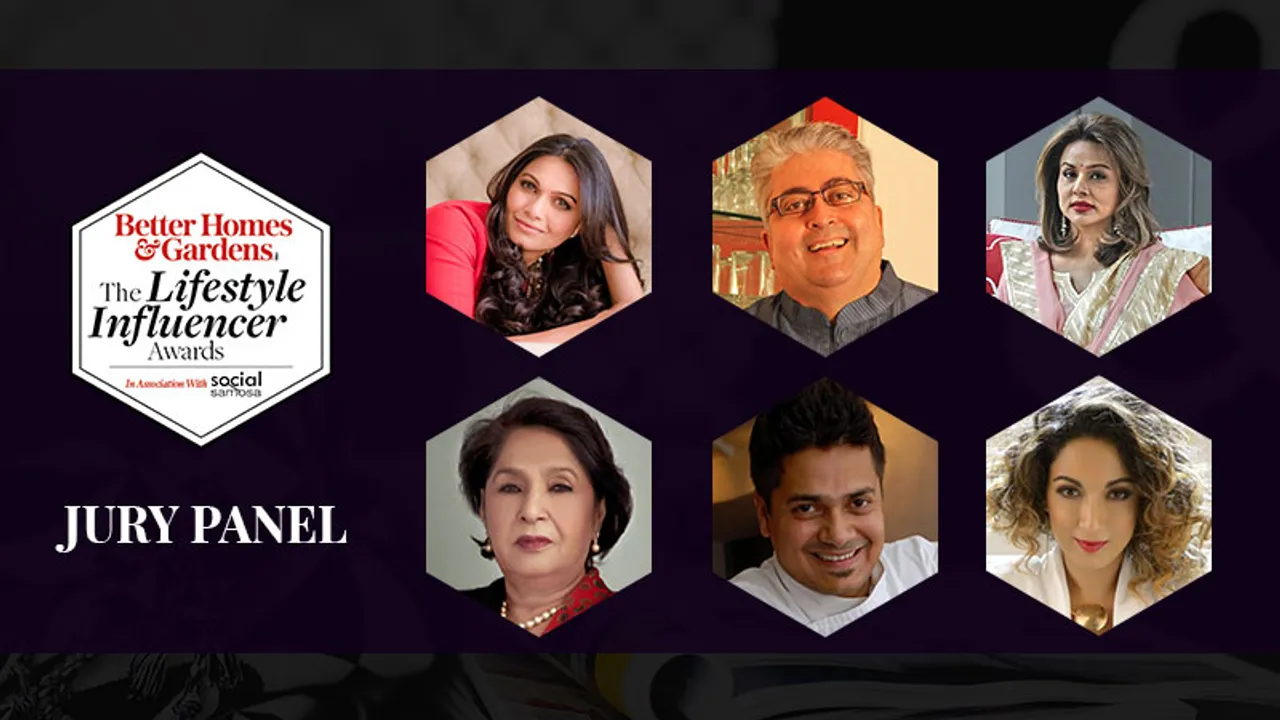 A night solely dedicated towards honouring and celebrating the work of social media influencers, and a rendezvous with some of the biggest names in the digital fraternity, The Lifestyle Influencer Awards will be judged by an equally distinguished jury.
Better Homes & Gardens, in association with Social Samosa brings forth a tremendous opportunity for social media influencers and bloggers in the form of The Lifestyle Influencer Awards to have their work showcased in front of an illustrious panel of judges. They are the masters of their respective fields who have made a mark in the industry. Equipped with the objectivity and know how, they are getting ready to christen the first ever winners of The Lifestyle Influencer Awards 2017.
Maria Goretti, who has charted milestones in her career that range from being a VJ, to an influential cultural blogger, decor enthusiast, cookbook authorand motivational speaker! She is also a fitness enthusiast and a regular participant at marathons, and a passionate deep-sea diver.
Sabyasachi Gorai, a professional chef has had the immense fortune of being awarded the Best Chef of India by former President Pratibha Patil in 2012. He is renowned for his experimentation with regional cuisine and specialises in bringing the best out of colours and textures of food. Chef Sabyis currently serving his art at the tables of Lavaash by Saby in Delhi, his first entrepreneurial venture.
Adarsh Gill, a veteran with an envious graph of experience that has been amassed at the sought-after couture houses in Italy, France, Germany, and England, is well known for her work in fashion and decor. Adarsh specialises in bringing out the grandeur with her opulent and lavish designs that are a product of an aesthetic marriage between European colour palettes with Indian handcrafting techniques.
Raseel Gujral Ansal, an architect with a flair for interior design, has harnessed her passion to become one of the premier decor visionaries with her venture, Casa Paradox. She has an array of commercial and private projects in India wherein she has been credited with introducing new and innovative design concepts to home decor.
Vidya Tikari, a celebrity makeup artist who has worked with the likes of Aishwaria Rai Bachchan, Madhuri Dixit, Sushmita Sen and more; she also holds a joint record with her team for doing the hair and makeup for over 9,000 performers at the Commonwealth Games 2010!
Anaggh Desai, a digital expert who lends his expertise and guidance to a host of successful brands such as Gitanjali, D'damas, traveljini.comand Cox and Kings. In addition to his professional stature, Anaggh Desai is also a blogger who loves to blog about food, hospitality, consumers, and new-age brand behaviour and experiences.
The nominations are currently open and will end at 13th November, 2017, and voting lines will open from 14th November, 2017 onwards!
Jump on the celebration wagon and nominate yourself for The Lifestyle Influencer Awards!