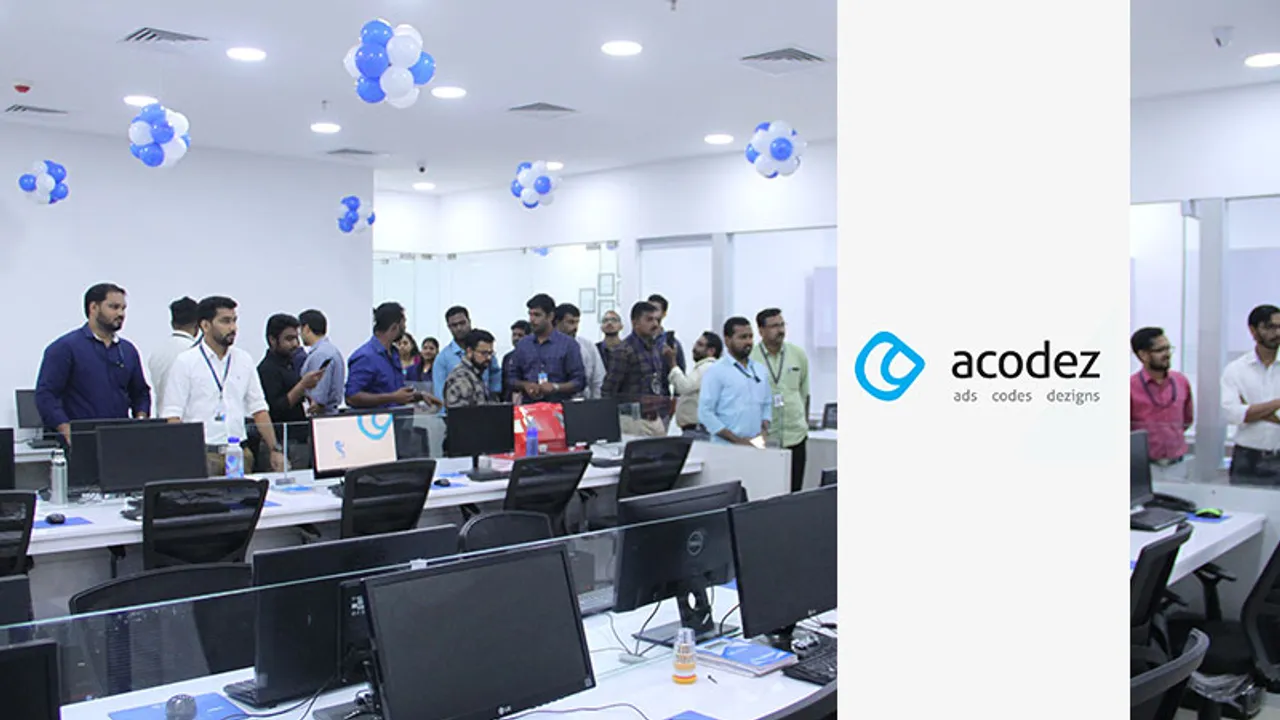 Who are we?
Founded in the year 2011 by two aspiring technocrats Rithesh Raghavan and John P. Manjaly, Acodez bloomed to be one of the best Digital Agencies in India. We cater to our clients across the world with high-quality Digital Marketing, Web design, UX Design, branding, mobile app development, and a variety of other distinctive services.
We began as a team of five. Today, we have more than 80+ employees operating across our offices in Gurgaon, Mumbai, Bangalore and Calicut. They are our biggest strength.  In Calicut, we have 2 offices, of which one is a 100% export oriented SEZ unit. We are soon expanding to the Middle East and other parts of the world.
At Acodez, we implement innovative ideas along with latest technologies to develop products and services that exhibit exemplary excellence with no compromise over quality. Within this short span of time, we have already been felicitated with multiple international awards for our services to our clients.
We are also a Google Partner agency and Bing Accredited Professional Agency and our team possess various certifications from Google, Bing, Hub Spot and many other authorities. If you are in search of a vibrant team that is ready to think out-of-the-box, then we are game.
What's in the name?
Acodez stands for "Ads Codes and Dezigns." Ads refer to advertising – mainly digital, Codes for coding and design for designing. It simply represents what we do in 3 words.
We are a complete power packed entity of solutions catering to all your business requirements under one roof. Starting from branding to designing aesthetic websites while ensuring that the content on your website provides a solution to your consumer's problems, we know very well what it takes to ensure that your business ranks at the number one position over the search engines.
It's all about branding and image and SMM agencies are all about that. Reasoning behind choosing your agency name?
What we do?
We provide a wide range of services, including website design and development, UX design, Logo, Branding & Identity Design, e-commerce websites, CRM and CMS development, business intelligence, cloud computing, big data solutions, mobile app development, SEO, inbound marketing, content writing, SEM, SMM, PPC and many more.
We implement the latest techniques and methodologies, while also utilizing the essence of tried-and-proven techniques to mould a solution that fits exactly into your business needs.
Why we do it?
We realized that there was a need for bringing about a revolution to the existing contingencies of the web. People were bored with the old and outdated techniques wherein technology was sluggish. With the introduction of smart technology, end users and their requirements started to vary and they were expecting more from their service providers.
With an aim to fulfill their needs and expectations, we decided to reach them out with the best of smart solutions with no compromise over quality. All thanks to our team of highly experienced professionals with high-end expertise who ensure that the needs are taken care of. This dedication is what bags us all the awards for our works every year.
How we evolve?
We are constantly evolving. Our aim is to keep up with the industry trends and to ensure that these reflect in the services and solutions that we offer our people. At Acodez, we believe that our happiness lies in the satisfaction of our clients.
We keep a watch out for what the experts are recommending and how they go about implementing these ideas. We infuse in these very ideas and techniques in our solutions to ensure that they reflect the requirements of the present day.
At Acodez, we have a team of expert consultants and analysts who are constantly listening and speaking to the expert communities over the web to gather ideas that are worth experimenting and introducing to create outstanding products.
Social responsibility in social media
Being a service provider that spans around various industry verticals offering a complete package of business solutions, we shoulder a great deal of social responsibility too. We know our people are active over the social media sites and it is our responsibility to stay connected with them.
We have an excellent team of social media marketing experts who are constantly listening, engaging and communicating with our dear people over the social media networks.
At Acodez, we believe that rather than providing mechanical responses, it is imperative to establish an emotional connection with the people to help them realize that we are here to support them and to provide them with a perfect solution for their concerns.
Need of the hour
Smart technology is taking over the world by storm. End users are smarter than we can imagine. They know what their needs are and they just will not settle for anything small. Their expectations are growing and we need to ensure that our solutions and services are customized to meet their needs.
Big Data, Artificial Intelligence, Market Analysis, Cloud, Automation, etc. are the need of the hour. We ensure that with the emergence of the new ideas and techniques, we leave no stones unturned at covering the various aspects of business intelligence helping our clients to soar toward greater heights.
We learned the hard way
Our evolution from a five-member team to a larger team with more than 1000+ clients located across 70+ different countries across the globe was never an easy one. It took us a lot of effort, hard work, dedication and client-centric approach to pave our way to the heights of success that we enjoy today. But, as they say hard work and dedication along with a highly experienced team of professionals will bring you what you desire.
As everyone, we learned the hard way. But, once we started we realized there was no turning back and here we are today with more than 13+ international awards in our kitty.
Did we just share that?
We have an excellent team of professional consultants who constantly watch out for news and updates happening around the web. In one such incident, a social media manager from our team unveiled a Facebook update that was yet to be discovered by the expert team over the web. This got us listed across numerous online media and sources, which carried our fame to far and wide.
They work with us
Our clients are a part of our blood. The truth is without their assistance we would never have made it this big. We ensure that they are part of each of our projects. At Acodez, our team of experts works closely with our clients to analyze their requirements and to provide them with the best of solutions. This helps us to avoid irrelevant ideas and to include what is best for the client as well as the end user. At Acodez, we work with clients ranging from one-man start ups to MNCs.
Industry as we foresee
Regardless of whether it is the automation or the social media industry, everything is booming and in a few years of time, we should be prepared to expect the unexpected. Of course, in the past 20 years of time since the day internet became prominent, there have been invariable changes and the emergence of social media is a living proof of the evolution and how it will keep on evolving over the years.
A day without Internet
The internet is something which we breathe in everyday. It is quite hard to imagine a day without internet. But still, you have the solution to make your business and clients busy and energetic. Yes, that's with scheduling weekly client meetings and spending time together working on creative ideas to boost the business which would be refreshing.
Lastly, are you hiring?
Yes, we have opportunities for energetic and dynamic talents who can think out-of-the box and blend in innovative ideas to together take our objectives of continuous evolution to the next level. If you are interested to be part of an enthusiastic and bubbling team, where we are like a family, then this is for you. Come join us.