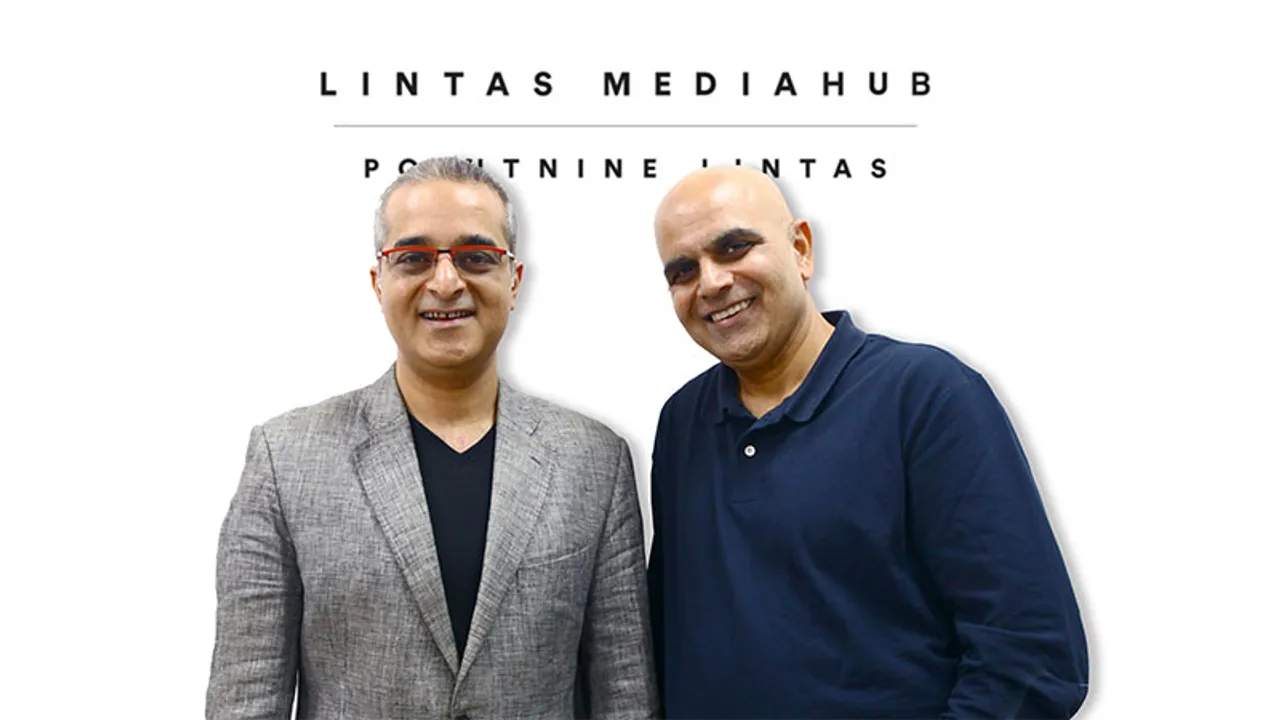 MullenLowe Group announced the entry of MullenLowe Mediahub into the India market with the launch of Lintas Mediahub.
In India, the media agency will operate as a division of MullenLowe Lintas Group's omnichannel agency, PointNine Lintas. Lintas Mediahub is being launched as a full service media offering for a digitised world, and will offer media strategy, communications planning, media planning and buying across all touch-points, both on and offline.
The agency will also include a performance marketing offering and a programmatic buying engine.
In India, Lintas Mediahub aims to offer a counterpoint to the current crop of monolithic, volume hungry, singularly data obsessed media agency models. As a part of the omnichannel offering of PointNine Lintas, it is designed to bring creativity and media together.
Speaking of the launch, Vikas Mehta, CEO, PointNine Lintas said, "The separation of creative and media in the past two decades has gradually sucked ideas out of the media business. Media innovations have been largely 'standardised' and whilst there are some breakthroughs, they are few and far between. With Lintas Mediahub, we want to bring ideas back to the heart of the media offering. The addition of media capabilities to our service stack brings PointNine Lintas another step closer to our omnichannel vision."
Lintas Mediahub will be headed by Vidhu Sagar, who joins as National Director – Media, and will be based in Mumbai. Sagar joins from WPP where he was the Business lead at Global Team Blue (GTB) - WPP's integrated agency for Ford Motors. Prior to that he was an EVP at Carat Media India, served as General Manager, FCB‐Ulka Delhi and was also Head of Marketing at India Today Group, amongst other roles.
Sagar understands the aspirations of an omnichannel agency like PointNine Lintas and comes with rich experience across the diverse disciplines of media planning, brand strategy and account management. Throughout his career he has acted as a brand champion for ground breaking communication solutions for a variety of clients, including international brands such as BMW, General Motors, Ford, British Airways, Bausch & Lomb, Tropicana, MasterCard, Reebok, and Bose, as well as prominent Indian players such as ITC, Dabur, Hero, HCL, NIIT and Muthoot Group.
Vidhu Sagar, National Director - Media, Lintas Mediahub noted, "I am extremely excited to join Lintas Mediahub. It's a magical combination really. PointNine Lintas, with its omnichannel thrust and an unmatched service stack, is uniquely positioned to address the growing need for a comprehensive surround approach to communication planning. And MullenLowe Mediahub, a robust yet edgily creative, media agency group, remains unparalleled across the globe in its appeal. Lintas Mediahub will be the perfect amalgam of science and art, seamlessly fusing logic with lateral thinking. We hope to challenge the status quo by adding a layer of imaginative thinking that's missing from the offering of most media agencies today."
Lintas Mediahub will offer its services to clients across agencies of MullenLowe Lintas Group in India – Lowe Lintas, Mullen Lintas and PointNine Lintas. The launch in India, marks the expansion of the MullenLowe Mediahub network into 14 cities around the world, including Los Angeles, New York, London, Sydney, Singapore, Tokyo and Shanghai. Recently MullenLowe Mediahub was named MediaPost's Creative Media Agency of the Year for the second consecutive year, and has an enviable client list that includes Chipotle, Eurosport, JetBlue, Harley-Davidson, Netflix, Royal Caribbean, Staples, and Western Union.
Commenting on the India launch, John Moore, Global President, MullenLowe Mediahub said, "We are thrilled to launch MullenLowe Mediahub in the India market. Our goal is to take the same successful approach we are using in the US, and other key global markets, leveraging our position as a challenger media shop for challenger brands, and driving an unfair share of attention for those brands. The MullenLowe Lintas Group creative clients have been asking for a media offering for some time and now we can create more powerful and holistic solutions with creative and media under one roof. As a result, our initial strategy is to grow our practice through working with MullenLowe Lintas Group and then eventually winning in media only pitches. We are excited about our future and know that Vidhu is the right person to lead and grow Mediahub in this important and dynamic market."