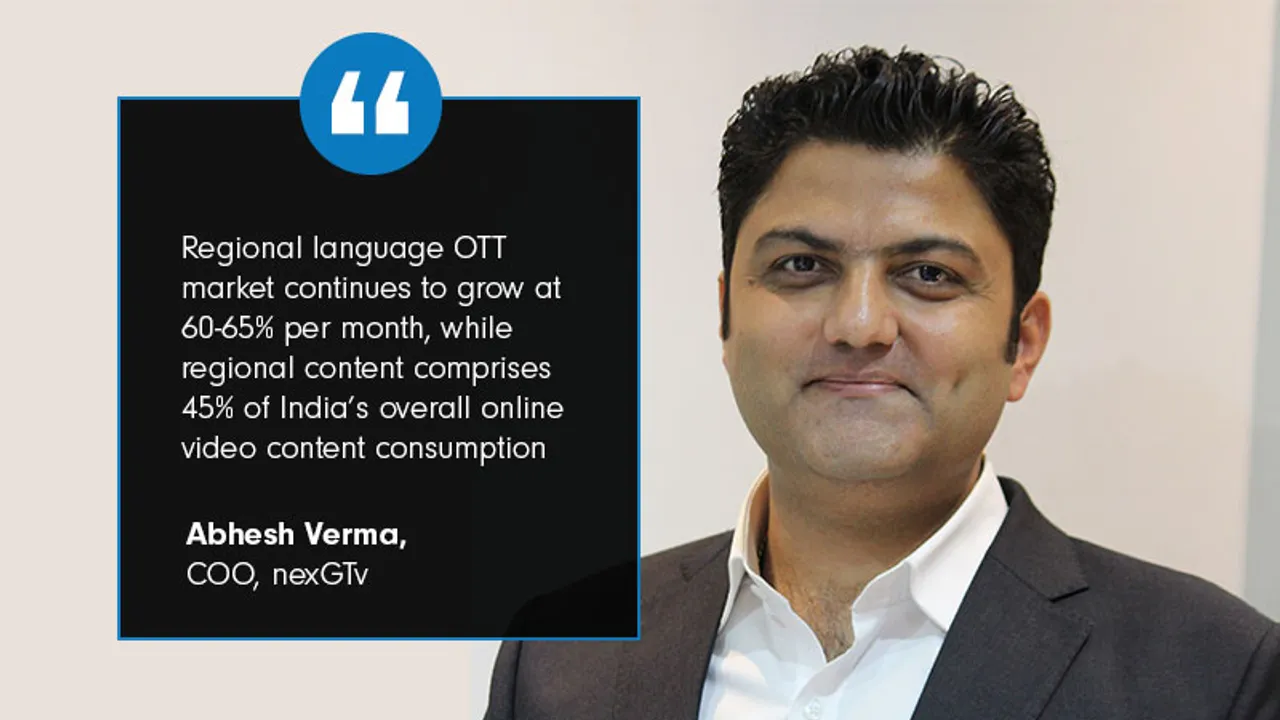 Social Samosa gets in conversation with Abhesh Verma, COO, nexGTv to understand the trends in the OTT market in India
Verma shares insights on the OTT market in India - the current challenges, the effects of demonetization &GST and the growth patterns witnessed in 2017. He further talks about the investment which goes in to creating an original online content  and some major trends which we can all look forward to in 2018.
Excerpts below
As more and more players enter the OTT market, what kinds of trends were seen in the online content consumption space?
Over the past year, the internet has been and continues to be the biggest disruptive force, influencing the distribution and consumption of content across various media channels. With improved networks, better access to the internet, and ever-increasing smartphone ownership, digital media consumption in India, and across the globe, has risen exponentially. Since mobile phones are now personal entertainment devices for a large number of consumers, it only makes sense for content providers to partner with telecom operators to strengthen the delivery capabilities of their streaming services. Hence, in order to tap into the upsurge in mobile-based OTT video consumption, telecom operators and OTT video streaming platforms have entered into strategic partnerships, offering bundled services and discounted subscriptions to users.
Furthermore, with the OTT ecosystem moving beyond metros and tier-1 cities, watch-times of regional content has grown by more than 4 to 4.5 times the growth rate of Hindi-language content.
As more content is created in languages like Punjabi, Bengali, Tamil, Telugu, Malayalam, Gujarati, and Marathi, the number of unique visitors on leading OTT platforms has been growing steadily. As a result, the regional language OTT market continues to grow at about 60-65 percent every month, while regional content comprises nearly 45 percent of India's overall online video content consumption. Original web series and short films in these languages are among the most popular categories of content among regional audiences. The preference for short, snackable content is also becoming more common, not only among urban viewers of Hindi and English-language content, but also regional audiences consuming entertainment in vernacular languages.
Although the traction for OTT video streaming and downloading is only just building, a thriving ecosystem of content suppliers is being created as a result of multiple new players launching their digital streaming platforms. Furthermore, the entry of OTT players, both domestic and international, has expanded the choices available to consumers for consuming content and brought a significant shift in the user's attitude, leading to an increasing demand for easy access to a vast library at any time and place. Thus, to provide a seamless and secure delivery of online videos, streaming platforms are strengthening their content delivery networks (CDNs) to entirely bypass the need for continuous internet connectivity by enabling offline streaming.
 Has the viewership increased as compared to 2016?
There are currently 176 million OTT viewers in the country, as compared to 63 million in 2016, driving revenues in excess of $500 million. On NexGTv, we have 1 million new subscribers each month, which has raised the cumulative subscription figures on the platform.
With the number of smartphone users predicted to cross 702 million by the year 2020, active monthly OTT video viewers in India are expected to grow at a CAGR of 43 percent to exceed 100 million unique monthly viewers by the end of 2020.
Furthermore, according to the Indian Media and Entertainment Report 2017 by KPMG India and FICCI, mobile video traffic in India is expected to grow at a CAGR of 68 percent, while the number of video-capable devices and connections is expected to grow by 2.2 times to surpass 800 million between 2016 and 2021. The report also states that consequently, rising viewership of OTT content or video streaming, digital ad spends are expected to cross Rs. 29,400 crores in 2021 as compared to Rs. 7,692 crores in 2016.
What kind of impact did GST and demonetization have on this segment? Was viewership impacted?
The positive impact of demonetisation on digital payments was a key growth driver for the OTT VOD segment over the past year. As more and more consumers across the country gain greater familiarity with digital payments, this trend will continue in the near future. The implementation of GST has also coincided with the diversion of a major chunk of advertising spends from television to the digital video segment. Advertising revenues for OTT platforms, which had dipped following the demonetisation drive, have also shown signs of a strong recovery during the recent festive period around Diwali.
In terms of investment, how much is the approximate cost per episode of original content created by platforms? Also, what is the average cost of acquired content?
The production cost of a web-series is approximately Rs. 7-8 lakh per episode.
How much growth did the OTT market see in 2017?
One of the key growth drivers of the country's digital space, the OTT video market was estimated to be worth nearly USD 210 million in 2016, driven predominantly by advertising. The OTT video industry in India in 2017 achieved phenomenal growth of 160 percent, as the top 16 OTT platforms saw their user bases grow from 63 million to 164 million between August 2016 and August 2017.
Advertising spends for OTT video content are also expected to rise from $10 billion in 2015 to $40 billion by 2020.
In addition to tapping new consumer segments, these platforms have captured a much-larger share of advertising revenues from traditional television broadcasters with precision segmentation, immersive experiences, interactivity, data, and analytics. The enhanced native engagement offered by leading OTT platforms is also making in-app advertising a very lucrative area of opportunity for digital marketers.
What are the trends you foresee for 2018?
One of the trends from 2017, that will continue in 2018 as well, is the collaboration between telecom operators and OTT platforms to offer streaming services to consumers. This approach of delivering greater value to end-users has been amongst the most effective customer acquisition strategies adopted by telecom players and OTT platforms of late, and has generated significant results. Partnerships with smartphone brands to feature embedded OTT apps on phones are also pushing players to enhance their content offering for a rapidly-growing user base.
Moreover, given the rate at which its demand is growing, regional content can be expected to drive at least 35-40 percent growth for OTT viewership and comprise 20-25 percent of the overall consumption over the next year and beyond.
Another trend expected in the future is that more players will offer HD and 4K streaming to enhance the viewing experience for consumers who stream shows on smart TVs. We can expect more content producers, distributors, and OTT platforms to develop higher quality video content, further facilitating a surge in popularity and subscription for on-demand entertainment offerings.