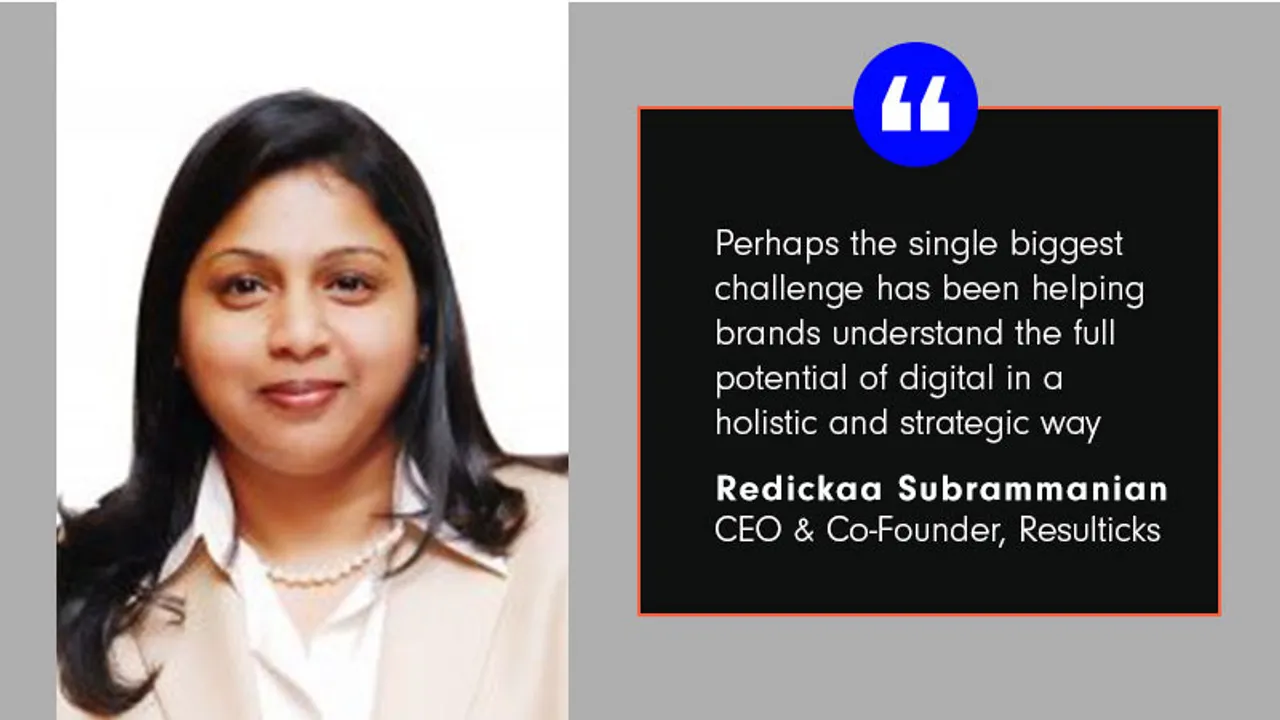 Digital marketing has evolved tremendously in the last few years – an Omni-channel affair with the need of 'individualization'. To get a better perspective on the current state of affairs, Social Samosa got in conversation with Redickaa Subrammanian, CEO & Co-Founder, Resulticks.
With over 15 years of experience in her kitty, Subrammanian has worked across various genres including, global advertising, marketing, and technology. She started Resulticks, a marketing automation platform with a co-founder in 2006 and since then has evolved with the industry.
Subrammanian shares her insights on the changing industry dynamics and Resulticks' journey and plans.
Excerpts below:
1. From 2006 to now, how has the Indian digital marketing ecosystem evolved?
In India, digital marketers have started to understand they must move beyond bulk push communications and take a more expansive approach that leverages every relevant channel to its fullest.
The trendsetters are making deeper investments in marketing automation technology and exploring how they can use it to engage consumers across the entire customer lifecycle. They are keen to understand how they can sustain continuous, contextual conversations with customers and prospects and move seamlessly across channels and devices, and how they can respond in real time with relevant messaging that will move the consumer closer to conversion.
At the same time, marketers have become disillusioned and frustrated with marketing technology that has over promised and under delivered. A lot of that stems from marketing systems that have been cobbled together from disparate modules that were never intended to work together in the first place. They're also frustrated by the failure of big data to deliver on its promise. Resulticks is on a mission to change it.
2. Please take us through the journey
Resulticks grew out of the extensive digital marketing experience my business partner and I gained after founding and running a full-service digital agency. In our engagements with highly respected brands like Microsoft, Levis, HP, and Motorola, we had the opportunity to see and work with a wide range of marketing software and systems that our clients had purchased.
Using them, we experienced the same frustrations our clients had when trying to run a campaign across 60 markets juggling multiple platforms: one for the campaign, another for integrating the data, and another for analyzing it. We knew something had to change.
When the opportunity arose in 2012 for us to reinvent ourselves, we decided to move beyond being just a services company. As marketers with strong technology expertise, we built Resulticks from the ground up to address the real needs of today's marketers as they try to engage, convert, and satisfy consumers who are not only empowered by electronic technology but who can also move easily from channel to channel and device to device at the click of a button. That, in a nutshell, is why and how Resulticks came into being anew generation, real-time marketing automation cloud.
3. Looking back, what were the major hurdles you had to face as the early adopters of digital in India?
Perhaps the single biggest challenge has been helping brands understand the full potential of digital in a holistic and strategic way. Without an overall business strategy, brands tend to stay in their comfort zones and become more reactive than strategic.
Brands need to look at the bigger picture and how they can leverage digital marketing automation to sculpt coherent customer lifecycle journeys across channels and devices. We are trying to help them by beginning with small steps, racking up some quick wins, and then moving progressively towards a more omnichannel approach over time.
4. Marketing has evolved from a medium-oriented to a message-oriented affair. How can one send across a strong message in a multi-platform era?
Today, it's all about engaging the customer as an individual. That's not the same as personalization, which is an overused and overhyped buzzword that usually amounts to little more than addressing customers by name.
Individualization requires a much deeper understanding of each consumer—their channel and device preferences, engagement and purchase behaviours, social networks, what moves them to action, and how and when they engage and interact. When you can create a single, multi-dimensional view of each individual, you can create relevant messages, deliver them over the preferred channel in real time and at the particular moment they will have the most impact.
5. What are some of the global social media marketing trends you see entering the Indian ecosystem?
As Internet connectivity and data consumption continue to expand, and the number of consumers with access mushrooms, we will see brands becoming much more willing to embrace holistic social media marketing strategies. This means tailoring content to consumers on their preferred channels and measuring their journeys across all these new channels. It's a break with traditional marketing approaches, and I expect more marketers to move toward omnichannel approaches soon.
Video opens up lots of opportunities to create engaging, relevant content. Marketers should continue to mine video channels for additional consumer insight as well. There is much-untapped potential in new platforms such as Snapchat and Periscope—interest in them is evident and growing.
6. 2017 was a dynamic year in terms of marketing innovations, which has been your favourite marketing initiative of the year?
I'm excited about the increasingly important role voice is playing in how people navigate the ocean of content available to them. Voice is becoming critical whether you're at home, on the move, or at work. The entire universe is within your grasp on single voice-enabled device—whether it's your mobile phone, Alexa, Google home or Cortana.
This line of thinking inevitably leads to artificial intelligence. We've already seen AI coming into play with biometric recognition and other modes of interactions. Now we need to look at how we can leverage AI to mine data for machine learning and usethat intelligence to contextualize and individualize memorable, valuable experiences—the kind of experiences that drive conversion, brand loyalty, and future revenue growth.
7. What are the key digital marketing trends you foresee for 2018?
Blockchain will play a big role in marketing, especially around know-your-customer data. Social channels will start to consolidate. Voice will continue to gain importance, and the functionalities of mobile and wearable devices will expand to touch even more aspects of our lives.
The cumulative effect will be the generation, consolidation, and use of more consumer data and higher levels of individualization and real-time response.
8. Three mistakes that brands tend to make in the modern digital marketing set up?
1. Systems Inflation. Instead of devising a leaner more integrated approach, brands continue to add flab to their existing ecosystems with disparate, unconnected systems that create more data silos and lessen their ability to engage customers individually. They need to move beyond yesterday's modular martech stacks and toward a more holistic, integrated platform approach.
2. Data &Analytics. Few brands have the capability to fully leverage the wealth of data available to them to create a single customer view, target more precisely and contextually, and improve campaign design and performance. Brands need to take a cold, hard look at their data collection, optimisation, and analysis capabilities and make changes quickly.
3. Channel Strategy and Innovation. Very important, brands need to articulate a realistic channel strategy and channel spend before they launch into any type of multi-channel communication. Also, too many marketers spend too much time trying to apply old marketing concepts to new channels. To optimize channel strategy, they need to stay acutely aware of marketing trends and actually use the data they have to create engaging, real-time communications specific to the audience.
9. Please share a few words of wisdom for those who're struggling to apply Big Data to their marketing strategy.
Resulticks just launched the Marketing Flab to Fab Challenge that includes a 21-day Big-Data Fitness Plan, which spells out the required steps for realizing the power and value of big data. Part of that includes specifics on combining and using both structured and unstructured data.
10. What are your plans for Resulticks in 2018?
We are on a mission to help marketers the transition from bloated martech systems to leaner, integrated solutions that enable real-time engagement and individualized experiences. Toward that end, we are on the verge of unleashing some terrific innovations for implementing blockchain and true AI into the marketing mix.