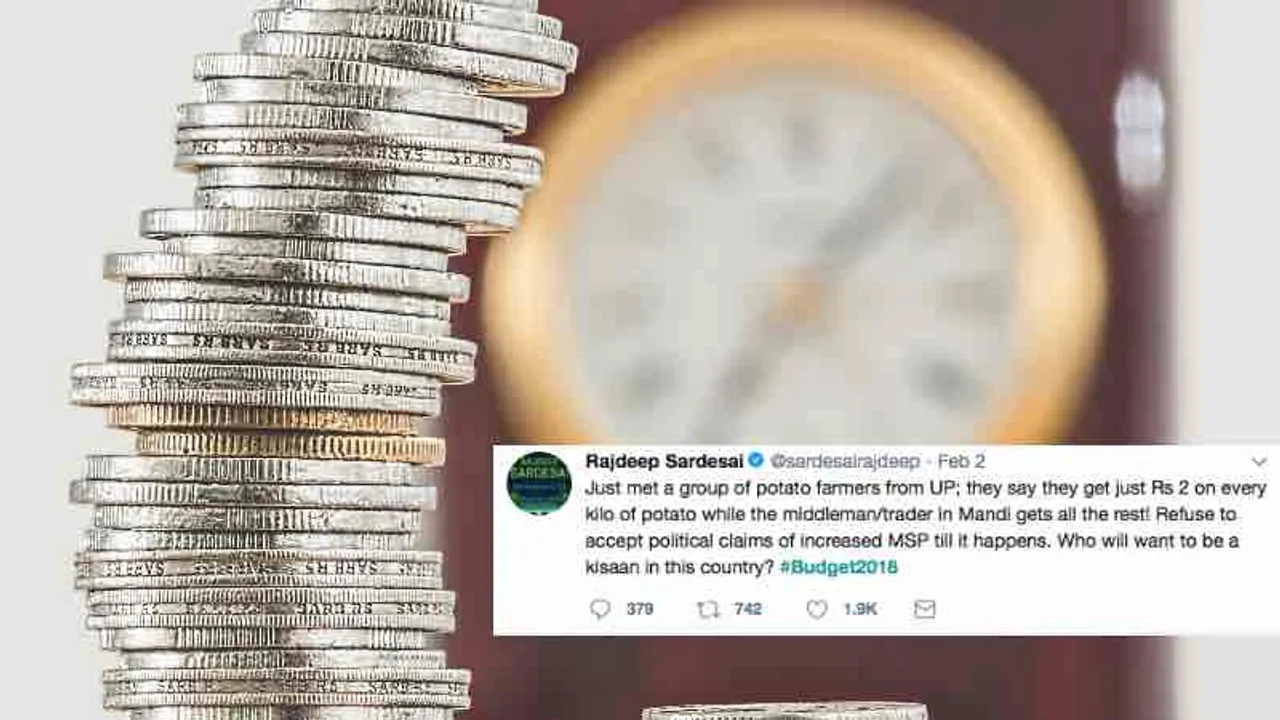 Twitter is the best and fastest place to see what's happening in India and across the world. With Budget 2018, Twitter recorded over 14 lakh Budget-related conversations in the past week (Jan 26 - Feb 2, 2018). Conversations on Twitter lit up globally as politicians, well-known personalities, and the public took to the platform to express their opinions regarding the Budget. Soon after the Budget speech concluded, the conversations on the platform peaked at February 1st, 2:30PM with over 83,000 Tweets.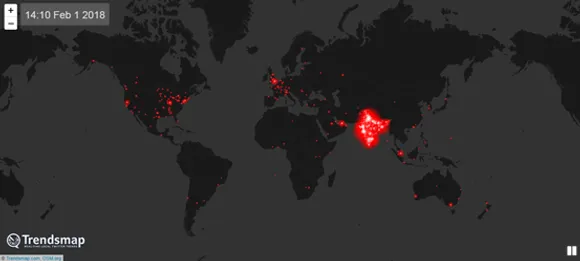 Together with the Ministry of Finance (@FinMinIndia), Twitter enabled people across the nation to watch the #Budget2018  speech from the Union Finance Minister Mr. Arun Jaitley (@arunjaitley), follow the talkathon on Union Budget, and also participate in the Budget discussion through a live Q&A with the Finance Minister #AskYourFM. The interactions were live-streamed on Twitter and televised nationally.
Talkathon - Union Budget 2018-19 https://t.co/BK3BPPArOO

— Arun Jaitley (@arunjaitley) February 1, 2018
The collaboration on Twitter with multiple news partners further amplified the #Budget2018 conversations, ensuring Indians across the world were updated with the latest Budget discussions. Key topics of discussion on Twitter in India included: Healthcare, Demonetisation, Agriculture, Personal Income Tax, Infrastructure and GST.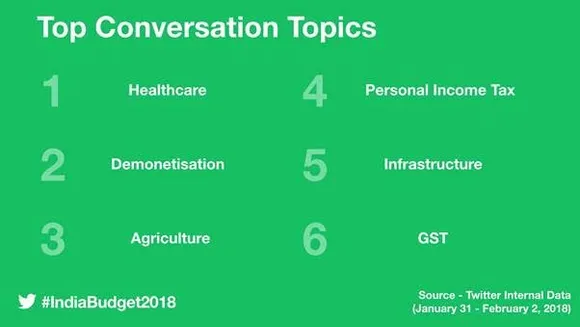 Prime Minister Narendra Modi emerged as the most mentioned personality on the platform during the #Budget2018 conversations, followed by Arun Jaitley (@arunjaitley) - Union Minister of Finance, Amit Shah (@AmitShah) - National President of Bharatiya Janata Party, P. Chidambaram (@PChidambaram_IN) - Member of Parliament and former Finance Minister and Arvind Subramanian (@arvindsubraman) - Chief Economic Adviser, Ministry of Finance.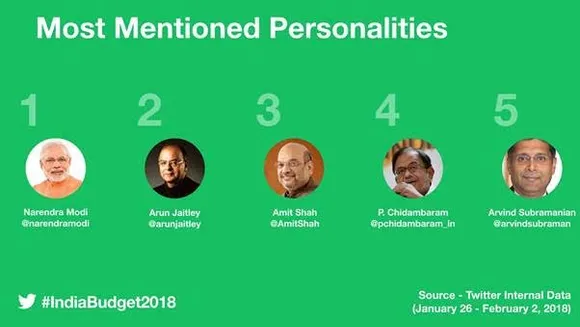 Here's a snapshot of what people were saying about #Budget2018 :
As per tradition, Finance Minister Arun Jaitley calls on #PresidentKovind at Rashtrapati Bhavan before presenting the Union Budget pic.twitter.com/cSPFp3pYeZ

— President of India (@rashtrapatibhvn) February 1, 2018
Congratulations PM @narendramodi #FinanceMinister @arunjaitley on launching world's biggest health insurance prog for 10 cr poor families, hike in MSP for farmers, corporate tax reduction for MSMEs, Eklavya schools for SC/ST students.

— Rajat Sharma (@RajatSharmaLive) February 1, 2018
One way to analyse #Budget2018 is to not look at in isolation but as a stunningly well planned sequencing of moves, beginning from 2014 budget and culminating in this, the 5th and last full budget of Modi Government. #NewIndiaBudget 1/10

— Akhilesh Mishra (@amishra77) February 1, 2018
#Budget2018
I am not an economist but I belong to the 'Middle Class' that everyone is claiming to be hurt the most by this budget.
Guys it's simple; If for Nation Building, I am taxed 27 Rs per day more (BTW your CA always finds a way to pay less) It's the price of a bread.

— Lone Crusader (@seriousfunnyguy) February 2, 2018