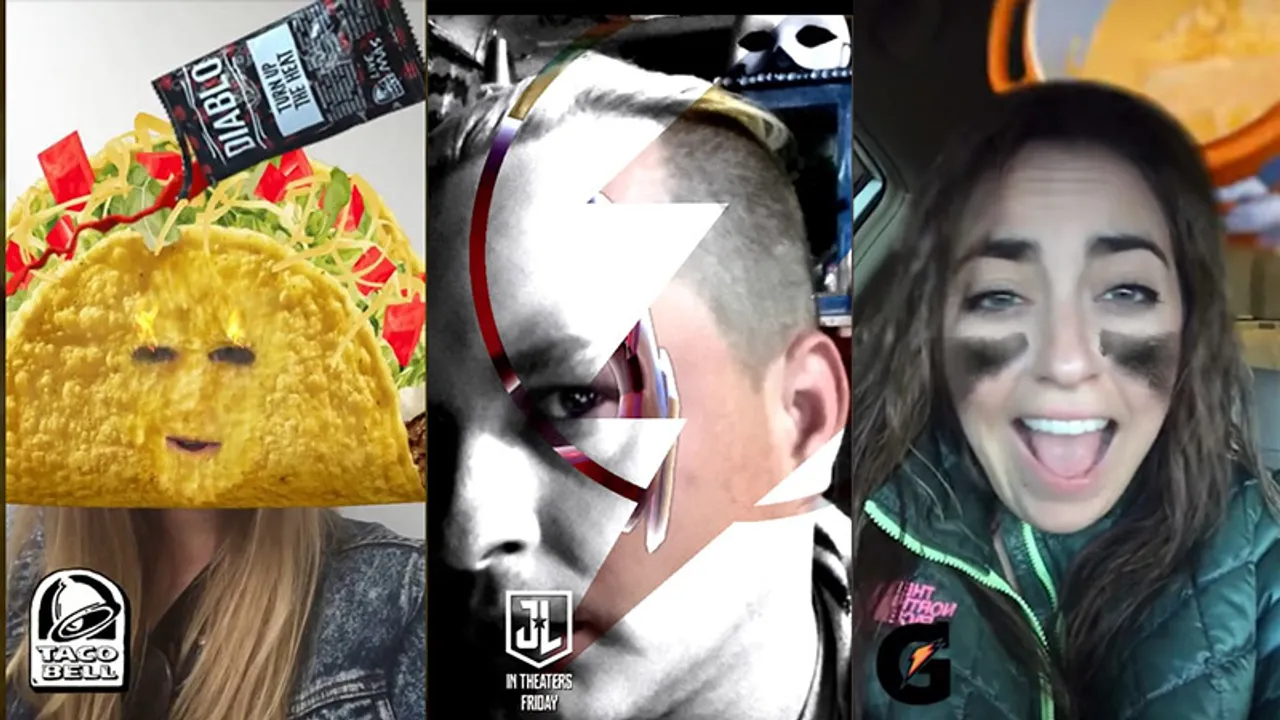 Most brands have shied away or did not know how to make the most of Snapchat's advertising possibilities, although there are many that have scripted some pretty impressive milestones with their Snapchat campaigns.
Whether it's FMCG brands promoting their products, or a fast food outlet letting their patrons have fun with branded geostickers or the revolutionary new World Lenses on Snapchat, these brands created the perfect Snapchat campaigns with generous amounts of innovation, tact, and insight.
With over 187 Million DAU comprising of a rich young demographic that relies heavily on social media for their day to day activities and communication, Snapchat presents an amazing opportunity for brands. Nearly 71%* of Snapchat's users are under 34 years of age, and a staggering 45%* of its total user base belongs to the 18-24 years category.
This makes Snapchat one of the most sought-after social media platforms that can help brands reach the new age tech-savvy audiences, not just in the United States, but all over the world.
Some of the most iconic collaborations with Snapchat have been from brands such as Taco Bell, Gatorade, Stranger Things, and many more.
1. Taco Bell Cinco De Mayo
Taco Bell's exclusive Snapchat Face Filter turned users into a hard taco shell, and the campaign lasted for 24 hours, earning the filter over 224 Million views* and turned out to be extremely cost-effective for Taco Bell.
The fast-food company reportedly paid $750,000* for the Face Filter and dividing it by the number of times it was viewed, it comes down to $.03 only!
2. Justice League
Warner Brothers' ambitious cinematic congregation of the most popular superheroes on the planet had a comprehensive online-offline marketing strategy.
Snapchat was an important cog in their wheel with some wonderful face filters of the Justice League team members.
3. MTV Video Music Awards 2015
The Video Music Awards is one of the biggest nights for the music industry and MTV opted for a Live Story on Snapchat to cut users in for an exclusive sneak peek.
&t=6s
BTS action, gags and other footage was watched by over 12 million people. That's more than the 10 million people who watched the VMAs on Television!
4. Dunkin Donuts
10Like Taco Bell's fun sponsored filter that turned users into a hard shell taco, Dunkin Donuts celebrated National Donut Day with a sprinkle inhaling Donut face filter on Snapchat.
You donut want to miss our #NationalDonutDay lens on Snapchat today 6/2! ?: dunkindonuts pic.twitter.com/wEEJjRJ4xJ

— Dunkin' Donuts (@dunkindonuts) June 2, 2017
The face filter was promoted on Dunkin Donuts social media channels and registered more than 10K views on Twitter promotion post, and was said to be highly popular on social media, earning the company 10 times more followers on Snapchat on National Donut Day than they did on average.
5. Grubhub
In an extraordinarily quirky fashion, food delivery app GrubHub employed Snapchat to find them their next intern with some special 'Snapchat Skillz'.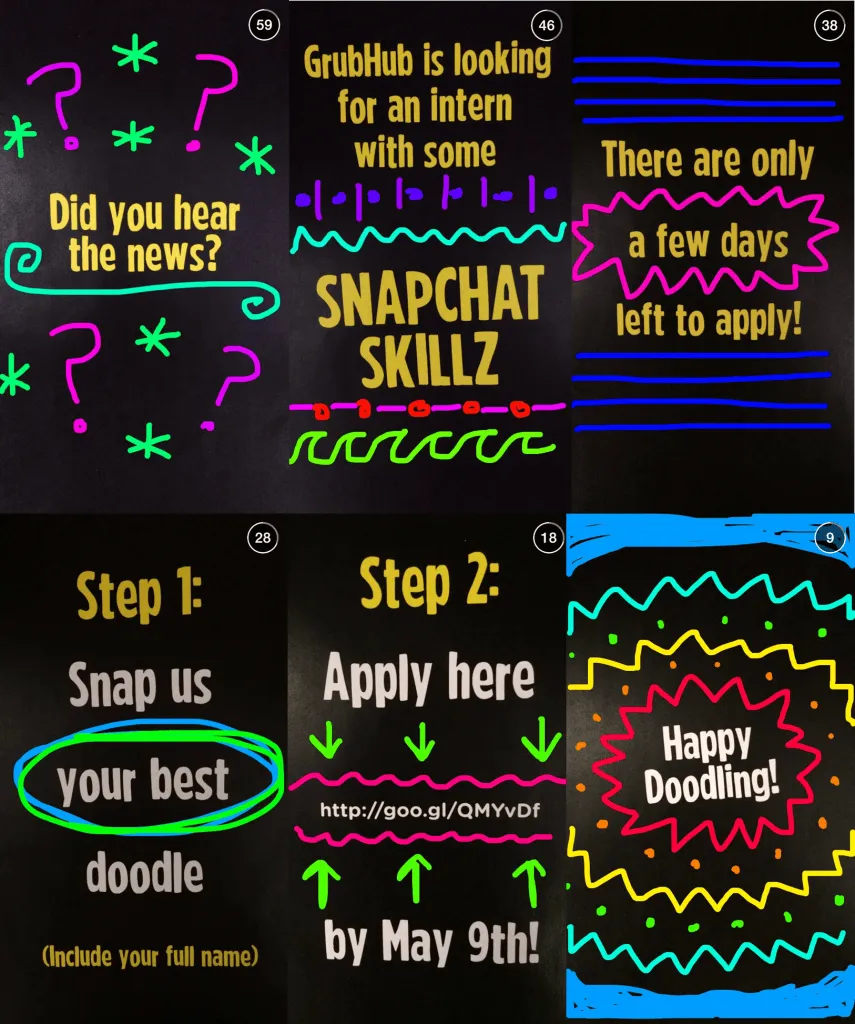 Source
An interesting approach to the more usual, sophisticatedly mundane LinkedIn lookout.
6. WWF #LastSelfie
The World Wildlife Fund raised awareness around the many critically endangered species all over the world by reaching out to the younger generation through Snapchat.
The #LastSelfie was a heart-wrenching campaign and was executed across other social media platforms simultaneously.
7. Doritos India
Doritos became one of the first and very few companies to introduce an exclusive Snapchat Sponsored Face Filter for users in India last year, on 4th November 2017 and was available to users for 24 hours.
"The Doritos AR Lens changes the Snapchat user from a kitten to a tiger when the user opens his or her mouth to bite into a Doritos chip." as reported by Social Samosa last year. The global brand made a bold entry into the Indian market last year and intend to make a mark in the country.
8. Charlie and the Chocolate Factory Musical
Making use of Snapchat's geofilter feature, Charlie and the Chocolate Factory Musical offered users a chance to win free tickets.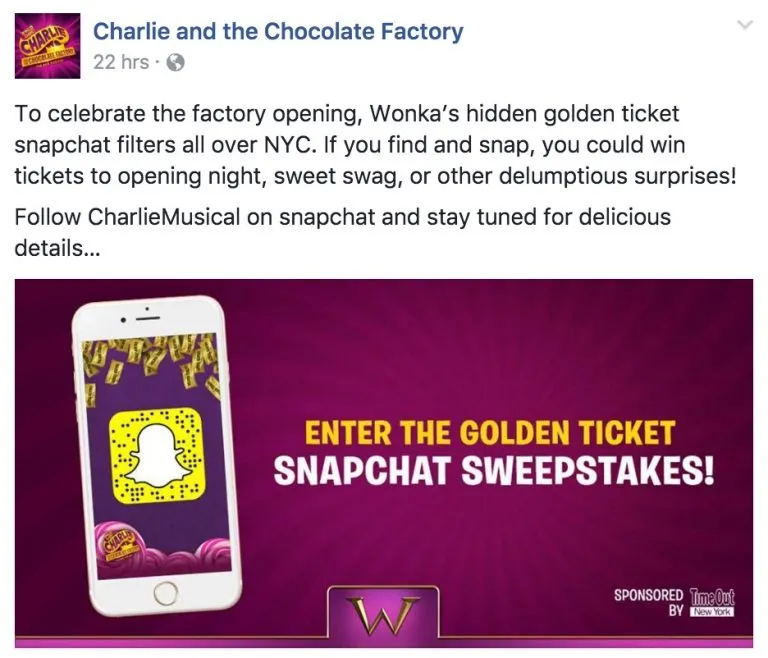 Source
By finding 'hidden' geofilters all over New York City, clicking a picture with it and sending it to the Charlie and the Chocolate Factory Musical's Snapchat account, users could win those free tickets, merchandise and more.
9. Stranger things 2
Stranger Things was a smash hit all over the world and has developed an enviable fan following which made it only natural that excitement around the second season was astonishingly high.
Netflix used Snapchat's revolutionary World Lens feature to give audiences a taste of the Stranger Things world in their surroundings.
10. X-Men Apocalypse
The most recent introduction from the X-Men movie franchise took over Snapchat for an entire day with sponsored filters for all the characters in the film.
This gave them a significant edge as the sponsored filters racked up over 1.5B views* on Snapchat, generating an impressive amount of buzz among the youth.
11. Gatorade
Gatorade opted for a Sponsored Lens on Snapchat during the SuperBowl 50, enacting the traditional post-win energy drink dunking celebration popular in football.
Tennis star Serena Williams was brought on board for the #GatoradeDunk, which garnered over 100 million views on the Super Bowl weekend, and more than 170million views in total.
These were some of the most creative, innovative and successful applications of Snapchat's advertising capabilities that can serve as an inspiration for future Snapchat campaigns.