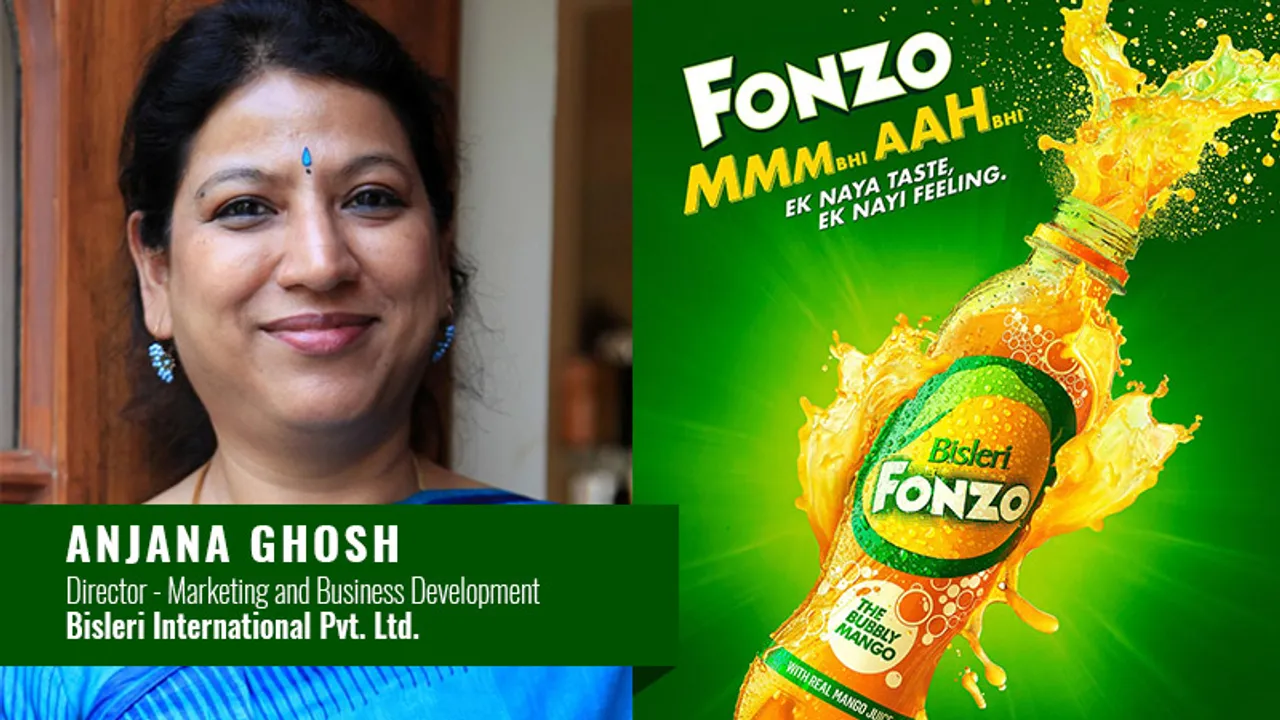 Anjana Ghosh, Director - Marketing and Business Development, Bisleri International shares her two cents on the Bisleri Digital Marketing Strategy.
Mineral water is a rather too sophisticated term in India. It is always Bisleri! No matter which brand you are given in the end, a huge dynamic of mineral water consuming audience still asks for Bisleri.
In 2017, Ramesh Chauhan Chairman, Bisleri International told Economic Times, that Bisleri had been growing at 22% with a market share of 60%, in spite of not having run an advertising campaign for the past three years.
With an active campaign for Fonzo, Social Samosa got in conversation with Anjana Ghosh, Director - Marketing and Business Development, Bisleri International to understand how the brand is translating its offline legacy and fandom online, the brief and idea behind Fonzo, and much more.
Bisleri is synonymous with mineral water in India. How do you translate such strong brand identity on social media for the benefit of new age customers? 
Bisleri on digital is more of sustained visibility if I may call it that because Bisleri as a brand has been there for a long time so we don't really need to go out and talk to the consumer who we are. It's more to kind of connect with the consumer in terms of how Bisleri positions itself. We position ourselves mainly as a hydration partner. We position ourselves as providers of safe, healthy and pure drinking water, so, we treat those moments for the consumer which they can engage with. If you see our social media strategy, it's more to do with the kinds of consumption, different areas of consumption that a consumer can connect with.
It's more to do with when can Bisleri be a companion for the consumer. That's the engagement piece on social but more so what we are trying to do is, we are trying to work more on the larger packaging where is the 20 liter jar, because through that we are trying to penetrate in-home segment of the consumers.
We are planning to build models to kind of scale up that particular escape.
How are you marketing the aforementioned 20 liter jar through digital?
When we started kind of thinking about this 20 litre and bridging the gap between the consumer needs and wants. Basically, we wanted to enter the in-home segment, where if I have to put it this way, maybe targeting the younger couples who are working and who don't have enough time to wash the water or even filter the water in the morning. Basically wanting to target these kinds of audience who want easy solutions that work. So, through digital we are trying to reach out to these segments wanting to make it easy and comfortable for them to order online. We kind of bypass all the intermediaries that are involved in a traditional setup, where they can directly reach out to our customer care and get it fulfilled sooner than the local distributor which is there. So, that's done on the same field. So, that's the model we are working on.
What was the idea behind latest Bisleri Fonzo campaign? What was the brief given to the team? 
Mango is almost a religion in India. Everybody loves mangoes and mango is known for eating the fruit or drinking the juice. Whether you are eating mango or drinking the juice, you have a heave feeling. We wanted to address that issue, which is why added fizz to it; so, the flavor of mango juice is present, but with the fizz it becomes much lighter. That was the brief given to the team that the uniqueness of the product which had to be communicated to the consumer.
I think that the whole campaign is around the umm and aah is that umm is the goodness of the mango and aah is the freshness of the fruit. It has come out beautifully and we all are excited. People are appreciating it. Today, at the end we feel good about it. The campaign is on for two months so let's see how it works with the consumer. The whole briefing was around the product as a team and it's a really good work.
Please take us through the digital mix of the campaign. In how many phases will the campaign be executed? How has the campaign performed so far?
The digital strategy for Fonzo is basically to create awareness since it's a new brand and there are multiple phases. Obviously, the first phase is to create mass awareness and the second phase would entail sustenance which basically would eventually focus on the consumer so that we don't miss out on the momentum built. It's basically a two-phase campaign where the awareness phase is basically a mix of high-reach mediums; like we've taken space on IPL, that's Hotstar, there is social media involved definitely and then there is YouTube.
In the sustenance phase, we are going to drive it very consistently through social media and build relevance for the consumer.
In the first phase we are harping on two main things - one is creating awareness about Bisleri Fonzo but at the same time we also want to establish the proposition in the minds of the consumer which is going to be happy. So, what we are going to do is change this entire Bollywood masala type of a video which has Mika involved in it. The second phase where they are talking about the consumer engagement level, we will do a contest idea basically where the consumer is involved in the entire video, which is great gratification.
What are the parameters of your measure metrics for the brand's social media strategy?
What we really want to measure is the favourability because we won't really measure the awareness, because Bisleri is a top of the mind brand. So, what we really want to measure is the brand favourability in the minds of the consumer.
We look at what is the kind of positivity that the consumer associates while interacting with the brand Bisleri.
If given a chance to split budget s between content creation, paid media and Influencers what would be the ideal split for Bisleri?
We don't really isolate the channels within digital. We see the role that each medium has to play in contributing to the overall objective of the brand. So, we see how digital will layer to the overall mix, within digital we then balance it out between reach and affinity.
What are your thoughts on Twitter trends and mass influencer activities that brands resort too? 
I think definitely it's still relevant and makes sense. These are the guys who are commoners like all of us and they are not really celebrities. So, they are like who have a following. and it looks real if it comes down somewhere. So, if done it in a nice manner, in the product and not in a very in the face manner, then definitely it makes sense. It matters a lot on how they do it.
What is next on the marketing TDL for Bisleri and Fonzo? Any new campaigns in the pipeline?
Fonzo currently is on and the campaign will stay live for another 2 or 2.5 months so Fonzo we have ruled out. Bisleri, yes, we are working on it. Currently, of course we have not conceptualized anything around it. As I said, the brief was given to the agency. Probably, another 3 months time, we will break open with the campaign for Bisleri too. Currently there is nothing on-board but yes, brainstorming is happening at every level, the marketing team, the agency are working on it together and we are discussing on various aspects. How will we penetrate through our consumers, the trust that they have on the brand, how do we reinforce that? There is a need that you know you got to connect with the consumer so how will we do that, that is what we are working on.
What has been your experience of working with a digital agency? What are your expectations for an agency? 
Well, our corporate challenge is to how to keep connected with the consumer. Last, a month back we did the whole regional thing which to sort of reinforce our connect with the consumer again and again.
Our challenge is, yes, we are at the top-of-the-mind but connecting with them what do I communicate with my consumer every time. You know, water is water after all.
Our unique challenge is that we would have to do something innovative around the brand packaging and that's where we can talk about the language campaign which we did a month or two back, in the month of January and moving forward, again, yes, we have briefed our agency. So, shortly maybe another three months time, we will come up with our campaign on Bisleri too and then again, the challenge is that you have to be unique in order to reconnect with your consumer and that uniqueness is what the agency has to think.