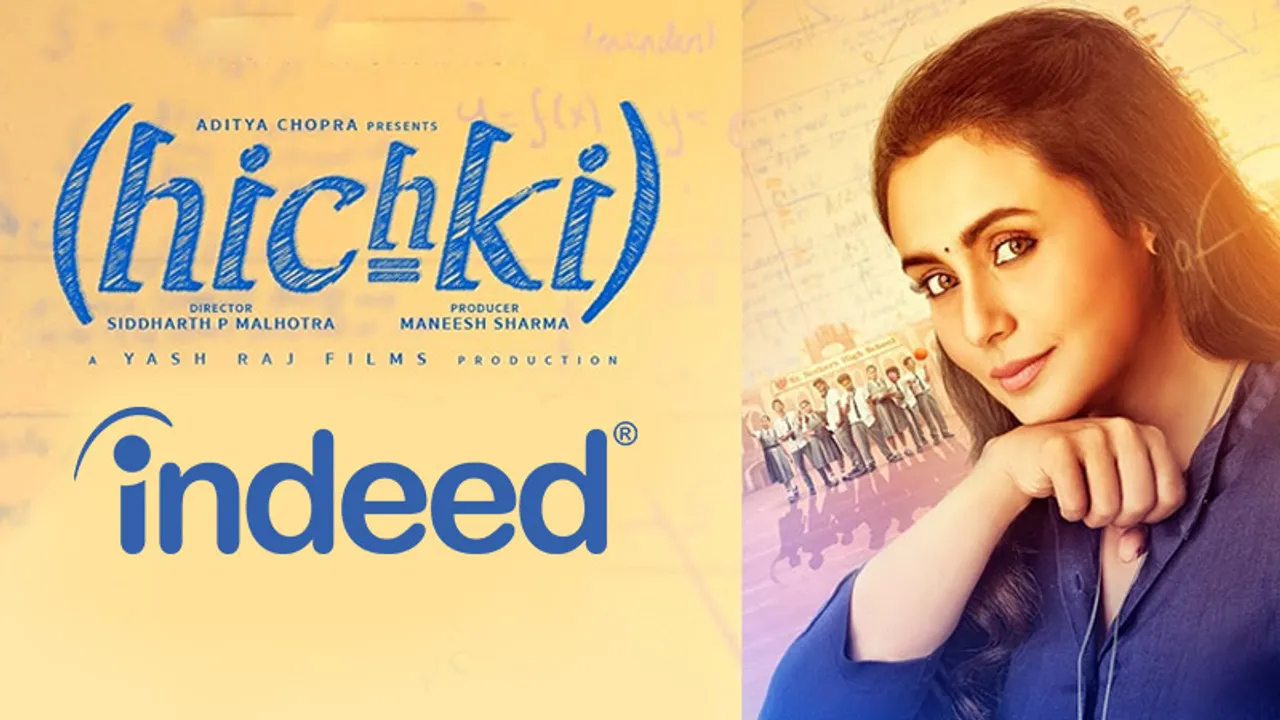 Category Introduction
With job creation at a 7-year high, according to a monthly survey, the Nikkei India Services Business Activity Index has touched the 50-point mark, indicating stability in business activity, which could be indicative of jobs and consequently, job seekers on the rise.
Indeed claims to bring in the distinction between job boards that merely list available job postings from recruiters. Indeed aggregates job postings from various sources on the internet, including other job sites.
Brand Introduction
In India, Indeed has been present for over 9 years and claims to receive over 8.1M unique visitors on their portal, recording over 350K job postings, and being in possession of over 10.6M Resumes in the country.
Summary
Leveraging a medium that captivates the attention of over a billion people in the country, Indeed partnered with Yash Raj Films to reinforce the ethos of their brand and broadcast their message to a wider audience.
Partnering with YRF for their upcoming release, Rani Mukerji's comeback film Hichki, Indeed found a story that blended in well with their brand's identity. Rani Mukerji's character in the film suffers from a condition that makes it difficult for her to find a job. Indeed, as a facilitator of the right job match for job seekers worldwide, plays a significant role in this inspiring and uplifting narrative.
Problem Statement/Objective
Connecting with the tech savvy younger audiences through the activity, Indeed also aimed at inspiring others to share their own stories of grit and determination about how they achieved their professional goals.
Being a part of Hichki's protagonist, Naina Mathur's struggle to find a job due to her condition and her eventual triumph, Indeed wished to inspire the younger generation to go after their dream jobs.
Brief
To promote Indeed's first ever film integration with Hichki as a one of a kind move
To facilitate and encourage the younger social media audience to participate and share their stories with the brand by creating a sense of resonance with Naina's story
Challenges
Presenting and popularizing Indeed into the Indian market by creating awareness
Registering a significant brand recall in the minds of the social media savvy youth
Creating a significant impact on social media through association with the film.
Execution
The campaign was first kickstarted offline with a TVC featuring Rani Mukerji urging job seekers to pursue their dream jobs and highlighted Indeed's presence in the Indian market.
The initial integration announcements, as well as trailers were populated across Indeed's Facebook and Twitter handles, intended to generate a buzz around the film launch.
The brand followed this up with posts highlighting Indeed's brand proposition, which is empowering job seekers in an environment free from discrimination and bias. Social media posts highlighting some of the advantages of finding your next job with Indeed were posted on Facebook and Twitter.
https://www.facebook.com/Indeed.co.in/photos/a.407044272683195.96978.406472229407066/1606937222693888/?type=3
Searching for a new job? Let us help you find what you're looking for. Just like we helped #RaniMukerji who plays Naina in @HichkiTheFilm https://t.co/d9k5F6nGiS #IndiaLetsGetToWork #JobSeekers #JobSearch #JobsIndia pic.twitter.com/a5RT4seGDS

— Indeed India (@Indeed_India) March 13, 2018
Following this up with a social media contest in order to bring in audience participation and engagement, Indeed urged users to share a personal challenge they overcame to achieve their professional dream. Facebook and Twitter users could share their experiences as comments or tweets with the hashtag #IndiaLetsGetToWork for a chance to win an Amazon Echo.
Your problem doesn't define you, how you deal with it, does! Tag @Indeed_India& tell us about a personal challenge you've dealt to achieve your professional dream using #IndiaLetsGetToWork. #ContestAlert
Winner gets an Amazon Echo Dot. T&C Apply.https://t.co/ZkyxXfn7A3 pic.twitter.com/47fxdK5NBi

— Indeed India (@Indeed_India) March 13, 2018
The brand posted regular follow up creatives on Facebook and Twitter, directing users to an Indeed registration landing page created especially for their partnership with Hichki.
We are really excited to be an integral part of Naina's journey in @HichkiTheFilm Watch the story unfold, soon. Meanwhile use Indeed for your #JobSearch https://t.co/d9k5F6nGiS#JobSeekers #IndiaLetsGetToWork #Job #Recruiters #Recruitment pic.twitter.com/b5rW8ook2E

— Indeed India (@Indeed_India) March 14, 2018
While the contest was ongoing, the brand continued to parallelly share content from the film such as trailers and songs, while at the same time posting reminders for the contest.
https://www.facebook.com/Indeed.co.in/photos/a.407044272683195.96978.406472229407066/1611519475568996/?type=3
Indeed also leveraged Influencer Marketing for their campaign by bringing Bollywood actor Soha Ali Khan Pataudi, blogger Anamika Mishra, VJ Anusha and Cricket analyst and 'junkie' Gautam Bhimani on board. By getting these Influencers to talk about their professional experiences and a personal difficulty that they overcame to achieve success, Indeed plugged in the core message of their campaign, their social media contest and Influencer marketing exercise well.
https://www.facebook.com/Indeed.co.in/posts/1614820461905564
https://www.facebook.com/Anusha.TheOfficial/videos/vb.128986177188226/1649124491841046/?type=2&theater
Leading upto the release of the film, Indeed continued to do reminder posts on Facebook and Twitter.
An advertorial on the campaign and how it brought out such inspiring stories from the midst of job seekers was placed and populated on the popular content portal, ScoopWhoop.
https://www.facebook.com/Indeed.co.in/posts/1621498007904476
Post the release of the film on 23rd March and upon conclusion of their campaign activity, Indeed began to announce the winners of the #IndiaLetsGetToWork campaign. Announcing one winner per day, the brand attempted to sustain the audience interest.
Achieving a film integration with a Yash Raj Films production was an unprecedented move by the brand, although the regularity of their posts and engagement on Indeed's social media pages was sparse and scattered considering the number of followers on their Facebook Page.
The brand did well to establish a connection between the film's content, their product, and campaign and the connection did not appear forced or bleak in any manner.
Results
Quantitative
The entire campaign managed to deliver a massive Reach of 6.8M, while at the same time garnering more than 18M Impressions indicating an astute use of social media to deliver their posts onto the Facebook and Twitter timelines of users.
Indeed observed Engagements to the tune of 365K across both Facebook and Twitter.
The social media contest, #IndiaLetsGetToWork managed to receive more than 5001 Tweets as entries within the first 3 hours of rollout, helping the contest hashtag to trend on Number 3 in India organically.
The contest managed to garner a Reach of more than 7M, 20M Impressions, Engaging more than 407K users on Facebook alone. Whereas on Twitter, the contest managed to gather a Reach of more than 7.3M and 28M total Impressions.
Qualitative
Since raising awareness and heightening brand recall was the core objective for Indeed's film integration campaign with Hichki, the brand's impressive quantitative results enabled them to interact with a huge number of social media users, achieving the desired results of increased brand awareness and recall.