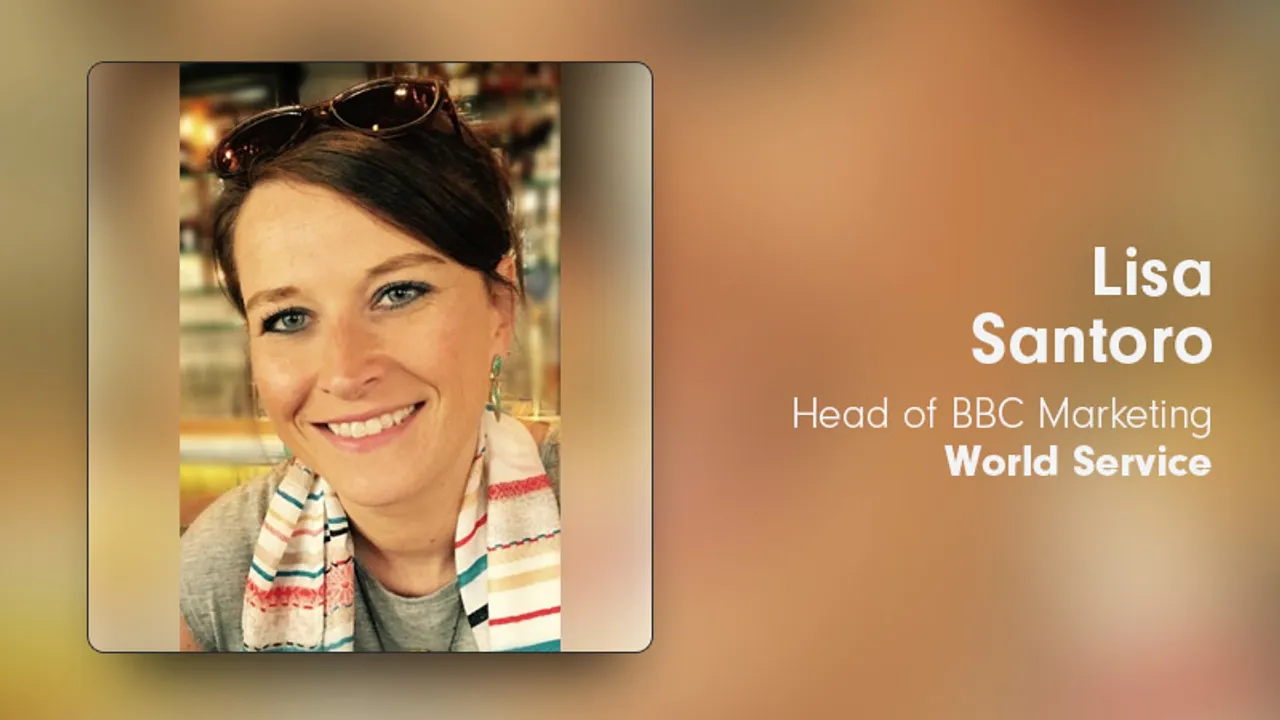 This Lisa Santoro Interview gives insights into BBC's digital marketing strategy and approach towards social media from as a global publisher
BBC World Service recently created a huge shout-out in Mumbai by illustrating a new public splash to support their Make more of your world campaign. As a part of it, renowned Bollywood actress Divya Dutta visited the site to witness the artwork. The campaign was developed in house by BBC Creative who worked in partnership with the renowned graffiti writer turned artist, INSA. As part of the campaign the BBC Marketing team commissioned a 100ft wall opposite Juhu beach where INSA produced a bespoke artwork that connects directly with its surroundings.
&feature=youtu.be
Further to the launch of a new Mumbai-based campaign by BBC WORLD SERVICE, Lisa Santoro, Head of Marketing, BBC World Service sheds some light on their digital marketing strategy and ways to capture the digital audience.
How, BBC World Service strategizes to leverage social media in today's heavily online dependent age?
The BBC World Service Marketing Team is responsible for all paid digital strategies. The overarching ambition is to be as nimble as possible in promoting our stories by capitalising on available resources and skillsets of the relevant teams whilst ensuring the marketing activity is as effective as possible and strategically aligned to the same objectives. In many of the markets we work in, we take a social/digital first approach to our strategies but for some markets internet penetration is still very low. So we need to ensure that our online strategies can also be flexible to work with some of the other traditional marketing mediums such as TV, radio and out of home.
Particularly for our social strategy keeping across innovations and market trends are key for us. For instance, as we work across so many markets – a one size fits all approach doesn't work. We need to ensure that we are always exploring and investing in the social and digital channels that resonate with our audience in each market. The main advantage for any social media activity is the ability to target, optimise and get instant results. As a team we are always testing how we can leverage maximum impact (UVs to our site) whilst being as nimble as possible with our conservative budgets.
Where does social media lie in the content distribution process at BBC? As a publisher, how much per cent of your page views are derived through your social media channels?
We need to ensure we take our content to our audience on all relevant platforms, in a format that is relevant and engaging to them – we want our audiences to consume the breadth and depth of the BBC's journalism – and social is only part of that.
&feature=youtu.be
The BBC World Service Group currently reaches 346 million people weekly globally* and audiences are continuing to switch to digital platforms.
The BBC's audience online (social media and websites combined) has grown by 4 million, with social media audiences alone up by 9 million*.
*GAM: Global Audience Measurement 2018
Over the years, how has your social media strategy evolved? How do you plan to leverage social media to reach out to the digital savvy millennial audience?
As a team we have hugely evolved our paid social media strategy due to the evolving digital market and the expansion of the BBC World Service. The expansion has enhanced existing language services and has launched 12 new services including 4 in India which are: Gujarati, Marathi, Punjabi and Telugu. This means the BBC World Service will be available in 42 languages including English.
We are increasingly investing in the digital space but linear channels such as TV and radio are still important to us. We need to ensure we are capitalising on the strength of each medium to deliver our campaign message and of course new audiences – traditional channels are especially important for large scale brand messages such as "Make more of your world". As a large global team, working across multiple markets around the world, we have had to develop a strategy that allows us to work collaboratively with the social media editors in the editorial teams, who are responsible for organic traffic.
We have upskilled and invested in the marketing team so that they are skilled in paid activity across the main digital channels. The WS marketing team work very closely with the organic team to manage budgets, target effectively and optimise to gain maximum traffic to support over 20 of our language services with paid marketing.
Coming to the daily economics of digital marketing, what does your social media content plan look like? How do you derive it? How is creating a content plan for social media different from creating a content plan for other traditional mediums?
We know that increasingly audiences are accessing News via digital platforms which are where much of the growth opportunity lies.
We have, over the past 3 years, developed a digital strategy that facilitates delivery of continual paid content marketing, bringing in new audiences for a number of our priority languages.
This strategy has been developed with our core objective in mind (reach) and it is driving unique visitors to our language websites. We work with the editorial teams, to select the best performing content for our paid marketing strategy. This is where our team delivers the most value in terms of overall traffic. It is our number one ambition to drive new audiences to meet our own marketing targets and to help the editorial teams meet theirs.
Our digital marketing strategy has a blend of 'always on' content marketing which has mix of organic and promoted marketing coupled with strategic brand bursts at regular intervals.
The strategy is to widen our reach to a new audience set but at the same time keeping up with the credibility and strong brand ethos of the BBC News.
There will be times when we are running owned, earned and paid activity for a season, brand or product launch campaign. This activity often consists of digital and social and more traditional ATL channels. We almost always start with digital first creative thinking, so ensuring the creative and messaging works across all channels is challenging but essential.
As a marketer working weaving a traditional brand's presence on digital, how do you feel storytelling has evolved over the years? How does BBC World Service translate its traditional legacy online?
As we are responsible for paid promotions and driving new audiences, we are aware that what we promote may be the first experience audiences have with our brand. We pick the most distinctive content and ensure all social assets are branded clearly to build memory structures, attribution and repeat usage. Marketing is less about just telling audiences you are there but also the brand experience. Digital and content marketing has really helped bring the brand experience direct to the audience.
Speaking about Make more of your world campaign - what was the objective behind the campaign? Please take us through the key innovations & highlights of the campaign.
There are two main objectives of this campaign:
-To create awareness with our audiences that BBC News in now available in their language.
-To drive reach and communicate a distinctive proposition – across all platforms
This campaign was fully integrated across social, digital, VOD, out of home, radio and TV. The creative was developed from an OOH and digital first POV. Using our extensive global audience insight, we developed a single-minded proposition that we knew would work across markets, platforms, segments and demographics. The plan was to ensure this campaign has longevity and be executed over the next few quarters across the world.
Our digital strategy, that has already been described, allows us to be "always on" in the digital space, allowing us, through content marketing, to regularly reach out to new audience. We also have an ambition to regularly reach our audience with our brand advertising, as well as our content in an innovative manner that will appeal to our audiences. This is especially necessary given our new presence in the 12 markets. We wanted to induce a fresh approach with our launch campaign in almost every aspect. We worked with INSA, a renowned "gif-iti" artist to bring a fresh and young vibe to our creative – hoping to influence younger audiences around the world. We also wanted to do something completely different to what we had done before and we wanted to be unexpected.
Our innovations spanned across channels from specially built billboards, on-ground activations where INSA painted a wall to mark the start of the campaign and inspire with our message of 'Make of more of your world'. We also experimented with Facebook press and hold ads and we are currently developing an innovative way to engage with our audience through thematic content to showcase our campaign message. The audience journey for this has been designed to be succinct, sharp and snappy to suit the behaviour of our younger news nibbling audiences. With a series of inspirational stories developed by our editorial team across 6 languages it will help us to have a deeper level of engagement in an innovative way. We look forward to setting higher benchmarks for ourselves with each campaign and continue to reach our audiences in innovative ways.