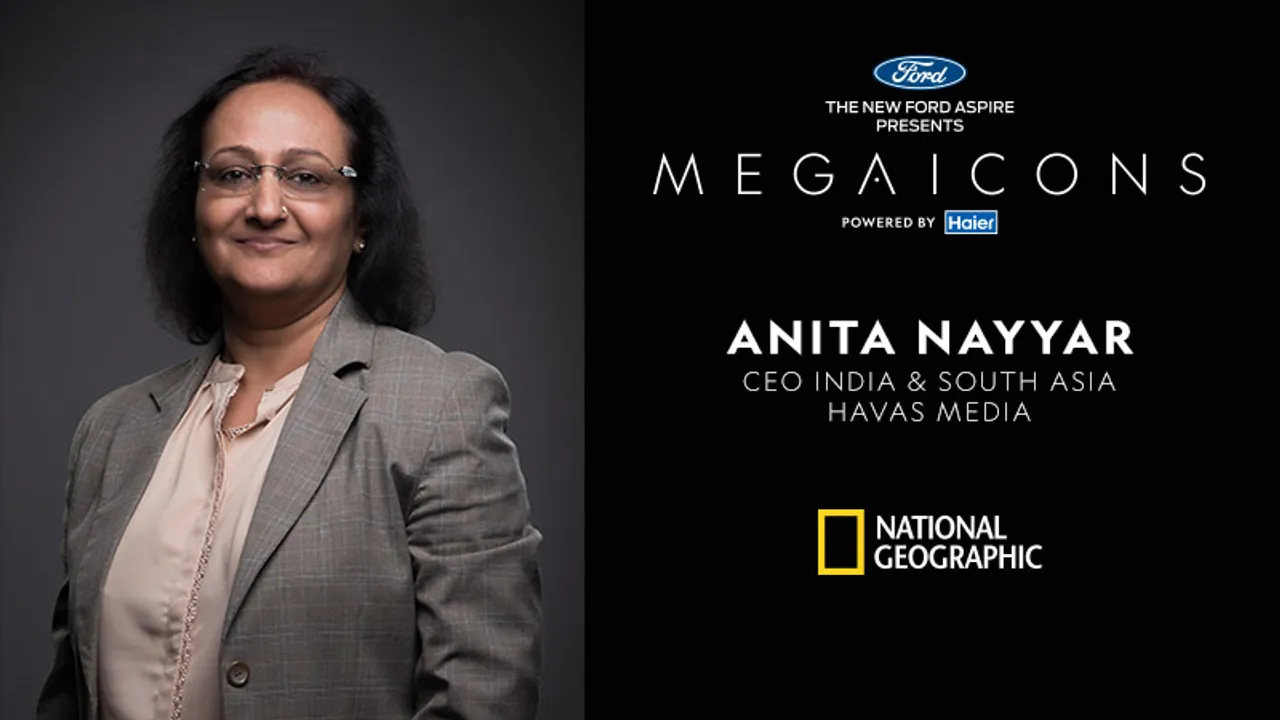 Women at work and gender equality have been topics of discussion from the last couple of years. Ever wondered, how was it back then? To be a woman in the media side of operations – an industry predominantly dominated by men from creative backgrounds?
To battle all this and evolve into a Mega Icon– it has been one memorable journey for Anita Nayyar, CEO India & South Asia at Havas Media and it is only looking North.
With the dream of becoming a doctor, Anita found herself pursuing a Microbiology Honors degree. What could have been a life of lab courts and test tubes, fortunately, took a turn towards M & A, with Nayyar's decision of taking up an advertising & Marketing Management course. Boy, do we thank her for that decision!
Nayyar's first job in media was in 1983 with Interpublicity Pvt Ltd led by the "legendary" Nargis Wadia and then there was no turning back. Under her leadership, Havas Media Group in India has grown exponentially. Havas India expanded its offerings as an integrated communications group for traditional, digital, mobile, performance marketing and out-of-home.
From breaking free of gender stereotypes to becoming a leader this industry needed, this Mega Icon's journey is indeed inspiring.
How does it feel to wake up in the morning as Anita Nayyar?
It feels very much like Anita Nayyar (smiles). I am a morning person, my day starts really early. Working is in my genes be it at home or at the office. I enjoy my responsibilities and always give my best.
Looking back where did it all begin?
I've been a science student throughout my life. I wanted to become a doctor like most of us did at that time, but had to settle with a Microbiology Hons degree followed by Pathology from Mumbai University. Born in Delhi and brought up in Mumbai, my journey in Media & advertising began in 1983 (may sound dated but it is not) when I shifted back to Delhi. I started my media career with Interpublicity Pvt Ltd as a junior executive. Was trying to bring science to the art of media!!
The Moment of Epiphany which changed your life for good
While I was working as a pathologist, I wanted to do something very different from science so I enrolled into Advertising & Marketing Management and was lucky to get an opportunity at Interpublicity an agency led by the legendary Nargis Wadia.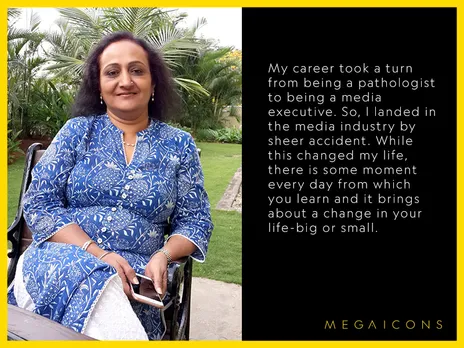 Back then what was the Advertising & Media industry like?
Devoid of women(especially in media) and completely dominated by the other gender! Very basic cost and delivery model with little strategy and planning(first NRS came out in the early 80's) and completely "creative" oriented. The heads of agencies were mostly men with the creative and account management background and media was seen as the backend department. Though the agencies did earn a large part of their revenue from 15% media commissions. The only good part was that the agencies were full service and accountable for the brands they worked for.
What does a day in the life of Anita Nayyar look like?
Certainly not 9 to 5 but the other way around-5 AM – 9 PM, if not later. The hours are split between home and work. Being an early riser - walk and yoga, are an integral part of my early mornings. In the balance part of the day, the focus shifts completely to work.
Icons who have inspired you to grow and strive for excellence
I have learned a lot from many. It is a long list…….One looks up to Icons and gets influenced by them by imbibing their qualities. For me, everyone I have learned from is an Icon in some way or the other as they have contributed to my learning and knowledge.
In your opinion, icons are born great or made?
I am really not sure but I guess they are"made". However, I do think that it is one's hard work, effort, dedication, and passion that matters.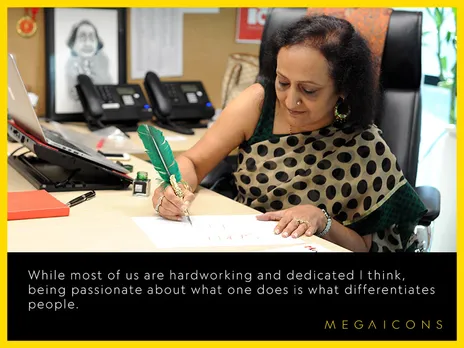 What do you think about icons like Virat Kohli, Kiran Bedi and many others like them?
They have strived hard to be where they are. Dedication and hard work have no alternates.
If made, could you share your thoughts on what it takes to rise up the pedestal?
Focus and hard work and ofcourse there are no short cuts
One
Instance that transformed you as a person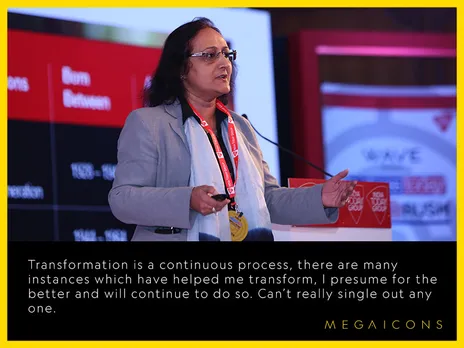 Challenge that forced you to become a better professional
When I was made redundant in an agency on my refusal to support the line of corrupt seniors and client.
Moment that made it all worthwhile
It is not a moment but many moments when I make people around me both - at work and family "SMILE". Those smiles are priceless
Saying/belief you swear by
I have always maintained and believed that there is "No shortcut to success"
Saying/belief you think is totally senseless
It is for us to make sense out of things; there is a lot of learning from things that are classified as senseless. It is what and how you interpret.
Person you couldn't have done without –
My parents! Would not have been in this world but for them
When not working, you are?
I am still working
Words of wisdom for young professionals who look up to you
Put in your best effort and the rest will follow. There is no shortcut to success.
Do you think you were born to be different or were made into who you are through your experiences?
Not sure what is meant by being different & if I am different at all?  I am a normal hardworking human being and I look normal as well.
This is the question – whether Icons are born or made – that National Geographic will be on a quest to unravel, in its new show, Mega Icons. Using a never-seen-before format, Mega Icons will decode the stories of some of India's most inspiring #MegaIcons like Virat Kohli, A. P. J. Abdul Kalam, Dalai Lama, Kamal Haasan, and Kiran Bedi. The show, which premieres on 24th September, will use acclaimed scientists and expert psychoanalysts used to question whether these personalities were born to be different, or were moulded into greatness by their life experiences.