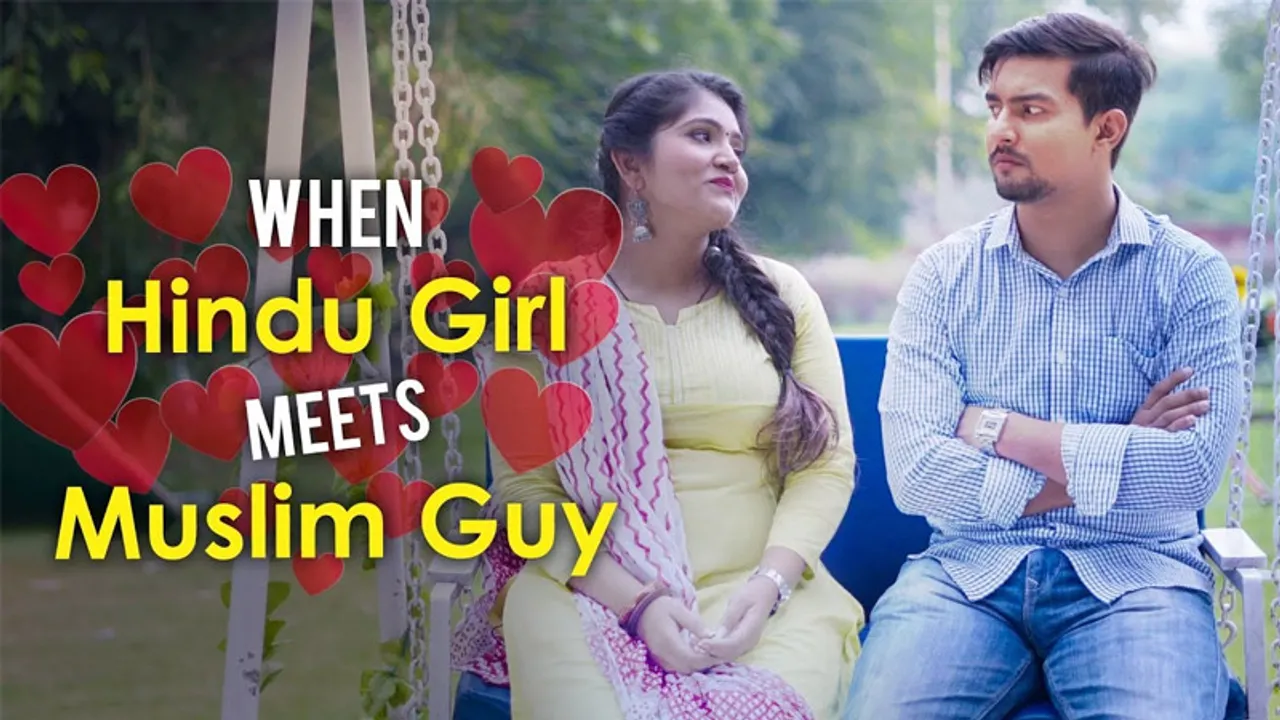 From shooting on an iPhone and getting it edited from friends to now having worked with 35 brands, Aashqeen shares his journey in a candid conversation.
In a country divided by religion, content creator Aashqeen wishes to use comedy as the means to conquer the great divide. What started as an attempt to bat depression, Aashqeen became a full-fledged channel with a following of two million subscribers on YouTube and 4 million followers on Facebook.
Excerpts below:
Looking back, where did it all begin? How did your YouTube channel happen - please take our readers through your journey
I started my journey when I was clueless about my life. Starting this journey was never my aim. I was doing engineering and good at it. My scores were really bad and I was going through the dark phase of my life. It was then that I discovered my funny side and decided to explore it. I started with my old friends just uploaded my first video. Making videos became my goal; the actual goal which gave me love and appreciation for my work and success in what I love doing and spending time on.
Now, I actually understand what people mean when they say, "It's such a wonderful thing when a career and a passion come together."
What's in the name?
I love answering this question because most people follow me without knowing that the channel's name is Aashqeen because I'm 'Aashqeen'. Yes, they get a bit surprised to know my name. I know it is an uncommon name and a bit new to them to hear. I've heard people coming to me saying the channel's name is Aashqeen because maybe the videos are around love or maybe the lead guy (which is me) flirts a lot and what not for the meanings around love.
Aashqeen is an Islamic name kept for a person who loves all and gets love from others. Such is happening to me in real life.
From then to now, how has the landscape for content creators changed?
YouTube was a platform for entertainment. People used to switch to it for movies, videos, fun, and learnings. People still switch it on for the same purpose but the meaning of YouTube changed for a few including for content creators, corporates and brands. From quite some time, it has become the new media that showcases the talent in people to the world. It has liberated individuals who have no resources or power and allowed them to reach out to more people and tell the world how good they are in their field. Content creator evolved during the early years and is now considered valuable to not just the viewers but to the brands too. It is a new market for brands that allow them to take their products to a wide audience. It is the new TV with fun, entertainment, and digital advertisements.
Please take us through your ideation process - from the first thought to publishing and marketing the video!
Observation! I love observing people, their behavior, and their stories. 60 percent of my concepts revolve around people who surround me. Sometimes I knock up stories within myself and then a bit reiki, brainstorming, jamming and I'm done. I forward the concept to my team. We have a fantastically capable team. Once the ideation process begins, we write all our shitty ideas and later only a few are shortlisted to be a part of the writing process. The concept is written down and then scripted, during the scripting a lot of ideas come and go. Finally, we shoot what we think is the best for our audience and the channel. The video is spread across social media through social media platforms.
Do you take content ideas from your viewers?
I don't always ask them for the ideas but their comments automatically tell me what should be next for them. There are a few characters of mine that are loved by my audience and I try to justify them to get all of them after every interval but at times if there is a lag, my audience reminds me whom they are missing. It happens that I get confused between 2 concepts but I know the solution. I seek the right answer from my followers.
Which is the one video you enjoyed making the most? And, why?
The video which I enjoyed the most is 'Inteqam- the perfect revenge'. It became popular because somebody who was rejected by a girl in love takes his revenge after some time by rejecting her to ride on his rickshaw. This silly love story went viral because later that Rikshawala (which I played) celebrates his victory by dancing and doing a wheelie with his rickshaw. The rickshaw wheelie was unplanned and we did it just like that and trust me it got viral beyond my imaginations. Today, 'Inteqam' is our recurring video with its famous character Bhaiyaji with which a lot of people recognize me.
In the clutter content creators' space, what gives you the competitive edge? What would you say is your USP?
My audience knows my content and they come back to my channel to watch my new content. A lot of content is served to them but an amazing response to my new content stands me out in this huge space. A fan following of 6 Million people motivates me to work harder and better.
My USP, I would say is that I have always been the content I've served to my audience. I've always tried to make content which is not abusive, vulgar, repetitive, copied to the best of my knowledge. When you show people how they are, they enjoy it a lot. That's what I've always focused on, relatable and engaging content that you can watch without plugging in the earphones when you're with your family. Along with that, I never compromise with the quality of production. I'm very sure about this fact that if I'm making content then it cannot be just a thing done for the sake of it but to actually make it worth a watching. The video effects and creatives are always given a special slot during editing.
How often do you work with brands? What are the other monetization avenues for your YouTube channel?
I think I've been lucky enough in this chapter of my life. Of the 35 brands that I've done, I would say 30 brands approached me for my work and content. We have an in-house team for marketing and brand handling. We have converted a few very good deals with brands like Myntra, Sabhyata and more. Other brands like Kingfisher, Gillette, and others are through creative agencies or the influencer's agencies from India and outside India. We have been doing really great in terms of revenue from our videos. We keep doing branded content from time to time to run the company and bear the channel costs.
Apart from YouTube which other platforms make for good tools of content dissemination?
I started with Facebook 3 years back. I used to upload one-minute vines on Facebook before I switched on to YouTube 2 years back with sketches.  There was a time when I was the only creator getting Facebook views like 30 Million and 50 Million. I'm the only Indian Comedy Creator with 100 Million views on not just 1 but 2 videos with bare minimum promotion from my side. At that time, 20 Million views was an easy cake for me. Now my peers tell me that they used to abuse me whenever I come up with a new video on Facebook. I still upload videos on both my platforms. On an average for my last 10 Facebook videos have 10 Million views.
What is the weirdest brand brief you have ever received?
I personally don't like this concept of assuring views on videos. Although most brands come with an expectation of minimum views to check the ROI. I believe brands have all my past work which shows everything and all permutation and combinations can be applied by brands as per their norms to have an idea of what kind of response the video might get. Well, with one brand it went over the top. My team generally assures an achievable minimum number of views with a reasonable channel fee to the brands.
This brand came back to us with half the cost we offered to them with minimum 7 Million views on YouTube. We laughed out loud and couldn't even revert them with a right answer.
How long was it before Aashqeen became monetizable? How do you suggest upcoming YouTubers stay monetarily afloat in the initial stages?
After starting making videos, with all On and Offs, I got my first branded video after almost 2 years. Till then it was of course hard to manage but it happened somehow. I started with my Phone, then switched to DSLR which I used to borrow from my friends and learned using it. It used to feel really awkward asking to them again and again for their DSLRs. Later, when I got my first cheque from YouTube and a few my savings, I first invested on my own DSLR. For editing, I used to take help from a friend in exchange of no money but a logo in the video. But life is not easy when he got a job and got occupied with it; I had to learn basic editing and kept my work going. For basic production cost, I used to plan concepts with no or very few productions costs. The minimal production cost I used to manage from savings of which I barely had any. I had even borrowed money from parents and friends. But trust me I returned each penny when I started earning from YouTube.
What next for Aashqeen?
No big plans as such. I know like I have reached here gradually, things will be better in the near future. The main goal currently is to produce content with better quality from today's and more creative. I know my audience that will lead me in the right direction.