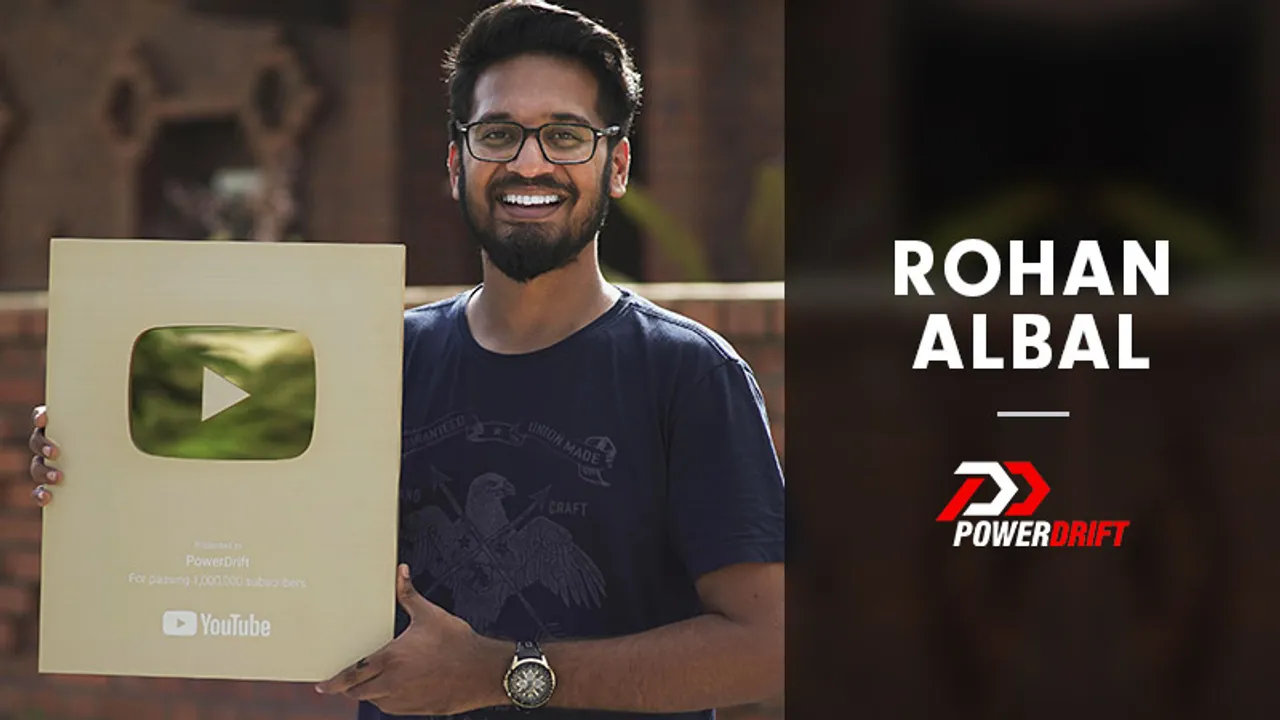 Established in 2012, PowerDrift Studios was created by Rohan Albal and Amit Shetty "to Showcase Indian Motoring in the way it deserves". The auto content creators, earlier this year got acquired by Girnar Software which owns brands including CarDekho.com, and Gaadi.com, ZigWheels.com.
In conversation with Social Samosa, Rohan Albal shares PowerDrift's journey – from where it all started to getting acquired. Excerpts below.
Looking back, where did it all begin? How did your YouTube channel happen - please take our readers through your journey
Our journey began as Power to the Rider (PTR) back in 2011. Most of us were bored on how automotive content was created in India, it was mostly drab, preachy and some were merely brochure readout. As auto enthusiasts head over heels with our machines, we wanted more people to enjoy and share that love for motoring. We wanted it to be exciting and fun while showcasing the true potential of these machines. That's why we ended up doing it ourselves instead of waiting.
What's in the name?
The Name was mighty important to us. We wanted people to remember our roots as PTR while including "Cars" in the family. The idea was simple yet symbolic, a bike or a car powering its way ahead not fearing the corner ahead. Drifting Sideways into a new lane while kicking up some dirt and smoke & causing a stir.
From then to now, how has the landscape for content creators changed?
It's been a slow and steady change. When we started, the print and TV affinity was high, so we would never get access to the test machines. Thankfully that has changed now in the last few years, a lot of brands realize the potential of digital content and so access to these test machines have improved.
The big players are redefining their approach to auto content as well, at the same time there's a huge influx of new players. Some of them are really good, while others blatantly copy. If you are passionate, well researched in your subject – now is the best time to put your content online. No matter what language, what format – there is an audience for everything.
Putting up content has become way easier with new cameras, smartphones, huge data packs, simpler editing tools or even just live content. These are great tools in the right hand, but also a peril of sorts. There are a lot of people jumping in this just for that quick social fame. A lot of them do absurd things to chase views, engagement and end up being noise more than a credible voice.
Please take us through your ideation process - from the first thought to publishing and marketing the video!
Ours is a little more technical category than others. Cars and motorcycles are high-end ticket size as compared to phones or electronics and they have an element of risk in them. For the average Joe most cars, motorcycles are told to only fall under a pricing or a body type category. We ideate on the use case of every product and bring in different perspectives for every product. This allows us to stay relevant for the enthusiasts without geeking out a new viewer.
The idea is then fleshed out by different minds for scripting, visualization, and execution to ensure its fun, to the point and at the same time likable and shareable. At the end of the video, they audience usually realize if it's the right product for their use case.
Do you take content ideas from your viewers?
PowerDrift has a highly engaged community and we have achieved whatever we have so far only due to them. After every release, the entire team is usually glued on their phone screens to read reactions. The comments section is our treasure trove for new ideas.
Which is the one video you enjoyed making the most? And, why?
The goal at PowerDrift is to continuously push ourselves further, so selecting one video is going to be extremely tough! Our last big project: The Next Rider was the most tiring, but the most enjoyable project till date. We wanted the second episode to be bigger & better and had an ambitious plan to release it on the 15th of August. We saw everything from Marathon shoot schedules to scorching heat, sandstorm, and even unexpected rains. We wanted this episode to be special and so hosted a viewing party of sorts in Pune. Almost 1000+ comrades showed up from different parts of India. Everyone worked their boots off for this shoot but the cheer at the screening and the rave reaction online was absolutely worth it.
In the clutter content creators' space, what gives you the competitive edge? What would you say is your USP?
Our USP is and shall always be to Showcase Indian Motoring in the way it deserves to be seen. Our competitive edge is the team behind it.  All of us either enjoy motoring or filmmaking and that's why we are mighty passionate about what we do. That shows on the screen.
How often do you work with brands? What are the other monetization avenues for your YouTube channel?
We work with brands only when there is no compromise on the integrity of the content. We see a lot of creators doing pseudo endorsement of products which we were originally approached for – but we firmly believe that no money will bring back credibility once it's tarnished. We were a part of the panel at YouTube FanFest 2017 talking about the ideal ways of monetization. We do organic branded content on our channel, help brands create their content be it a TVC or for the digital user, and quite of few of them have been award winning. Apart from YouTube revenues and placements, we also have our own line of merchandise and some of our fans also sponsor us on YouTube.
Apart from YouTube which other platforms make for good tools of content dissemination?
All platforms have their own strengths; with Native Videos on Facebook, they have killed the reach for YouTube shares on the same. We continue putting relevant content adapted to the nuances of these platforms. We use Instagram, Facebook, Twitter for discovery and engagement.
What is the weirdest brand brief you have ever received?
Paid reviews, we politely declined.
How long was it before PowerDrift became monetizable? How do you suggest upcoming YouTubers stay monetarily afloat in the initial stages?
PowerDrift is already monetized. Our suggestion is based on how we did it, we hustled in every way possible, spent every rupee smartly only for one objective of making the content better.  There is nothing called as easy money, stay true to your followers instead of a potential sponsor. Reach out to as many brands as possible where ever there is an organic integration possibility. Keep the expectations real but do work with whatever you get. Do not sell your soul to please a brand. Even a barter deal today can result in better things if not by the same brand then by its competitors.
What next for Power Drift?
A lot is left to be done! PowerDrift recently became a part of CarDekho Group and together we have become India's largest automotive video content player with 1.4 million YouTube subscribers, the largest consumer-facing digital destination with 30 million monthly unique visitors coming on group sites and largest auto social media platform in the country. Our role has magnified immensely when we are catering to such a huge audience. To begin with, there's the website, app and a community to be built. A lot more offline meet and greets and internally scaling up to be able to do more genres of content is also on the cards.