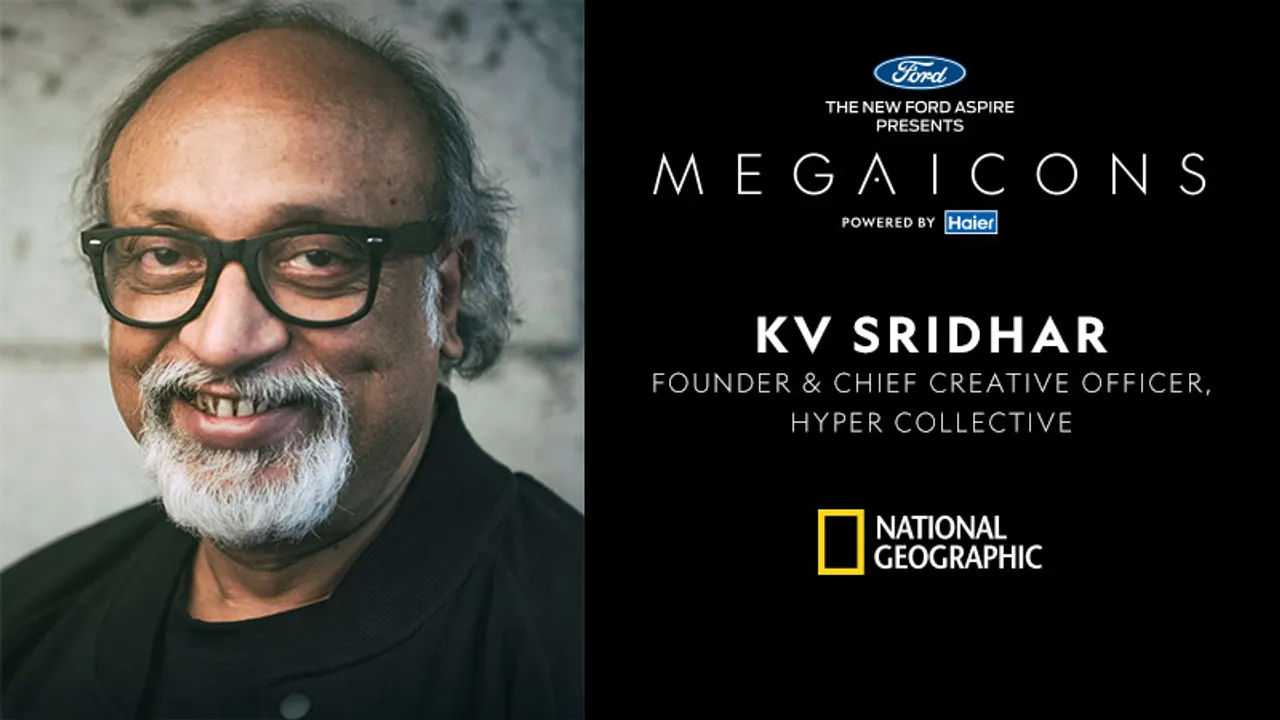 The first line of an introduction is of pronounced prominence – such as this one. But how do you begin to introduce a person (read icon) who you know needs no introduction – literally! Do I say, meet Pops or do I begin with how he got the name Pops (oh yes, we're discussing this later) or I merely call him the #MegaIcon he is and get on with it? I still don't know and trust me I thought about it a LOT.
K.V. Sridhar a.k.a. Pops is an introduction in himself! But, if you're a student or just someone from the Zulu tribe and don't who he is – well, he is the man synonymous to the Indian advertising industry. He saw the foreign agencies exit in early 70s leaving behind their Indian partners such as Duttaram and Shilpi; witnessed Indian powerhouses such as Ulka and Lintas take the first step; watched All India Radio become Radio Ceylon during emergency and then went on to create and re-create Leo Burnett and HyperCollective into the powerhouses they are today.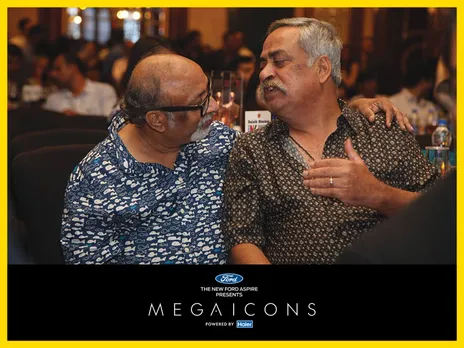 But, if you ask me, Pops is the humble legend who still returns every call, replies to every email and never lets a message go unread! And we at Social Samosa take honor in narrating this #MegaIcon's journey.
It all began when an introvert and possibly dyslexic boy found solace in visual arts and acting. Post his graduation in BSC, Pops decided to follow his passion and pursued a diploma in painting in Karnataka. But, it was the early 70s and painting was still the red – headed stepchild faced with premonitions and bias.
Pops was then faced with two choices – following his heart and becoming an art teacher as it would allow him some spare time to pursue his painting or following his mind and taking up the job of a medical sales rep since he was a BSC graduate. To his relief and our good luck, a cousin of his introduced him to the world of marketing & advertising and that's how Pops found his true calling.
Now, before you hear it all from the horse's mouth, I'd like to share my favourite part of our conversation. The story of how Pops got his name.
It was 1992, K. V. Sridhar had been in Lintas for around a year now and another boy named Sridhar joined. "Everyone started calling him baby Sridhar," he chuckles. This was the time Alque Padamsee was the Chief Executive of Lintas and often came on surprise visits.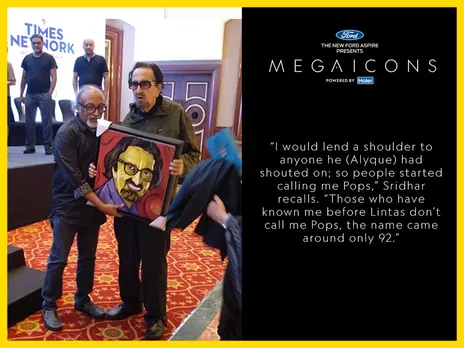 This and many more! Join us in this spectacular journey as Pops shares stories that have never been heard before.
How does it feel to wake up in the morning as K. V. Sridhar or Pops?
I don't know if it is a different feeling getting up as Pops, but it is definitely a good feeling of getting up in the morning. I am a morning person. Every day is a fresh day and energy is very high in the morning. Mornings are an empty slate.
Looking back where did it all begin?
My cousin introduced me to advertising which appealed to both my mind and heart. Marketing is art and science come together. It would pay me also – I joined my cousin who worked as a graphic designer; I was also working with a painting company where we used to hand paint Bollywood, Hollywood, and Kollywood movie posters - 30 feet, 40 feet, even 60 feet. That gave me an insight into illustrations, commercial art, and graphic design.
My first advertising job was at ASP – Advertising & Sales Promotion; it was Birla Company catering to their clients. This was around 1979 - 1980. I also made a few feature films as an art director.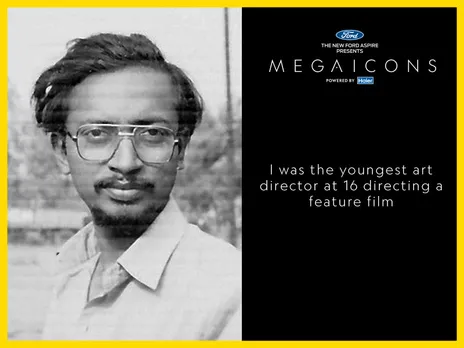 In those days advertising used to work in silos – it made me feel like a Charlie Chaplin in modern times, where you're sitting in an assembly but you don't know what's happening. Departments used to be separate and servicing guys would communicate with them, so one wouldn't know why they're doing what they're doing.
I wanted to understand the client problems, but my manager declined so I resigned and took another job. I have done almost 25 years of client servicing.
Back then what was the Advertising & Media industry like?
It was very different. American agencies were quitting and Indian agencies were attempting to create their footing. Media was mainly print and magazines. The only non-static medium was cinema advertising. Even radio wasn't commercial yet. Today you can make an ad, email it to the publication and they can get it printed or get it carried on their online publication within 30 seconds. Those days it was different.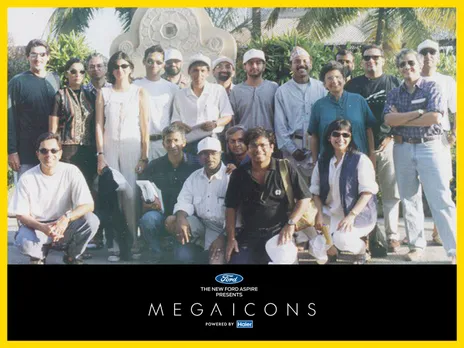 In 1992 world cup we were doing a campaign for LP Courier and we did an activation that required people to carry banners that read 'We Will Deliver World Cup Home'. We sent people to the world cup for three days, all the way holding these banners (chuckles). Today carrying commercial banners isn't allowed.
For the same we started a 'Delivery of the Day' initiative with Sunil Gavaskar. In the middle of the night, after the match, he used to pick the 'hot delivery of the day'.
This was when me, Aggie (Agenello Dias) and a computer operator from our team, we had to actually sit in the TOI office and at 2 in the morning we would get to know the delivery of the day. Agnello was the junior copy writer then; he used to write the copy, I used to coordinate with the client and the computer operator – all at TOI office and for each match.
After the first couple of ads, Gawaskar himself got excited about it and used to share clever lines for the copies. All these messages were sent through fax because even Gawaskar couldn't afford an international call.
What does a day in the life of Pops look like?
If I am not travelling, I have my morning routine - I do lot of my catching up in the morning, think of ideas, do research for the needed projects or learning something new. I wake up at 6 AM.
Then I go to office – finish off calls and emails in the car. It's all clients and work then. Irrespective of what time I finish I go home and read a book before sleeping. But now it is Netflix.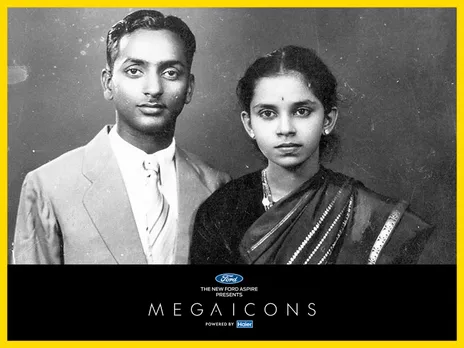 Me and my wife, we watch movies. I love watching documentaries and comedies in any language. Laughter keeps you in good health. I also do a lot of social media commentary; you will see a lot of activity on my Twitter, Facebook, Instagram. I also answer a lot of questions on Quora.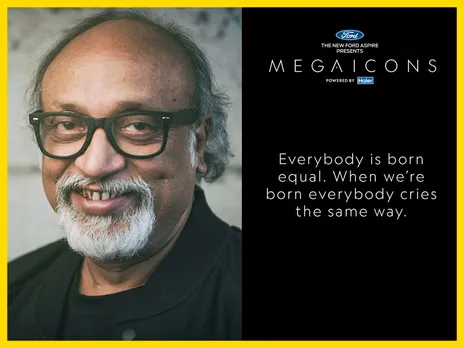 Icons who have inspired you to grow and strive for excellence
All the people who I have worked with have been icons to me. Alyque Padamsee, Bhaskar Mundkur, Subhash Kaushal, Nirmal Goswami, Balki, Chax, the list just goes on.  And I am still learning from the younger generation.
What do you think about icons like Virat Kohli, Kiran Bedi and many others like them?
Virat Kohli has determination. When people say talent they think of Tendulkar, but Kohli came up and worked hard to create space for himself. The only difference between a normal person and a successful person is that successful people don't give up. Icons are not afraid of failure.
One
Challenge that forced you to become a better professional
Young people are more talented than me
Saying/belief you swear by
It is better to do your job incorrectly than to do someone else's job correctly
When not working, you are?
I don't make any distinguish between working and living.
Do you think you were born to be different or were made into who you are through your experiences?
You don't want to be different. You then become a joker. We work hard to cover up for our shortcomings. At some point in time you need to realize your own strength. Once you realize what your core strength is, that's what makes you stronger.