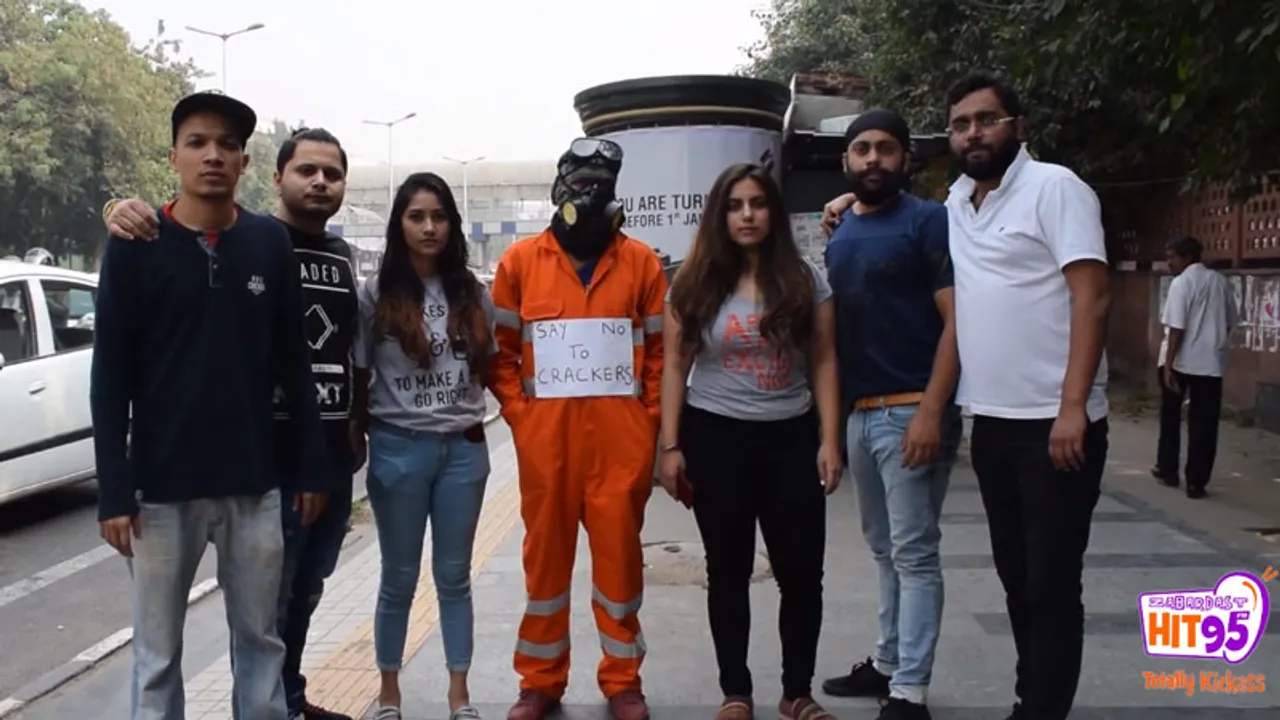 From the 15th of October until Diwali, Delhi's busiest intersections saw a mysterious masked man handing out pamphlets and urging people to let him and the city breathe by choosing not light crackers.
With ever-growing concern over pollution in Delhi, Team Zabardast Hit 95FM decided to do its bit to reiterate the importance of "no-crackers this Diwali" in its own unusual way.
&t=4s
He was difficult to miss yet impossible to identify because of his bright Orange Jump suit and a Heavy-duty industrial respirator coupled with a Ski-mask.
HIT 95's Radio Jockey Syd was the lone warrior who single-handedly covered all the important intersections of the city like DND toll plaza, Ashram Chowk, ITO, Mahipalpur cross-section and colleges around south campus to drive home the message, "Every individual makes a difference in this fight against pollution, irrespective of who he is".
The idea took shape one morning when the HIT 95FM team discussed the growing pollution in the city with levels reaching above 400 ppm in some areas and the role that crackers played in increasing the pollution levels. The team avowed to reduce the purchase of crackers in Delhi this Diwali. The team decided to adopt an activist protest rather than whine on the closed surrounds of the on-air studio. A well-wisher contributed an Industrial Grade Respirator, a High visibility Orange Jump Suit, and a Ski Mask after which RJ Syd hit the roads of Delhi, with his producer, Naveen Dhankar and camera-person Sunny Kathpal.
Most gave RJ Syd a thumbs-up and promised to stop the purchase of crackers, yet there were others who defiantly vowed to continue to burst crackers. Whether in agreement or not, RJ Syd got everyone talking about the issue, and awareness levels increased manifold. "I remember one guy calling me over to his car, rolling down the window and showing me all the whatsapp groups and other social media platforms where he had been sharing my pictures every day. That's when I realised that somehow this had become a people's movement" said RJ Syd.
"To our surprise, this CSR activity by our radio station was widely covered by major news channels and a few digital agencies, besides the commuters sharing RJ Syd's pictures on social media platforms. We will continue our drive to eradicate crackers from Delhi every year, starting this year. Every single reduction in cracker purchase is in itself Zabardast for Delhi and we are fully committed to this drive." said Pujita Mehta, Programming Director of Zabardast Hit 95FM!