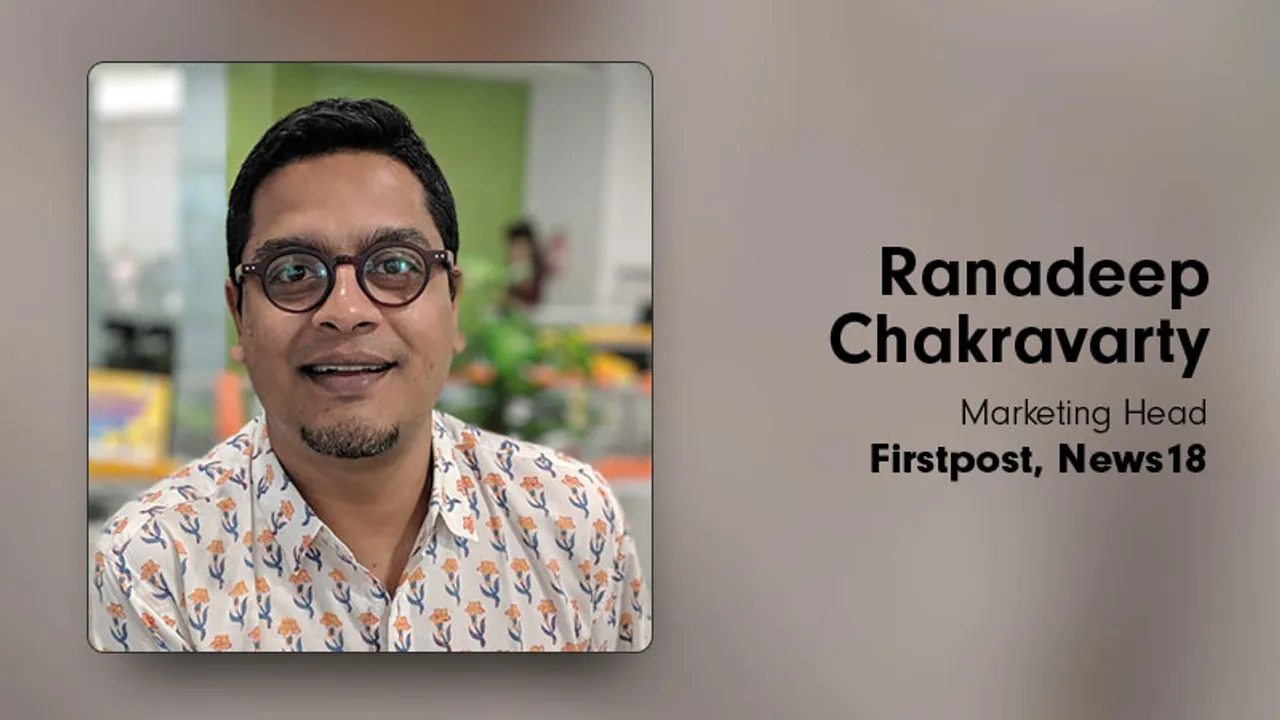 Network18 Digital (N18D), the digital arm of Network18, announced the elevation of Ranadeep Chakravarty to Marketing Head of Firstpost, News18 and in.com.
In his new role, Ranadeep Chakravarty will lead all marketing, communications and strategic partnerships for Firstpost, News18 (English) and in.com. He will also oversee the public relations and trade communication activities for the three brands.
The trio of News18.com, Firstpost and in.com continue to stay ahead of the curve by being the go-to destination of online news. Having reached out to 70 million unique visitors, Firstpost and News18 are known to be India's most influential digital news destinations in English. Additionally, now with the recently re-launched in.com, all three news sites reach out to larger masses that follow the diverse segments of politics, business, sports and entertainment.
Ranadeep Chakravarty brings with him 15 years of experience in both digital and mainline advertising and marketing. With a keen eye for design and vast knowledge in branding, he has significantly contributed in designing a number of commendable digital products, campaigns and brand identities for Network18. Prior to joining Network18, Ranadeep was at the forefront in leading creative and brand strategy duties at various MNCs and Indian agencies, namely Bates Worldwide, Rediffusion, Madison, Rediff.com and LK Saatchi & Saatchi to name a few.
Commenting on the announcement, Azim Lalani, Business Head, English General News cluster, Network18 Digital said, "Network18 is strengthening its foothold in the digital space at a rapid pace. This is visible by the fact that it has acquired a very high number of unique visitors in a short period of time. By bringing the marketing activities of the three properties - Firstpost, News18.com and in.com – under one head, we plan to further align, strengthen and accelerate the growth of immensely popular news portals. Ranadeep has been instrumental in leading the marketing activities and effective brand collaborations at Firstpost. We are confident that his in-depth expertise and exceptional creativity will enable the websites to be recognized as the desired news destination that provides relevant, insightful and hard-hitting news."
Speaking about his new role, Ranadeep Chakravarty, Marketing Head of Firstpost, News18 and in.com said, "I am excited to undertake the new responsibilities with Network18. It has been a great journey till now. Our efforts have got Firstpost in the top five leading Indian media digital publications. In my new role, the focus will be to continue to engage a diverse set of audience with strong, relevant and original content. I look forward to leading the team and enhancing the brand resonance through innovative ideas, brand partnerships and unique properties across segments."