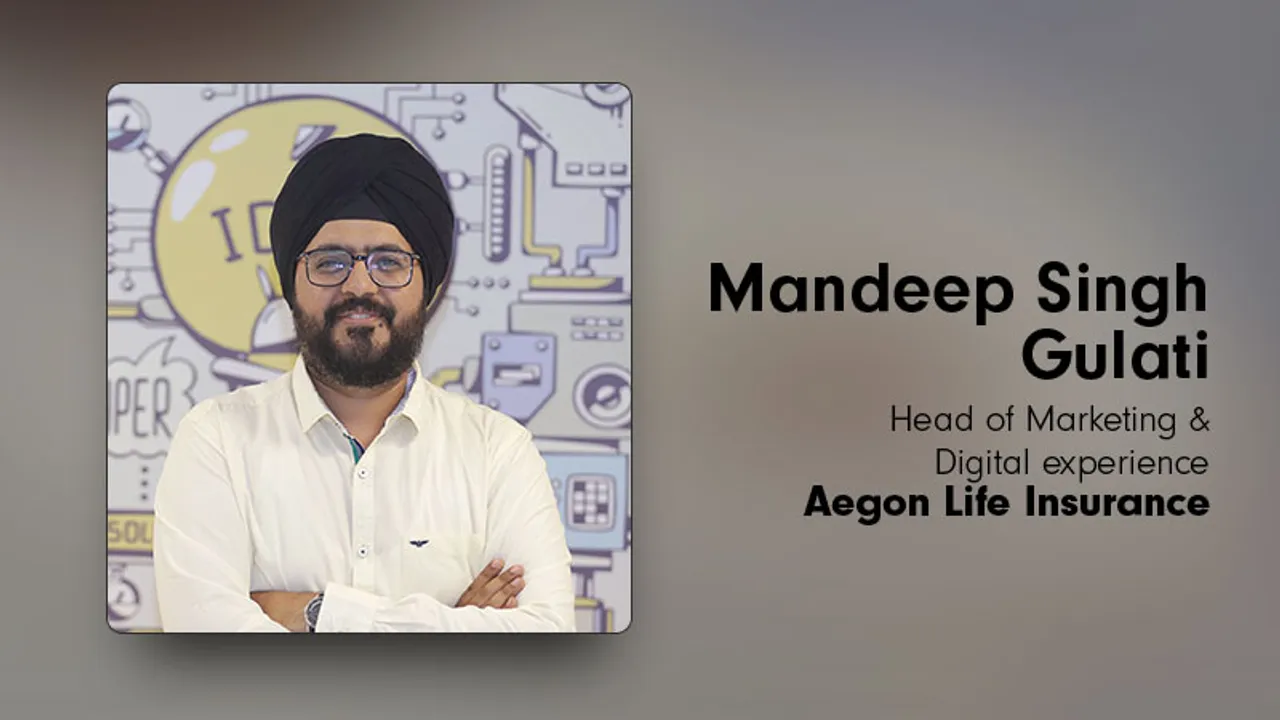 Mandeep Singh Gulati, Head of Marketing and Digital Experience, Aegon Life Insurance Company takes Social Samosa through the brand's marketing strategy.
BFSI has long evolved from the drab and dry sector it once was. It is now about interactive campaigns, AI-driven CRM, digital lead generation and more. With the JFM quarter in action, Mandeep Singh Gulati, Head of Marketing and Digital Experience, Aegon Life Insurance Company shares how the brand plans to make the best out of the most important quarter.
First quarter of the calendar year is very important for BFSI brands from a marketing perspective. What are your plans for Q1, 2019? Are there any brand campaigns in the pipeline?
Yes, JFM is a very important quarter for every BFSI brand. A large percentage of our business is generated in this quarter. It is important to plan and execute all the right marketing activities before JFM as this helps us to create better awareness, brand recall, and generation of potential leads for the online business during the key period of the year.
We have launched our new campaign "Aegon, Toh Tension Gone" recently and our major focus is to establish our new proposition, "term plan which covers you till the age of 100 years" which has not been highlighted by any other insurance brand. This will continue to be our narrative for the coming months as well.
With the evolving consumer habits, what will your marketing strategy for 2019 look like? How much percent of your total marketing budget is reserved for digital? Please take us through your marketing mix 
Digital marketing is the strongest pillar within Aegon Life. In the past, more than 90% of our Brand budgets have been allocated to digital mediums, within digital mediums we see video and vernacular emerging as a great source of getting new customers to our website and engage with the brand.
This year, we have spent some money outside of digital mediums on TV, Print, Cinema, and Radio, the primary reason behind it was to build trust and credibility around the brand which the offline medium tackles the best.
Where does digital stand in the scheme of things for the brand? Please share your digital mix. Also, do you think digital and social media play an integral role in lead generation for BFSI brands?  
The modern consumers are more aware. They are more connected, they compare and look for easy and quick services. Social Media and other digital platforms have empowered them to make the right decision. India has the second highest internet users in the world. Consumers spend most of their time on the internet; digital is the space where you can grab most of their attention.
More than 60% of our sales are generated online; we are actually like an eCommerce company which is into the service of selling and servicing insurance.
Aegon Life Insurance has been active on the advertising front. How do you tie your marketing initiatives to tangible results? What are the parameters used to measure the impact of a campaign?
I believe whatever initiatives you take on the marketing front has to generate business for your brand. There will be various factors to judge a campaign including what sort of brand recall, awareness and consideration uplifts you get, we also closely monitor the social chatter around the brand during the campaign period and uplift in direct and organic traffic on the website, eventually as this leads into more prospects and higher sales.
All these things are at the macro level, we also get into further details in measuring linkage of our campaigns with the brand and whether the messaging was able to drive our point to the consumers.
Aegon Life Insurance recently roped in Vicky Kaushal for its brand campaign. What was the idea behind roping in Kaushal? Does the actor's personality blend with the brand's tone and personality? How are you leveraging Vicky Kaushal's presence as a part of the brand's identity across platforms? 
Aegon Life has been a pioneer in online term insurance space in India. The consumer today is discerning and evolving in his financial choices too. Aegon Life as a brand believes in creating a narrative that is relevant to the consumer's life.
A brand ambassador is an embodiment of the latest cultural beliefs and is seen as a voice of the consumer of today.
We cherish our association with Vicky Kaushal, who has been instrumental in helping the brand owing to his methodical and effervescent personality. He adds the sheen of a young and budding brand to Aegon Life. We are a new age insurance company that resonates with these values. We at Aegon Life feel that the choice of this celebrity is a perfect blend with our values and brand mission. With Vicky, we want to spread Aegon toh tension gone to a larger set of consumers who are still fence-sitting when it comes to buying a term plan.
AI & Chatbots have been pegged as the next big thing for BFSI brands. Have you worked with either so far? If yes, how has the experience been? If no, do you plan to invest in AI & Chat bots? Please take us through the insights 
Yes, we have Chatbots integrated on our website, we are currently offering acquiring new customers through our Chatbot flows and plan to expand it further to service existing customers. Also, a lot of AI use-cases have been tested and implemented within Aegon life including the ones on digital marketing automation and business process intelligence.
We have seen good results, efficiencies upwards of 30 – 40% by automating our marketing campaigns and letting the ML engines decide the next best scenarios.
In the era of media-aware and connected consumers, how do you align your digital CRM team with the offline CRM machinery?
We believe that communication to the customer should be media agnostic and all messages should be in sync whether that is online or offline. We have an integrated CRM approach where all communication is driven centrally and aligned with the brand and business objective.
3 BFSI social media marketing trends you foresee
Social media is an effective channel to actively service customers, promote financial literacy, resolve grievances, and provide contextualized and personalized products. Typically on the BFSI front, the 3 emerging trends that I see are:
Brands will increasingly try to leverage social media interactions with their customers and prospects to find surrogates for medical and financial underwriting
With the growing internet population, brands will need to speak the language of their customers, quite literally. English will not exist to be the only language you interact with your consumers on Social Media
More brands will also be diverting their spends from high-cost search queries especially around insurance to social media