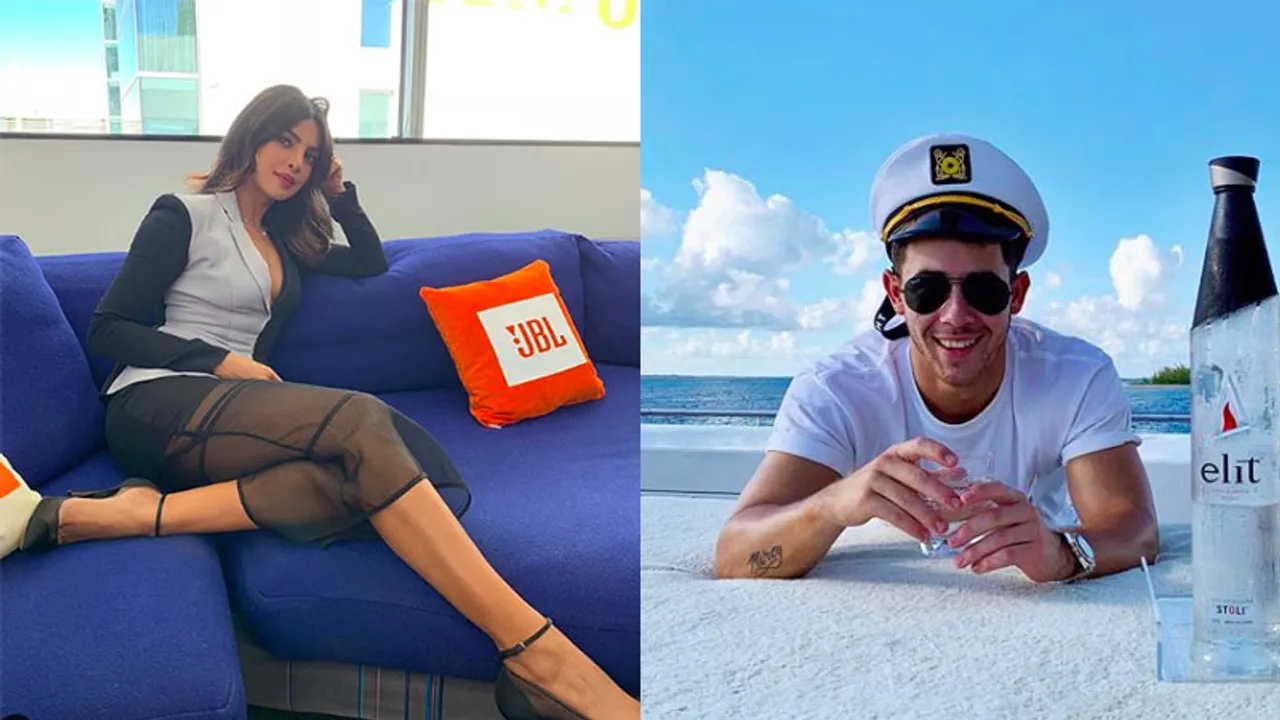 Priyanka Chopra and Nick Jonas wedding has been a series of marketing deals as the couple smartly monetized their wedding with well-integrated sponcons.
2018 was truly the 'wedding da season' where we were 'virtually' witnessed to some of the most-awaited jodis tying the sacred knot, that includes the likes of Deepika-Ranveer, Priyanka- Nick and how can someone miss the big fat Indian wedding of Mukesh Ambani's daughter Isha Ambani to Anand Piramal. While each nuptial had it's own charm and aura, we got our eyes more glued to the Nickyanka's social media posts which gave their fans updates and proceedings about their marriage while also integrating some smart marketing.
It all began when Priyanka Chopra and Nick Jonas sent their fans in a frenzy when they announced their love through an Instagram post on 18th August 2018. Since then everyone has been anticipating their wedding location, outfits, and ceremony. Fans have been at their fingertips for any information that came forward about their wedding. What people have missed is how they leveraged such an engaged audience by tying up with brands for a form of sophisticated brand endorsements, truly blended in their wedding madness.
From marketing designers such as Sabyasachi and Abu Jani Sandeep Khosla to having sponsored parties by JBL and Elit Vodka, there was a plethora of sponsored content that almost went unnoticed.
1. Priyanka's Bridal Shower at Tiffany's
It's more than a mere coincidence that Priyanka's bridal shower was held at Tiffany's and she was also seen sporting Tiffany's wedding ring. It took place in Blue Box Café, an eatery at Tiffany. Her bridal shower was attended by her friends, family and some of the biggest stars. However, a spokesperson from Tiffany denied it being a marketing stunt
2. Nick's Bachelor Bash
Nick posted an Instagram post standing next to 6 Lime bikes all ready to roll with his groomsmen, he is also an investor in this brand. He followed this post with posing on the beach next to Elit Vodka Bottle declaring a lit night on the way. Both the posts were posted with "paid-partnership" plug-in. He has made an average of 6 figures out of these brand deals.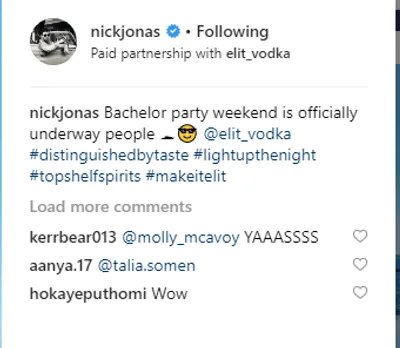 3. Amazon Registry 
Priyanka tweeted out her Amazon Registry worth $14,000 dollars and how fun it was building it. Amazon pledged to donate $1,00,000 to UNICEF under Priyanka Chopra's name. Priyanka is also an active brand ambassador of UNICEF. Her post was a guide for wedding registry inspiration.
4. With Love, Ralph Lauren 
The couple was first spotted at Met Gala where they were representing Ralph Lauren. On their wedding day, both of them and their entire family were dressed in Ralph Lauren. Ralph Lauren made the world's largest veil for Priyanka Chopra. In addition to this, they have only designed a wedding outfit a total of 5 times till date. This sure earned not only Ralph Lauren but Chopard Jewels who got a shoutout in their post a good exposure
5. People Magazine Exclusive
The couple sold exclusive rights of their wedding to People's Magazine for $2.5 Million dollars. Their wedding video was also first published by People Magazine. They also published articles explaining the couple's adorable photos. Even Sonam Kapoor and Justin Timberlake have previously sold their wedding pictures exclusively to reputed magazines
See Also - AliveNow creates an AR Camera Filter for Facebook & Priyanka Chopra's #SocialForGood Live-Athon
6. Cover of Vogue shot by Pixel 
Vogue monthly issue had Nick & Priyanka on their magazine cover which was shot on Pixel3 later followed by a YouTube video featuring the couple playing the newly-wed game and another video dancing to Nick's song Closer
7. Forest Essential Goodies
Priyanka posted a photo followed by a story of personalized Forest Essential Ayurveda sets made for their friends and family. Along with a card explaining the origin of their names and what their names mean together.
Monetizing weddings have become common and done for a few years now by famous personalities. Celebrities have often had social media plugs, promoting fashion brands and selling their picture's exclusive rights. Priyanka Chopra and Nick Jonas are the newest additions to the list.