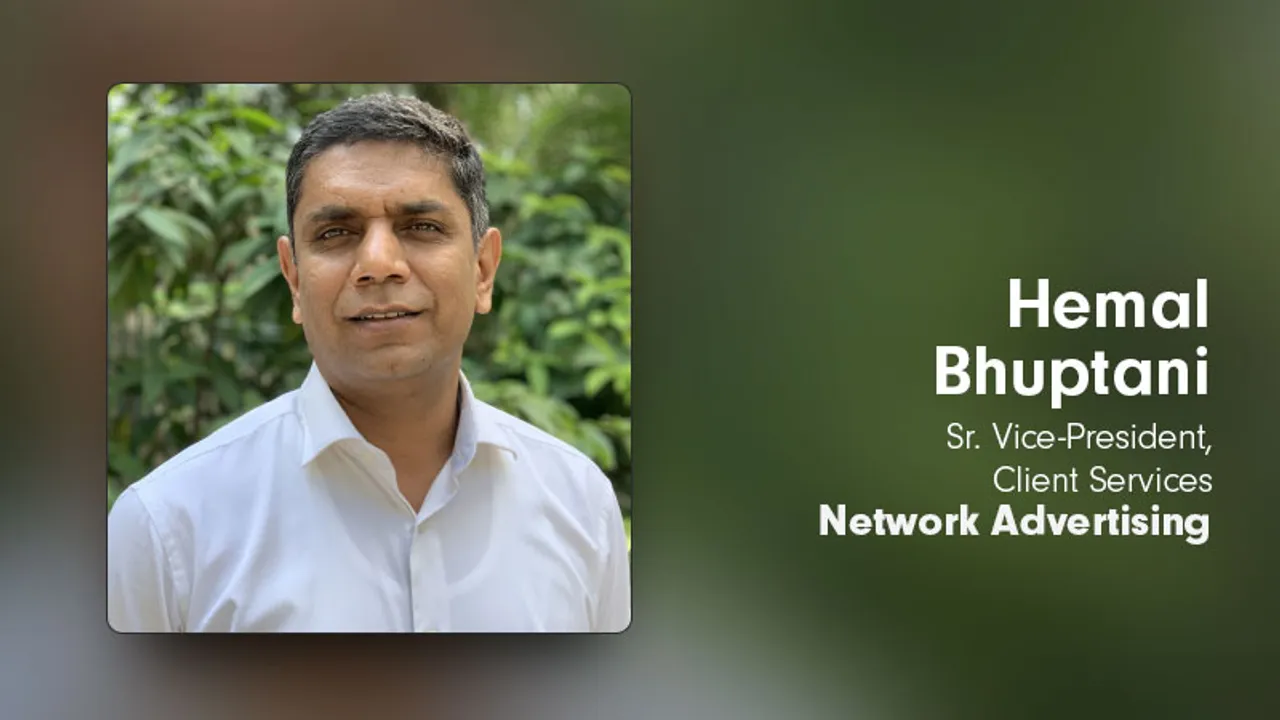 Hemal Bhuptani joins Network Advertising as Senior Vice-President, Client Services. Hemal has experience of over two decades that spans Advertising, Digital Marketing, Marketing and Sales.
In his previous job roles, Hemal has been instrumental in understanding the brand's requirements from multiple stand points and then eventually arriving at the most optimum solution for the respective brands.
Hemal has the unique advantage of understanding what it takes to make a success of a business from various perspectives, having worked on both sides of the table – as an advertiser and as a communications solutions provider.
At Network Advertising, Hemal will have the joint responsibility of heading an independent business group along with driving the Digital Communication Services.

Vinod Nair, Managing Director of Network Advertising says, "To further our belief that Holistic Brand Solutions is the only way to nurture brands in today's disintegrated world, we are fortunate to have an integrated communications professional like Hemal on board".
Hemal Bhuptani says, "I have always been fascinated by the process of building brands in a 360-degree manner. I am keenly looking forward to my role in Network Advertising which is a truly integrated communications agency and will give me the opportunity to provide the right solutions for the brands we handle".
As an advertising professional, Hemal has worked with JWT and Interface Business Solutions, a Digital Marketing Agency. On the client side, he has managed prestigious brands like Kansai Nerolac and VIP Luggage, both in Marketing and Sales. Additionally, he has worked in London with a Digital Marketing Start-up, that was operating in two lines of businesses – Cultr, digital targeting of the Indian diaspora in UK and Webfluenz, social media listening, monitoring & research.
Over the years, Hemal has nurtured several key brands like GAP, Pepsi, DSP Merril Lynch, Bajaj Finserv, Standard Chartered Bank, HDFC Bank, Bajaj Electricals, and many more.