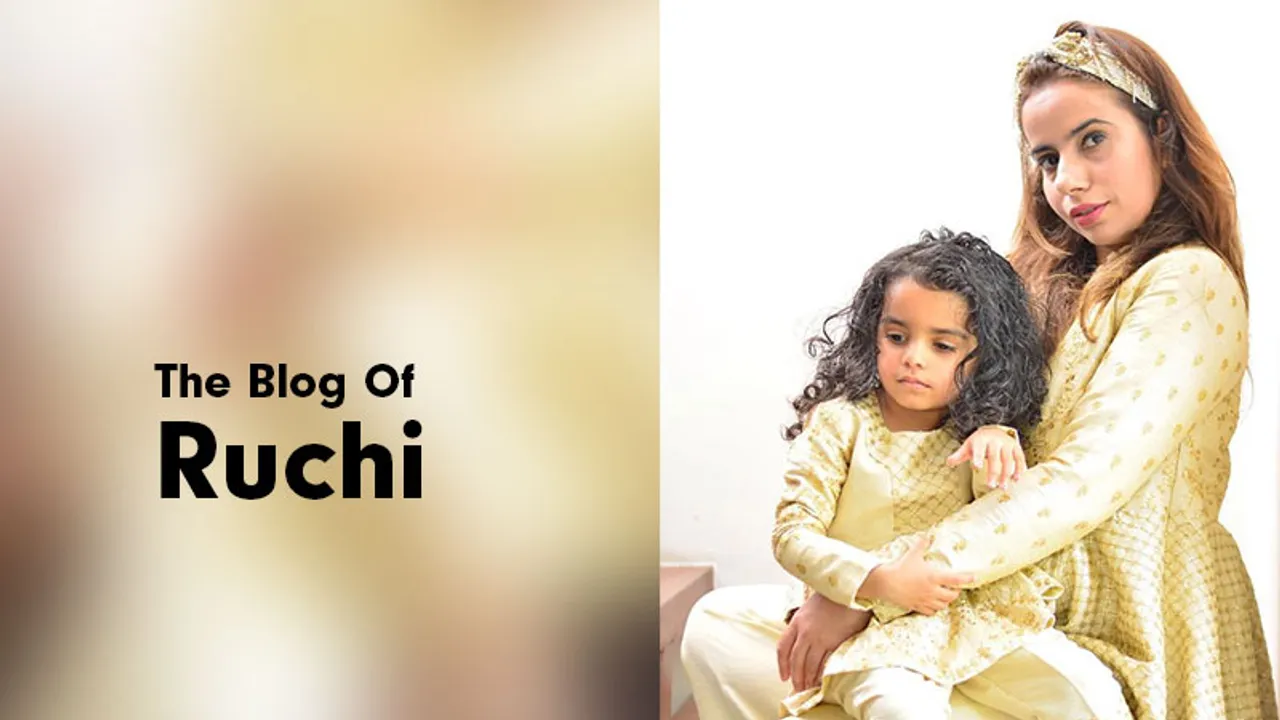 Tips for travelling with a toddler or apprising about the advised nutrients for your child, The Blog Of Ruchi is a playbook for parents. And, with this interview read the work going behind it.
Check out the future forseen for her personal brand, content creation process, USP and more.
Looking back, where did it all begin?
It all started with a simple nudge from my friend asking me to join Instagram! It was further pushed by my love for photography. Then content that makes me me-  travel, fashion, food, art, decor and books! Finally a journey into motherhood!

What's in the name?

I can't ever label myself or define myself in one adjective or draw a perimeter saying this is it, this is all that is there to me. Hence, it just had to be exactly what it was. The blog of Ruchi sounded appropriate. Just a woman pursuing her interests and taking everyone on this journey called life! Come one, come all!
What is your USP in this cluttered space? How does your content give you an edge?

I am not here to have an edge, I am here to keep it real. I am not here to curate selective reality! I actually converse with almost everyone who messages me and it's all on my Instagram stories for everyone to see! These are real meaningful relationships that I have fostered in a virtual space. I am everyone's friend and they all share their motherhood journey with me, share their ups and downs . I reciprocate by doing the same. So many times they too have helped me making right decisions. As I am not perfect and I don't claim to know all. This is what resonates with everyone! Along with the fact that I am a blogger with a conscience.
Please take us through your content creation process. How do you stay relevant and relatable?

There are so many dimensions to my content. Mostly it is information that is getting spread and I moderate to try to keep it as correct as possible using my judgement, while at the same time cautioning everyone to take a second opinion and use their common sense and discretion because I too can be wrong.
Apart from that, I love creativity in each form. I love so many creators/collaborators who are around me and there are so many people who I don't even like to call as clients because they are more like friends and they just understand the concept I am trying to get from them. What I propose in terms of my vision for example it may be an outfit or even a little thing like an accessory such as bow, or inputs for footwear, they dispose in terms of execution- much to the delight of everyone! It's really encouraging to get so much love and support from my collaborators. This helps me bring in new and fresh ideas in baby fashion segment in India. As everyone is very open to ideas that come from under my desk with their own master tweaks!
How do you take moolah with your efforts?
Only if the brand's ethics resonate with me and they are completely safe for children to the best of my knowledge.

How do you maintain editorial objectivity with the influx of brand briefs?

It's always communicated to the brand that we have Independence in the content we create. There have been cases when the content written by us has been re-edited and sent to us for which we have put our foot down if it doesn't go by the broader outline we as a blog have sketched to communicate. I really value my reviews from the starting word to the very end.
One instance/experience that made it all worthwhile
I think lots of instances. There are so many mothers telling me how they have used the simple philosophies that I narrate my motherhood journey with and they have benefitted from it. In fact not just mothers or mother to be's but even a younger audience as they all have kids at home (nieces/nephews). It also gives me immense joy when mums tell me they want a girl child just seeing how much fun I have raising my girl. It just falls in line with my principle of "Save the girl child". Something that we truly need to believe in as a country where the change makers are women!  Also, around Diwali in Delhi and the whole smog business I tried to create awareness about how it's important to have more plants and how we should take care of the environment- so many mums responded positively. It was overwhelming. I have a lot of gratitude towards my Instagram family.

Weirdest brand brief/request ever
Haha won't say, won't do!

If not blogging, you would be?
A boring consultant in a multi national. Or marketing my way to the top.

A day in your life....

Begins with seeing sparkling eyes of my toddler telling me with the smile that I am her favourite .. in between is all the hustle.. till its night and bed time with stories and goodnight kisses! But not everyday is this perfect. Yesterday was!
Message/tips for upcoming bloggers
You are in a position of great influence don't misuse it. You have great responsibility in terms of what you are communicating, as people do take you seriously.

Your Favorite Influencer

Too many! Amberfilerup! Chiara is phenomenal! Other than that I think I love Chrissy Teigen!  Also, Ayushi Bangur - The Style Drive, She was one of the firsts who influenced me deeply enough to start my very own blog very long ago!
The Future you foresee for your Personal Brand

Revolutionise baby fashion in India. After that I would like to start my own label.